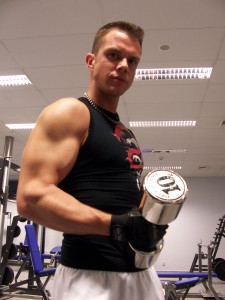 At last the winter's over – thank God!!
Here in the mountains of the Czech Republic we still have between 50 – 100cms of snow lying on the ground, but it is starting to thaw now that temperatures are constantly above 5 degrees.
So with spring on the way it's time to check your body and see if you're prepared for the tank-top and Speedos season. After all, with the prospect of us finally throwing off our thick winter jackets – which make us look like the Michelin Man!! – and changing into tee-shirts, swim-shorts and flip-flops, now's the time to get rid of the pounds we've gained over the winter months. Of course, we all loved sitting on the sofa, watching DVDs and munching through the remainder of the festive biscuits, rather than going to the gym or doing some skiing, but now it's time to get into shape – something that's long overdue!
With this in mind I've already organized a training schedule for myself. First of all – and perhaps the most difficult part – I have to reduce my alcohol intake and eat a lighter diet. By this I mean stopping the extra glass of wine or beer that I have in an evening, forgetting the kebab or chips that I have as a small snack for lunch and (definitely) throwing away all the sweets that I love to munch whilst watching TV.
Most of the time it's not a strict diet that we need – we just have to monitor our eating habits a little bit. Double check the things that we're consuming and question whether a salad for dinner wouldn't be better (and more healthy) than a packet of crisps!
Meantime, my schedule for the coming month is quite easy – my overall plan being to engage in more sports and to eat less food. In short, to eat less calories than I'm burning up. As such, I've started cycling everywhere again, so that even the shortest trip to the bakers or the post-office can become a short fitness session. In addition, I've also started to cycle to the gym. When you think about it, it was quite ridiculous anyway – using the car to make the ten minute journey to the gym, and then spending twenty minutes on the cycling machine to warm up for my weight training!
Like everybody, I have some problematic zones – mine being the stomach and legs. You could say that I grow much too fast in both these areas, becoming very easily fat around the belly and quickly over-building the muscles in my thighs. It's a tricky combination, which means that I have to pay special attention to the exercises that I do at the gym. So I can't do any extra weight-training on my legs, since my daily cycling sessions are just enough. After all, if I don't pay attention, my legs will become like tree-trunks – totally disproportionate to the rest of the body and (worst of all) no longer able to fit into my tight cycling shorts! That would be a disaster, since cycling-wear is my secret fetish – especially when it's being worn by cute twinks! Those shorts always show more than they hide!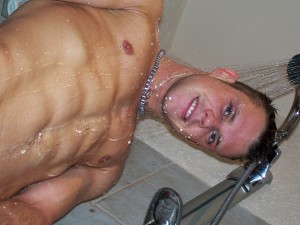 It's not just because I'm a porn actor that I think body shape and personal fitness is important. I think everyone should watch their bodies and keep themselves fit. I'm not talking about the 3 to 5 sessions of sport I do each week – plus all the sex, which is a kind of fitness programme in itself. I just mean that we should all use the gym a little more regularly, use the stairs instead of the lift and keep a watch on all the things we eat and drink.
I agree that you can become totally obsessed with the so-called "body culture" – especially as a gay guy. Why, even I sometimes feel a bit shy about taking my shirt off in gay clubs, thinking that I am in some way inferior to the muscle-queens that you see dancing around half naked! Don't get me wrong, their bodies are great and make me feel really horny, but their attitude is always such a turn-off. They basically just live to be admired, and all the sweat they shed and all the lonely hours they spend in the gym is basically just so that they can spend three hours dancing in front of the mirror on a Saturday night! The only thing I can say is that in my opinion a brain is always more important than a perfect body. A combination of both is just perfect, of course – though unfortunately preciously rare! – but if you do know of such a person, who also has a big cock, has blond hair and blue eyes, and who is sexually versatile, then please … call me immediately!!
I'm so looking forward to this year's spring and summer and will be sure that I'm ready and in shape for it. So let's hear it for all the outdoor sports and boys in tight shorts that we have to look forward to – not to mention the outdoor sex!
I hope to see you all on the beaches sometime soon.
Kiss, Johan.