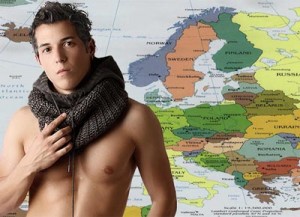 The Mr. Gay Europe Pageant is much more than a beauty contest. The young man selected will be "more than just a pretty face and a nice body". While physical beauty will be part of the judges' considerations, it is a young man's "inner beauty" that will make the difference in the selection. During the stage competitions and particularly in the personal interviews, the jury will focus on a young man who:
– shows an interest in the world and people around him;
– displays patience, has a sympathetic and considerate nature;
– will not be frightened by change, or things and people different from his own frame of reference, experience or cultural background;
– can articulate his thoughts and conduct an intelligent conversation;
– has a basic innate charm and sparkle;
– is special, but real;
– has poise and seems secure with himself, without coming across as arrogant;
– could be the young man a company would like to be their representative;
– can be an ambassador of goodwill;
– is the quintessential young man….and a bit more.
There is a web vote to select one of the 17 contestants as the 'People's Choice' to find out more about this contest:
Mr Gay Europe – 13-17 April – Brasov, Rumania