Tim Daniel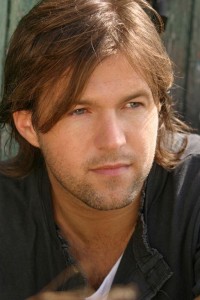 "Tim Daniel is an exceptional talent with a unique style of writing…..an album full of hits, obviously written from the heart. As soon as I heard his songs I just knew he'd be great on tour with us."   Gary Barlow
Although you may not know who Tim Daniel is yet, chances are you've already heard his songs. That's because Tim is one of the UK's most successful songwriters, and has had a string of hits writing for the likes of Blue, Toploader, Delta Goodrem and Lemar to name a few… Bent caught up with the man as he recently played support to Take That.
In your press release it says that you recorded your first song in the school studio… a pretty progressive school wasn't it? Where?
It was Greenhead College, a 6th form college in Huddersfield…it was a pretty good college!  I took 3 A-levels… French, Sociology and Music. They wouldn't let me take my 2nd year of Sociology as I was useless at it…..failed French with a U….but thankfully got a B for music!!  I just knew pretty quickly that music was what I wanted to do and I switched off from the other subjects pretty quick too!!
Where you in a school band or anything?
When I was 12, me and my mate John used to write 'songs'!  We were like Elton John and Bernie Taupin!…mmm!  He'd do the lyrics and I'd do the music and singing.  We split cause I couldn't understand his lyrics!! When I was 18, I toured the northern working mens' club scene, which I would say was the best experience I've had. You've got to work really hard to get them on your side…oh and shut the f*** up during bingo!
How did the song writing first start for you?
I always loved making up songs when I was a young kid. I was obsessed with records, with TV theme tunes, radio jingles, anything with a catchy hook. My Mum and Dad plus a bit of piggy bank money bought me my first 4 track recorder when I was 11 and I'd spend my days and nights writing and recording songs.
Apart from yourself… who was the first person you wrote for?
I wrote my first hit for Toploader called 'Just hold on' when I was 22. I wrote it with a couple of my mates one afternoon. I started out writing mainly pop songs so it was somewhat ironic that I'd have my first release with a band.
How did you get a publishing deal?
When I was 19, I joined a pop band in Germany….ok it was a boyband!!….We were signed for about a year until they let us go. It was a blessing for me 'cause we were rubbish. It was a great experience though, as I worked with some great songwriter/producers and they taught me how to really write a song and gave me some fundamental tips in making a record. My manager at the time then put me in touch with some guys in Sheffield who were a successful pop songwriting team. They said if wrote some good songs they'd maybe help me out. So for the last 2 months I bombarded them with tunes until they succumbed and took me on board and got me a publishing deal with Universal.
What was it like getting your first hit record?
When I had my first hit with Toploader, I went out and got very drunk…as you do!!
I'd also drive around in my car for ages just to hear it on the radio. I always had this ambition of driving in my car with the radio on and my song comes on!… it still feels special now, even more special now with my own music. If I'm out in B&Q or something and one of my songs come on, for some reason I have to stay till it goes off !! Strange I know!
Now you've decided to become a singer-song writer… supporting Take That isn't a bad first gig is it?
No, not really !! It's been an absolutely amazing experience. I'm very grateful to the Take That lads for giving me a chance.  I did 2 warm up gigs with my band to about 50 people and then did the same gig to 7,000 people a week later!! It's a very surreal experience, you almost want to stop and walk to the back of the room and take it all in.
Are you cheeky enough to suggest that they do one of your songs next?
How could I do that!!??  No…. I think they've done me enough favours with the tour!  They also write great songs themselves…collectively too this time. I think their comeback has been amazing. I think it's proof that they've all individually got talent unlike the other recently reformed bands!!