Spice up your life! By Spice Tech – Jimmy Forrester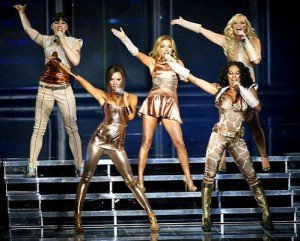 After signing up every email address linked to us (me & Neil – my boyfriend) in any way, we thought that we would surely get selected to buy tickets for the Spice Girls Reunion Tour!
Days, weeks and months passed and we still had no word… It was one very average Tuesday when my inbox popped up with a message saying "You've got mail from: The Spice Girls!" At once I logged in to my email and opened the message. It explained that I'd been randomly selected for tickets to the Spice Girls Reunion Tour in London! I frantically followed the link which took me to Ticketmaster (while on the phone to Neil in my other hand)! On the Ticketmasters website it was clear that we'd have to be quick to get seats as there was almost nothing left and the email had only gone out 20 seconds earlier! We managed to get seats on the front row of the third tear and naturally we bought 6, the maximum allowed per person. Christmas had come early for us, we had 6 amazing seats to see the Spice Girls live at the O2, Wa Hoo!!!
The following months flew by and before we knew it we were checking in to our hotel the day before the concert with our friends Nia & Liz. When we finally arrived at the O2 we met up with our remaining two friends – Amy & Antonya – two of Channel 4's Fabulous 'Bite Girls' ( www.channel4.com/bite ). The O2 slowly filled up as thousands of people made their way to their seats, everyone as excited as each other. We were surprised that us being mid-twenties were among the youngest there! The concert started and everyone went wild (especially for Posh who clearly got the most cheers!) – the entire audience spent the whole 2 hours dancing and singing along. The show was put together fantastically and each Spice Girl had their moment in the spot light. The girls even performed two of their Geri-less tracks! All six of us had the most incredible time and it topped the concerts they'd done all those years ago before the split. Our only criticism was that it ended! We made sure it would be a night to remember by making our way to the official merchandise counter and buying up almost one of everything, each! Well done girls, you've made two gays, two lesbians & two 'bite' girls very very happy!