Moor, please!
Adrian Gillan delights in the medieval Moroccan molly-Mecca of Marrakech!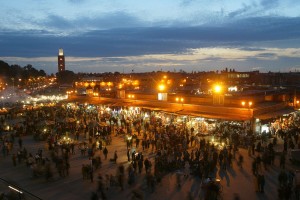 This ancient Southern Moroccan "Red City" (more salmony-pink) – scarce 3½ hours away by jet, yet at the foot of the Atlas Mountains, on the shifting skirts of the Sahara – has, in its historic Medina core, scarce changed over centuries, with narrow alleys and hustling stall traders. Make way for load-bearing donkeys swaying through crowded lanes as Berber muezzins waft out deep-throaty calls; saunter through magical gardens and palaces out of A Thousand and One Nights; sip mint tea overlooking bustling markets and souks, where snake charmers and rent vie with vendors for queer attentions. Shambolic, noisy, dirty, yet always enchanting, 1.6 million-populated Marrakech's spicy mix of Arab, African and Euro cultures will weave its timeless spell. Steam rises from ancient baths, as boys abound.
Outside commerce has helped forge Morocco since Roman times. More recently, the Brits boosted trade; then France ran the country as a colony from 1912-1956 – hence it is Francophone (alongside Arabic); and hence the French influence in Marrakech's New Town (a.k.a. Ville Nouveau or Guéliz) zone to the south and west of the old Medina, with its vaguely Parisian-style mansions and boulevards. Year-round sun. £1 = 15 Dirhams; and your money will stretch as far as the nearest bar serving alcohol!
WHERE TO STAY
Riad Amazighen (4 Bis Arset Guessous Zaouiia Bab Khemis, Marrakech Medina; T: +212 (0) 2438 5965;) – This is an exotic, classy yet still homely gay-run "Riad" – a boutique b&b built around a secluded courtyard in the very heart of the old Medina district. Lovely host, Paulo, can advise on all aspects of your stay and provide a range of services – from Moorish cooking to steamy Hammam spa to even steamier gossip!
WHAT TO DO
Once inside the pinkish UNESCO World Heritage Status walls of the old medieval Medina district, take in the Koutoubia (Marrakech's 250 foot landmark 12th Century minaret) and nearby Jamaa El Fna (marketplace-cum-forum, rimmed with cafes from which to savour couscous or a tagine stew, or sip sweet mint tea or fresh orange juice, whilst yarns spin or snakes are charmed); myriad souks (labyrinthine, covered markets – warrens of leather, spice and carpets, awaiting barter); Bahia Palace (19th Century – with peaceful, ornate gardens and yards); El Badi (palatial 16th Century ruins); Saadian Tombs (princes' graves); Marrakech Museum (amazing Moorish space, with ancient and contemporary exhibits); Koubba (intriguing ruinous old waterworks); Ben Youssef Medersa (former Koranic school full of porticos and cells); and Hammams.
Leave the dusty old town warrens to explore surrounding French colonial New Town (Ville Nouveau) district, Guéliz, not least the colourful, lush and shady Majorelle Gardens. Trek out to the nearby Atlas Mountains, for winter skiing; or seaside resort of Essaouria, adored by Orson Welles and Jimi Hendrix.
WHERE TO EAT, BOOZE 'N DANCE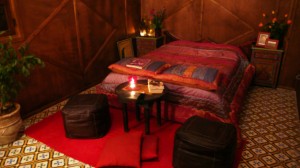 Morocco is a Muslim state where homosexual acts are technically punishable with 3-5 years jail. Yet many locals have gay experiences when younger before "straightening-up" on marriage; and, at least in Marrakech, so long as discreet, other locals (including police) turn a blind eye, and there are almost no recorded cases of related prosecutions – perhaps, the odd informal back-hander "fine". That said, the scene is – perhaps not unsurprisingly in a predominantly poor country – largely rent-centred; so you'll have to look almost impossibly hard to move beyond the hoards of cash- or gift-seeking young smiles your assumed relative wealth may attract, at every turn. Hotels and riads are pretty strict in banning foreigners from bringing locals back to avoid trouble with authorities. Where foliage is thin, many boys have small pads for liaisons, although always be on guard, to avoid potential danger or exploitation.
Café des Négociants (Abd El Moumen ben Ali Square, corner of Avenue Mohamed V; T: +212 (0)44 43 57 82) – Cafe (no alcohol), popular with all sorts, including street sellers. 6am – 11pm.
Etoile (55 rue Bab Agnaou (Rue de Prince), off Jemaa El Fna; T: +212 (0)44 44 1952) – Cafe (no alcohol) with roof terrace overlooking the Jamaa El Fna. Lots of discreet rent. Open 6am – 12am.
Diamant Noir (Hotel de la Marrakech, Place de la Liberté, Avenue Mohamed V; T: +212 (0)44 43 43 51) – Large cheesy poppy club. Rent often hang about outside, to "escort" you in. Girls too.
Avenue Mohammed V – almost anywhere along here, day or (mainly) night.
GETTING THERE
GB Airways operates British Airways flights from London Heathrow and Gatwick to Marrakech, with one-way all-inclusive fares starting at £75.
– ends –
Visuals: 3x hi rez jpgs attached on accompanying email – please include the Riad one (as a secondary pic).