Review: A Taste of Honey, Trafalgar Studios, London
by Adrian Gillan for www.bent.com
No mere period piece, this! Over 60 years on, after its premiere, Bent's Adrian Gillan still finds bite and sting in the National Theatre's revival of Shelagh Delaney's modern "kitchen sink" classic, A Taste of Honey – at the Trafalgar Studios in London's West End, following a UK tour!
It is hard to imagine the shocking impact of Shelagh Delaney's first, and still by far most famous, work when it was premiered by Joan Littlewood's world-renowned Theatre Workshop at the Theatre Royal Stratford East in 1958. Just 19yo when she wrote it! Gender, race, age, class, sexual orientation: A Taste of Honey had it all, in spades – ingeniously explosively woven together, with both grit and wit!
All the more daring given the late-50s British attitudes on all those issues, plus Delaney's own young age, social background and gender, at a time when theatre – "angry" or otherwise – was still very much the preserve of white upper-middle-class men! West End, BAFTA- winning film 'n Broadway beckoned!
The National Theatre staged this play as recently as 2014, at its Lyttleton Theatre. Although the same core creative team has been reassembled for this 2019 UK-tour-into-West-End – the National Theatre this time co-producing with Trafalgar Theatre Productions – this is fundamentally a new production: new cast, designs and staging, including a reversion to Littlewood's original use of a live on-stage jazz trio.
The piece works well on two levels. Firstly, historically: as a fascinating early gritty depiction of working-class life in post-war late-50s Britain, notably from a female outlook. Secondly, presently, six decades on: by highlighting how attitudes to an array of social issues may have changed – or stayed the same.
Gemma Dobson plays the central character of feisty teenager Jo with earthy, moody vim, and direct, gutsy honesty, taking the role, and us, on an arc as she gains experience, seeks independence, allies with co-outsiders and battles with motherhood, poverty and chauvinism plus encounters racial and homophobic prejudice, and yet alas ultimately still faces a bleakly uncertain and hopeless future.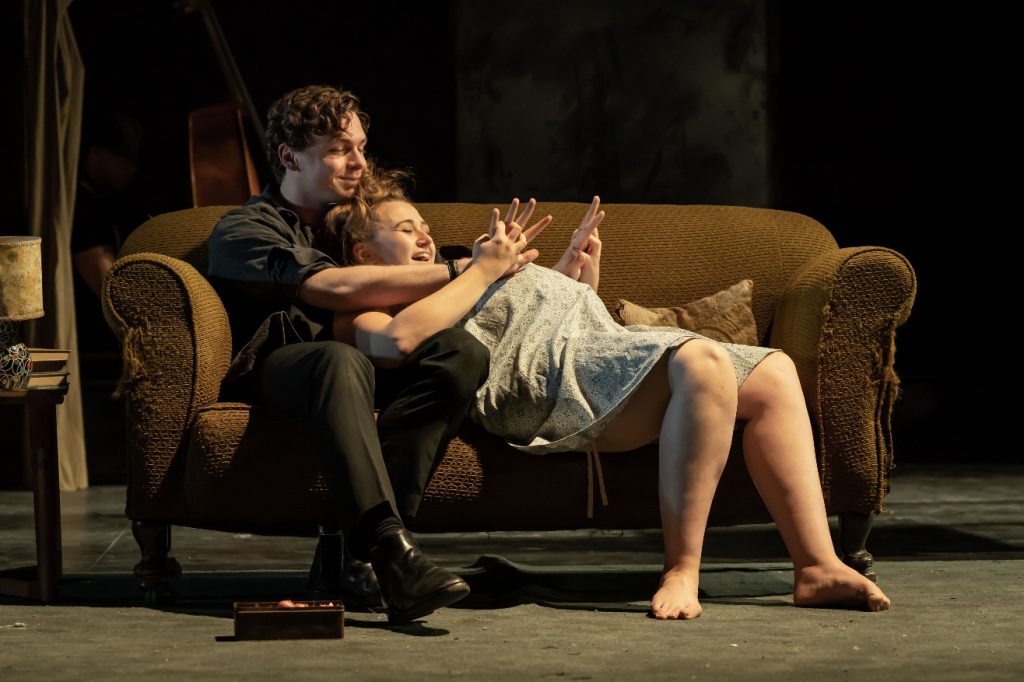 As Jo's brash, selfish and neglectful single-mother, Helen, Jodie Prenger brilliantly portrays a seductive survivor, reliant on alcohol and on male financial patronage; only sporadically interested in her daughter – mainly to put her down – and unable to transcend her own bigoted views on sexuality and race.
Tom Varey is superb as letchy, increasingly fiery and flashy-trashy Peter – Helen's younger, chauvinist, gay-intolerant lover and money-man from London – not least in his psychological jousts with a knowing Jo. Sweet-voiced Durone Stokes is engaging as Jo's ardent black sailor boyfriend, Jimmie – soon gone.
Making a dazzling professional debut in the plum gay role of Geof, young, handsome and talented Stuart Thompson gives a sensitive and compassionate performance – from his initial almost unspoken coming-out, to his surrogate-mothering of fellow flatmate outsider Jo and her imminent baby, and his selfless withdrawal as a hostile Helen resurfaces at his unwise bidding, and as the sublimely unconventional household dissolves.
Director Bijan Sheibani's commitment and love for this play is most evident, his former core creative team gelling anew – Hildegard Bechtler's rundown Salford flat set enhanced by Paul Anderson's dingily atmospheric lighting, and Ian Dickinson soundscape evoking the surrounding estates.
Benjamin Kwasi Burrell's original music and arrangements – played by the ever-onstage and characterful live three-piece jazz trio of MD David O'Brien (keyboard), Alex Davis (double bass) and George Bird (drums) – provide set-piece motif songs for all main characters, and dramatically-heightening-and-energising-yet-never-distracting background riffs throughout large sections of the ongoing dialogue. Rarely can kitchen sink have felt so chic and slick!
Movement coach Aline David is kept busy, oft in tow to the music; as is voice/dialect advisor, Joel Trill.
Despite the grim setting and storyline, what still shines through, 61 years on, is Delany's sheer original fearlessly youthful audaciousness; and her lusty determination to portray real life – albeit in a condensed and heightened theatrical form – in all its gloriously messy diversity and bitter-sweet reality. Do go see.
A Taste of Honey runs at the Trafalgar Studios in London until 29 Feb 2020.
– ends –