by Adrian Gillan for www.bent.com            
Bored of Belfast? Win braggers' rights, instead then, in Northern Ireland's historic, cultured, vibrant, compact and physically dramatic second city, Derry! And all a mere short aerial hop away from bijou London Southend Airport, on luscious Loganair! Maybe even for Foyle Pride!
With just 100,000 inhabitants, Northern Ireland's second largest city, Derry, straddles the banks of the mighty River Foyle in the nation's far north west, very close to the Republic of Ireland's border there.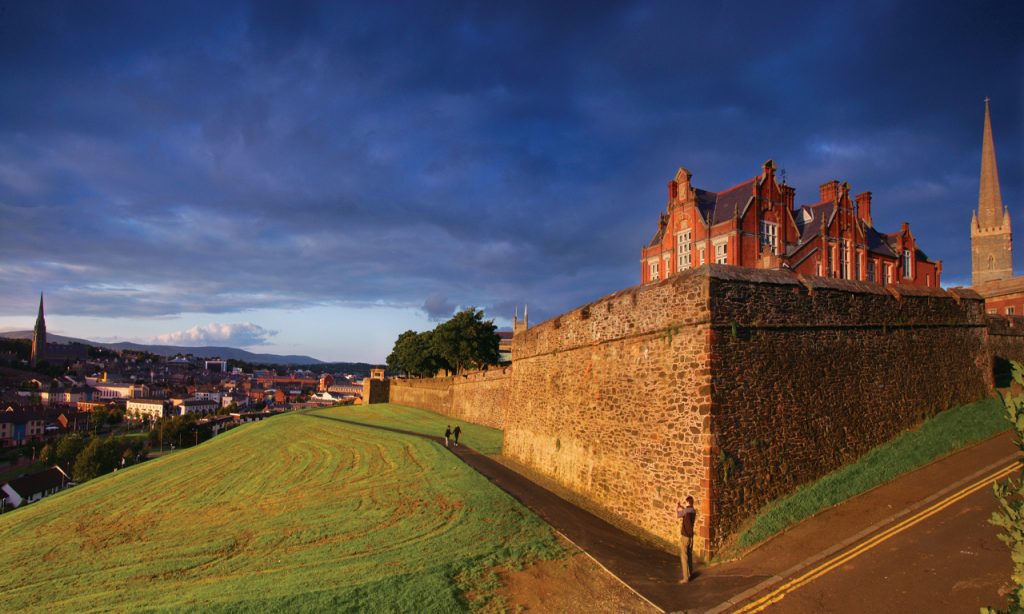 Its long and dramatic history – "Derry was a city when Belfast was still a swamp" – takes in the 6th Century arrival of St Columba; the founding of the Plantation of Ulster by Protestant King James I of England, with the wealthy guilds of London (hence "Londonderry") in tow to build its famous walls; the 1688 defensive lock-up of the city but its "apprentice boys", and ensuing 1689 "no surrender" siege by surrounding forces of James II, the Catholic English king, soon deposed by Protestant William of Orange and defeated at The Battle of the Boyne the following year; and the old tensions intensified by Ireland's partition in 1921, culminating in The Troubles and awful events such as "Bloody Sunday" when British soldiers killed 14 civil rights protesters in its Bogside district in 1972. Oh yes. Derry has a history!
Happily, the peace process in Northern Ireland has seen Derry emerge as a modern, cosmopolitan city with a young population and huge tourism potential, augmented by a stint as UK City of Culture in 2013.
The River Foyle physically divides modern Derry into two main areas: the now-more-Catholic Cityside/Derry part on the west bank, hosting most of the tourist attractions; and the now-more-Protestant Waterside part on the east bank. However, the water is straddled by three bridges – the older Craigavon Bridge, a double-decker affair which once bore trains on its lower deck; the newer four-lane Foyle Bridge for cars, downstream from the city centre; and, in between, the eye-catching 2011 pedestrian Peace Bridge bringing the communities, Catholic and Protestant, ever-closer together.
Note: it might, generally, be better to refer to the city as "Derry", since calling it "Londonderry" could alienate some inhabitants of Catholic backgrounds, although many will still be pretty relaxed about it.
And, with fab award-winning Loganair serving Derry from lovely little Which-lauded London Southend Airport, you too can be here, in no time at all – and with extra cash left in your pocket! Punctual, and with highly personal, yet still professional, service – we love 'em!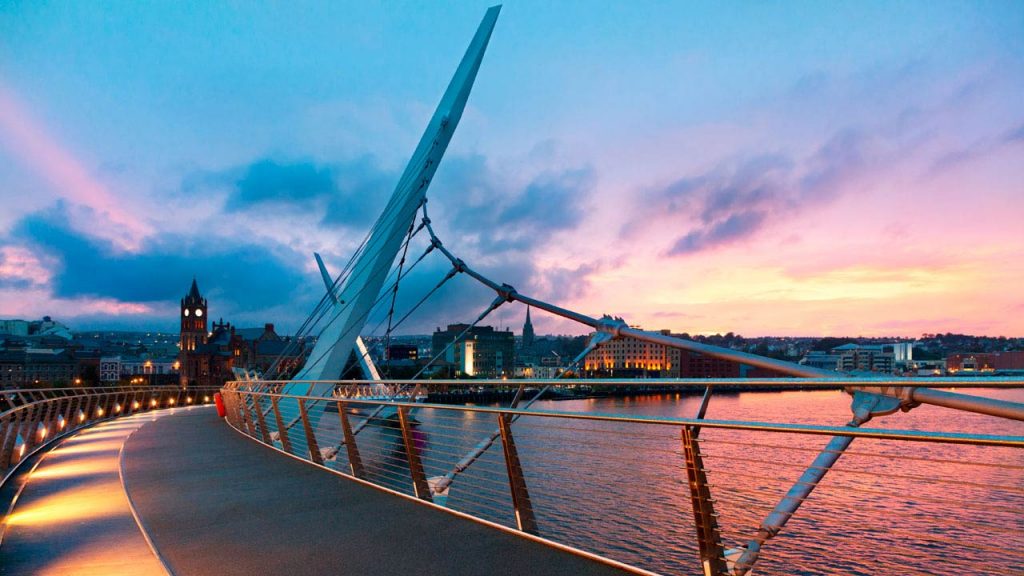 Stay
Stay at stylish 4-star City Hotel Derry (Queens Quay, Derry BT48 7AS; 028 7136 5800;), perched right on the banks of the River Foyle, with stunning views out over the water or back onto the Old Town, itself mere metres away. Relax in one of the hotel's 158 non-smoking bedrooms, including the spacious lofty gems of "The Collection Penthouse Suites & Rooms" up on the 7th floor, superior rooms, suites, family rooms and accessible rooms. Breakfast or glut at its Thompson's Restaurant, Coppin's Bar or Hervey's Roof Terrace; and unwind in the 15m swimming pool, plus jacuzzi, steam room and gymnasium! Complimentary onsite parking for hotel guests! Close to scene and sights!
Eat
Derry is blessed with numerous stylish and atmospheric eateries. Some especially top tips…
Soda & Starch (29 Craft Village, Shipquay Street;) – nestled inside Derry's Walls, in the cute tucked-away yet sprawling Craft Village, this charming pantry and grill is open Tues-Sat for lunch and dinner, using high-quality, locally-sourced, seasonal ingredients to conjure delicious authentic cuisine, rooted in hearty, rustic, honest Irish cooking traditions, with a modern twist, and accompanied by huge helpings and dollops of Derry's celebrated hospitality! Buzzing and friendly! Great Xmas menus! An utter merry must!
Walled City Brewery (70 Ebrington Square) – the only brewery restaurant in Northern Ireland, this multi-award-winning gem serves up a feast of incredible small and large plates! By having a fully operating brewery onsite, it provides both locals and tourists with a "Taste of the North West" through crafting local, authentic, premium quality, tasty beer – and food! Set in an imposing former barracks building looking out onto the old parade ground and down towards the Foyle and Peace Bridge, this place has heaps of atmosphere – and awesome service! Defo try their silky "Foyster Stout" for a velvety oyster take and twist on Guinness!
Bishop's Gate Hotel (24 Bishop Street;) – at the heart of Bishop's Gate Hotel, the "Wig and Gown Champagne Bar & Restaurant" offers superb, informal-yet-stylish all-day dining experiences, in relaxed upscale surroundings, open for breakfast, lunch, afternoon tea and dinner. It uses high-quality, locally-sourced, seasonal produce across a range of classic dishes in a contemporary style, alongside an extensive and unique drinks and cocktail menu. In 2018 the Gown Restaurant team were awarded a coveted AA Rosette Award –
most deservedly! Worth it for their gorgeous staff alone!
See & Do
Though a cab can easily enough transport you further afield, Derry itself is totally walkable. Take in the river, city walls, Bogside, museums and many historic attractions, notably…
City Walls Tour – regular hour-long guided walking tour of Ireland's only completely walled city, and one of the finest in Europe. Built 1613-1618, the walls are roughly one mile in circumference, of varying height and width (4-12 metres) and – since never "breached" – have earnt Derry its cheeky nickname, "The Maiden City"! They provide a unique "promenade platform" from which to view the original town layout, with its Renaissance-style street plan, within; plus nationalist Bogside district and small unionist west-bank Fountain enclave, without. The four original gates to "The Walled City" (Bishop's Gate, Ferryquay Gate, Butcher Gate, Shipquay Gate) are joined by three tad-later gates (Magazine Gate, Castle Gate, New Gate), thus totalling seven in all. Heaps of oral history en-route, too, from your passionate and knowledgeable guide – not least from one master-story-teller going by the name of Garvin!
Bogside History Tour (bogsidehistorytours.com) – tour of the Bogside area just west of the city walls, departing from the Guildhall, focussing on the background to The Troubles; the Battle of the Bogside which sparked things off in 1969; and Bloody Sunday in 1972, including its Memorial. You will also take in Free Derry Corner and the Bogside murals of the People's Gallery, depicting town history from a nationalist perspective. Visit the Free Derry Museum whilst here. Top guides who've actually lived it! Very moving. Especially blessed if you get George – he's the real deal.
Tower Museum – award-winning main museum of the city, telling the story of Derry from pre-historic times to its foundation in 542; the siege of 1689; the Irish Famine of 1846; the partition of Ireland in 1921; and the recent conflict of 1969-1994, up until modern, thankfully far more peaceful, times. The museum now houses a fascinating large new permanent exhibition about the Spanish Armada's demise on the nearby coastline, and recent associated marine archaeological finds. Also check-out the fine terrace on its roof for vista-viewing of the city's spectacular historic skyline!
The Guildhall – 1890-built, with fine stained-glass windows, and recently refurbished; now with an exhibition showing how the Plantation of Ulster shaped Derry and the whole region. Open from 10pm-5.30pm, 7 days a week, with free entry.
Other city highlights include St Columb's Cathedral (1633); St Eugene's Cathedral; St Augustine's Chapel; the Apprentice Boys Memorial Hall, detailing the history of the Apprentice Boys, not least their role in the 1688 defence; and the Courthouse.
The city also hosts its famous annual Halloween Carnival every 31 Oct attracting over 30,000 fancy-dress revellers, all thronging the streets and bars 'til the wee small hours!
Scene & Pride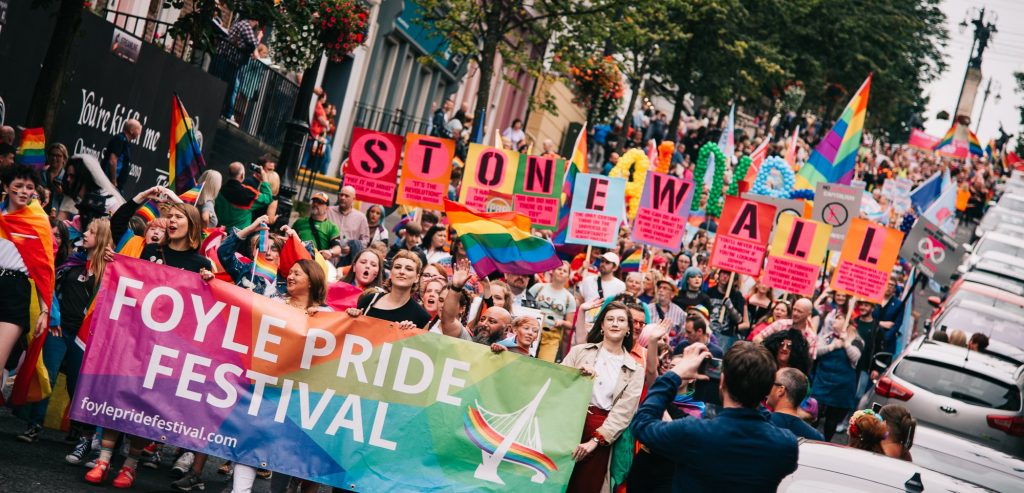 LGBT rights in Northern Ireland may have taken a little more time to catch up with the rest of UK, but it's pretty much got there in the end, with the first same-sex marriages due to take place here in early 2020!
You'll be made warmly welcome pretty much everywhere in Derry. Furthermore, although the city may only have one dedicated gay venue – Envy Bar & Nightclub (64 Strand Road;) – at least it's a good'n! Top drag shows and DJ sets attract a vibrant and friendly, colourful and fun-loving crowd! Open Weds-Sat, 10pm-2am.
The city's annual Foyle Pride has now become one of the highlights of Derry's summer, with a unique family-friendly feel to the parade, inspirational speakers and workshops, plus fantastic nights out with live music and local artists!
FLY HIGH WITH LOGANAIR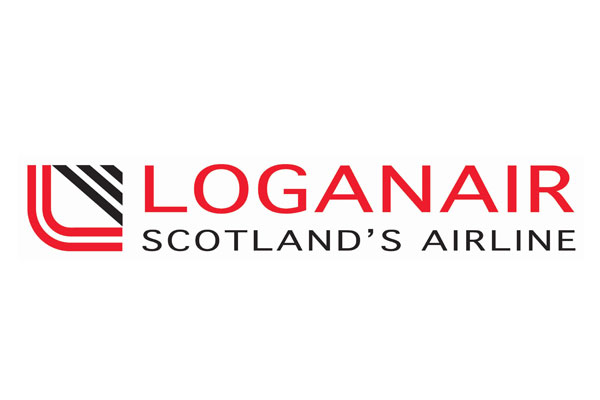 SPAA Domestic Airline of the Year, Loganair provides up to two services per day between London Southend and City of Derry Airport onboard their cute little Embraer 145 Jet. Tickets start from £49.99 one-way and include 15kg of complimentary baggage, 6kg of hold luggage and an inflight refreshment. Children under 12 are eligible for a 33% discount and the airline operates a competitive loyalty scheme called CLAN Loganair.
London Southend Airport is scarce 55 minutes away from London Liverpool Street, on frequent, reliable and friendly Greater Anglia trains.