Review: Touching the Void, Duke of York's Theatre, London
by Adrian Gillan for www.bent.com
Adventure and survival, on the very edge! Bent's Adrian Gillan is gripped by a unique, audacious staging of inner mountain odyssey, Touching the Void, at the Duke of York's Theatre, London!

Why seek extreme danger and adventure? And how far could, should or would we go to survive?
These are the two existential questions at the heart of Touching the Void – a new play by David Greig based on the 1988 best-selling memoir of the same name by Joe Simpson, detailing his near-tragic 1985 ascent, and oh-so-eventful descent, of the west face of the imperious 6,344-metre-high Siula Grande in the Peruvian Andes, alongside co-climber Simon Yates.
Previously adapted into a BAFTA-winning 2003 docudrama film, Greig's life-affirming and oft darkly funny play premiered at the reopening of the gloriously refurbished Bristol Old Vic in Sept 2018, followed by a short UK and international tour, including to co-producers Royal Lyceum Theatre, Edinburgh, and Royal & Derngate, Northampton. And it now hits the West End – for a limited run!
The must-see brilliance of this already thrilling true tale lies in its staging, courtesy of Greig's audaciously inspired adaptation, working closely with a kindred spirit director and creative team. They, and the cast, pull off the well-nigh seemingly impossible through near-miraculously bravura theatricals!
Greig's genius is to take us all on an inner journey of the mind and soul, as well as a wonderfully ritualistically stylised physical odyssey. He takes us into a dream-world of delirium, hallucination and – as he himself puts it – "fantasia", cleverly and dramatically effectively telling the tale within hero Simpson's fevered brain, as he leads himself – or is he led? – to safety; inspirationally drawing upon profound resources he never knew he had. This fantastical framework allows Greig to use an imaginatively fluid theatrical pallet as vast as his subject matter – from a spine-tingling full-on Ancient Greek chorus, shortly after Simpson shatters his leg, to recurrent expressionist tableau "spasms".
With a Tony Award for War Horse to his name, acclaimed director Tom Morris is Greig's perfect partner in achieving this – in realising the apparently unrealisable through the magic of drama and theatre. He, and his whole tightly-integrated creative team, deserve some serious recognition for their work here.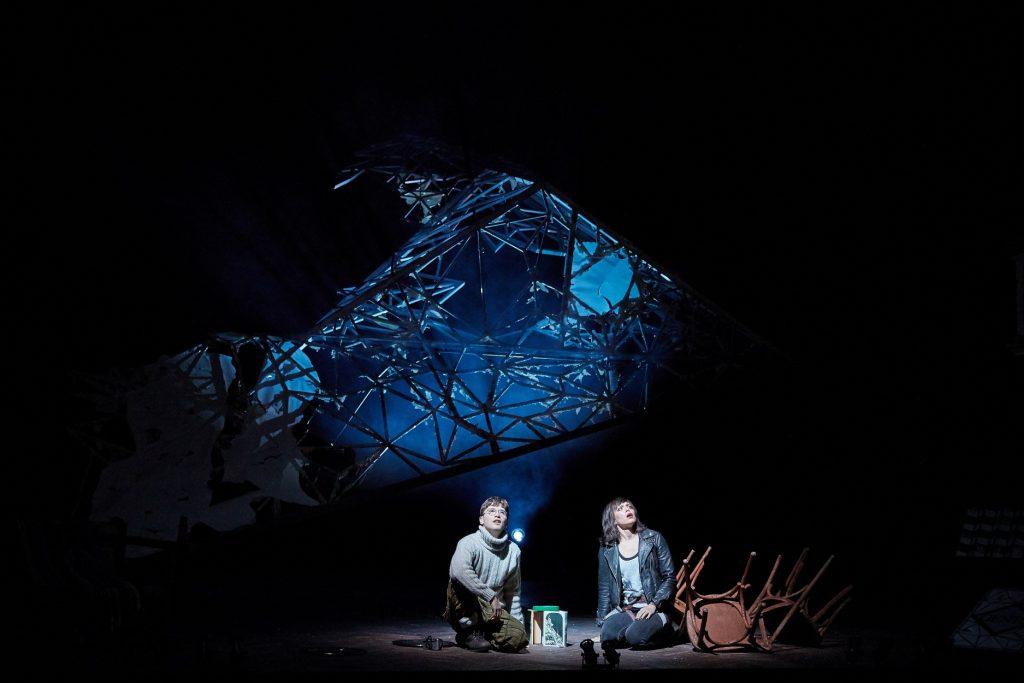 Designer Ti Green conjures whole mountains, glaciers and screes from an irregularly-jagged, largely-suspended metal framework, the play's set also sprawling out onto the proscenium. Chris Davey's lights permit fast and flowing storytelling, oft angularly kicking in spasmodically vertiginously to disorientate – the horizontal becoming vertical – alongside breath-takingly heightened, and frequently ritualistic, movement work from Sasha Milavic Davies. And all set against a wonderful epic and trippy soundscape by Jon Nicholls – from bleakly windblown to retro pop!
Josh Williams delivers a quite literally staggering performance in the hugely physically and vocally demanding role of Joe; alongside wonderfully cool Angus Yellowlees, playing the more experienced climber Simon Yates – the closeness of the two characters intensely and sympathetically evoked, amidst moral dilemmas that were be no means uncontroversial at the time, and for some still so remain. Some amazing onstage climbing from both actors too!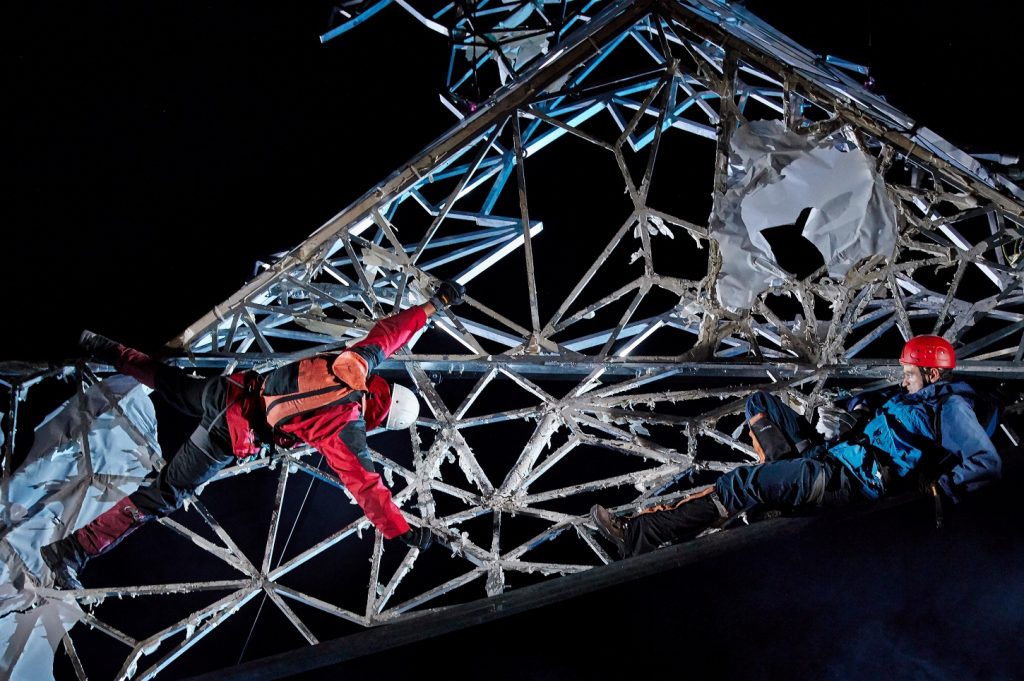 Fiona Hampton is superb in the plum psycho-narrator role of Sarah, Joe's sister – her voice provoking her brother onwards towards survival, yielding a frisson as we learn, only at the end, that, in reality, she was unaware of events at the time until several weeks afterwards. And talented, handsome and oh-so-sweet-voiced young Patrick McNamee provides valuable and ongoing light relief, throughout, as nerdy, hippy "base camp manager", Richard.
After all the intense drama, in the quasi-cinematic coda, we are left alone with the towering, beautiful, awesome and inspiring image of that now-famous potentially deadly yet life-affirming peak. To this day, Simpson and Yates remain the only climbers to have conquered that route.
Plumbs depths to scale heights. A mind-blowing theatrical privilege, deserving the widest possible audience. Don't dare miss.
 Touching the Void runs at the Duke of York's Theatre in London, until 29 Feb 2020.
– ends –