TURN ON SPORTS
Usually most of us are way too lazy to do it as often as we should—but nevertheless sport is an essential part in the lives of many gay men; after all one wants to stay healthy and in good shape. And there's even more to it: Sport and what's associated with it—muscles, endurance and physical challenges—are a fetish for a lot of me.  You accept a challenge and you fight hard to win. Doesn't all this sound just like sex and love and life? This anthology offers you oodles of stunning pictures—athletic sporting aces from lank to bulky, every single one a turn-on himself.
£27.85   brunogmuender.com
********************************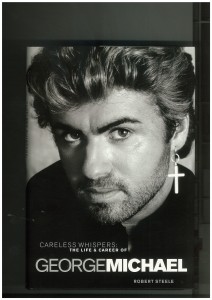 Careless Whispers: The Life & Career of George Michael
By Robert Steele
George Michael is the single most played artist on UK radio for the last two decades and has sold more than 100 million albums world-wide. This new biography uses interviews with the many people who knew George from his early days and explores every aspect of his turbulent life as well as his extraordinary successful professional life. This biog throws a whole new light on Georgios Panayiotou, the Anglo-Greek London boy who had to hide his homosexuality when he was half of the pop phenomenon Wham!  but becoming recognised as a global superstar and gay icon in his own right. The scandals and imprisonment that might have derailed his career but proved to be just another interruption in the life of this much-loved superstar.
£19.95 – Omnibus Press
***************************************
The Victor & the Vanquished
By Mark Wildyr
Young William 'Wilam' Greyhorse carves small animals and toys for his younger sister as a method of coping with alcoholic parents and his physical abuse. With the growing estrangement from his family, he is shaken by the increasingly powerful feeling he is different. A feeling that is magnified when he meets Jason Bedford who exposes him to a completely different lifestyle.
£12.99 – Starbooks
****************************************
Hot Daddies
Edited by Richard Labonte
From hunky father figures to dominant leathermen, Hot daddies collects stories capturing the erotic dynamic between younger and older men, their emotional connection and the benefits of sexual mentorship. One of the stories is about an 18-year-old's sizzling summer camp romp with both a daddy and his boy, while another contemplates life of a 'boy' with two daddies.
£10.99 – Cleis Press
**************************
Second You Sin
By Scott Sherman
Someone is killing New York City's hottest male prostitutes and it's up top sleuth Kevin Connor to find out who.  There is no shortage of possible suspects or motives. Could the killer be a sadistic head case with a deadly fetish? A high-profile celebrity worried that his biggest secret might get out? Or perhaps it's a right-wing politician, guilty of protesting too much from his pious and unforgiving soapbox?
£10.99 – Kensington
****************************
Frat Boys
Edited by Shane Allison
Paddlings, partying, hazing, wrestling at the frat house – the gorgeous undergrads in this compilation of hot stories, definitely know how to have fun, especially with each other. A student with a jock-sniffing fetish goes wild, whilst a pledge is put to the test in front of fellow classmates by a professor with dubious motives. These are just two of the erotic tales you'll find as you visit this particular campus.
£10.99 – Cleis Press
****************************
You'll Hear From Me
By Luis Algorri
Javier is a student who lives an uncomplicated life until he gets to know the younger brother of his girlfriend. Immediately he feels an almost magical attraction to the boy. Everything on him appears to be perfect: His face, his smile, even the blue speedos he's wearing. Javier is after him until he finally finds a way to get close to him. During a hot Madrid summer the two young men experience a relationship that's surprisingly intense.
£9.99 – brunogmuender.com