Homotopia Crowns First Ever Alternative Miss Liverpool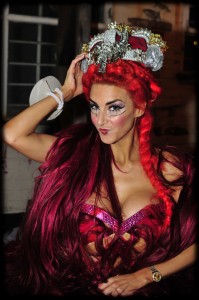 Carry On star Fenella Fielding crowned Miss Voodou the winner of the inaugural Alternative Miss Liverpool pageant recently in front of a capacity crowd at city centre club The Kazimier.
The riotous night of Homotopian entertainment featured 23 participants of varying ages, genders and sexualities who donned costumes and make up and took to the catwalk to strut their stuff and answer questions from glamorous host David Hoyle.
Judges Fenella Fielding, Andrew Logan (sculptor, artist and instigator of Alternative Miss World) and Borre Olsen (Norwegian jeweller and co-creator of Alternative Miss Liverpool Crown) chose Miss Voodou as their ultimate winner.
Homotopia boss Gary Everett said;
'This pageant embraced everyone, irrespective of gender, race, age or sexuality and I think our participants reflected this. Miss Voodou's dress was original, weird and wonderful and created with real artistry.'
Miss Voudou's dress was made from 250 metres of hair, weighs 15 stone and took 300 hours to make. It was designed by Thelma Madine, dreamed up by Voodou stylist Ryan Edwards and made by a team of 8 staff from Nico's dress designers. It is now estimated to be worth £50,000.
The winner's crown was designed and made by Liverpool milliner Hayley Marsden and bedecked with £1500 worth of jewellery designed by Borre Olsen. Miss Voodou will be entitled to wear the crown at VIP events across the city for the next 12 months.