A load of bollocks – that could save your life.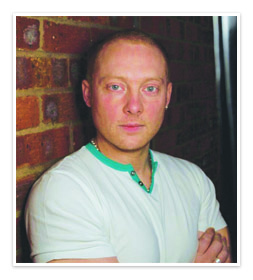 Simon, from Essex, was 32 years-old and leading a busy career as a paramedic working in London when he first realised that there was a problem. He discovered this one day whilst at work because he was getting some slight discomfort when crossing his legs. After dropping his pants for a bit of self examination he noticed that his left testicle felt different but not in relation to a lump… more like a peach stone.
I'm sure it came as a shock but how soon were you diagnosed and treatment start for testicular cancer?
I had a scan within an hour of being seen in A&E and, being in the profession, I could understand the scan so had a good idea what it showed. At that point I was thinking "Oh god, I'm going to lose the testicle" not that it could be cancer. Once it was confirmed, I was happy to have it removed but needed it to be replaced (with a prosthetic) straight away as I felt this would make me less of a man if I only had one. The actual diagnosis of cancer was something I didn't think of until it had spread to my lungs and lymph nodes. I was then having chemotherapy three months later. This was three sessions of IV chemo over a 72 hour period, with a few weeks' gap between each session. Again I didn't think of what was happening until my hair starting falling out then I knew I was really ill.
What were your worries about the treatment?
My main worry was leaving my children and explaining to them how I might look and feel. Also, it does go through your mind "what if the treatment doesn't work?" Being sick is something I can't stand so I was worried how I would cope with that side effect but now being sick is no issue –I'm kind of used to it now ;)
How did it affect your relationship?
The first time my partner and I were together after the operation, I was worried that it would look and feel different. Being in a gay relationship, we can compare so I was worried I would never be the same. However, I'm lucky to have such a wonderful partner in Chris. There was no pressure and it was like nothing had changed. Chris nursed me through the whole chemo period and never left my side. It made our relationship so much stronger and we became even more thankful for what we have. We live for today now and make more time for each other and time with the children.
Do you know if a history of cancer in the family makes you more susceptible to the disease?
No one in my family has had testicular cancer, however my mum had breast cancer and her brother had bowel cancer so maybe.
Did you feel that your lifestyle in anyway had 'added' to the problem?
No I don't really drink and I go to the gym three or four times a week. I do smoke but guess I will not know if this was a factor or not.
What's the prognosis now?
Prognosis is very good. I should have my final CT scan in May and then hopefully be discharged. To date, all blood tests and check ups have been good.
Is there any advice you'd give to our readers?
My advice is: don't be embarrassed to get any problems checked out. This type of cancer can spread fast like mine did and like me I had none of the normal symptoms, so any abnormalities are best to be checked out as soon as possible.
If anyone wants to know any more about signs, symptoms, risks or to make a donation, they can visit www.everyman-campaign.org
Testicular facts
Testicular cancer is the most common cancer in men aged 15 – 44
2,000 men are diagnosed with testicular cancer each year in the UK
Testicular cancer is 99% curable if caught early, which is why it's imperative men are aware of the symptoms
If men notice any lumps, bumps or something changes – they need to go get it checked out by a doctor ASAP