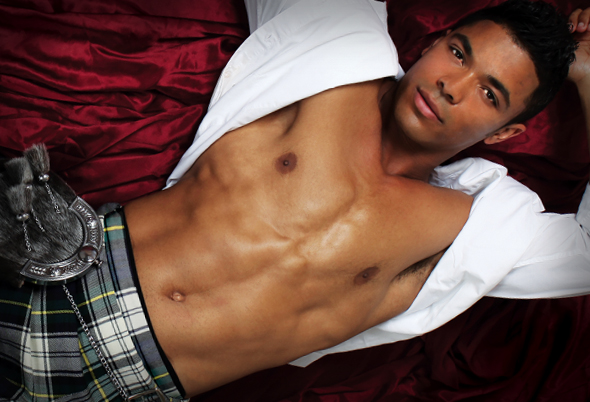 By Les Lea
A hot guy in a kilt is still a hot guy whether he is in a kilt or not… and there would be those who would argue that… out of a kilt is even better. I disagree. There is something quite magical about the kilt. The imagery, the history, the masculinity… yes all these and many more reasons add up to why the kilt is one of the premier pieces of clothing that gets us gays into a fantasyland of possibilities.
It has to be said that a kilt can make even the drabbest of men look interesting. Take the number of guys who simply cannot wait to hire a kilt for a wedding or some formal function or other, in an attempt to make them seem more than just a 'boring suit'… and all that entails. They want to be blessed, even if it's for only the time of wearing the kilt, to be perceived as a 'macho real man'… a bit of a rebel.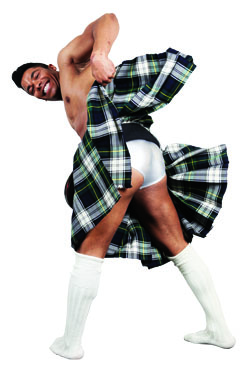 Some may argue that a kilt is just a skirt (and by association it must therefore be womanly) but few, if any of the millions of guys, and not just gay boys, who have adopted this image, see it as a subtle way of cross-dressing. Historically, the image of battling gladiators, fearsome Greek soldiers of antiquity and the Roman centurion, all give this short tunic more than a hint of respectability and manliness.
The full dress kilt is a work of art. The amount of woven material, the heaviness of the fabric, the number of pleats, the way it hangs tightly around the midriff falling tantalisingly to the knee (mmmm), not forgetting of course the absolute myriad of different coloured tartans, mean it is a constantly changing public spectacle that everyone can enjoy. In some ways the kilt keeps on developing. They now make them in a variety of fabrics, some that work… some unfortunately that simply do not. Despite the occasional fashion designer attempting to make it into a male mini-skirt, the authenticity of 'the real thing' has maintained its stature as one of the most masculine and desirable items of clothing.
I'm not sure if it will ever replace underwear as a gay boy's favourite fetish but the numbers who now adopt this particular look for Pride and other gay social events has been on a steady increase for several years.
On a recent trip to Scotland, Dumfries to be precise, I was looking in various shop windows and I came across a kilt provider. Now where I'm from in Yorkshire, the scene depicted in the window display would have been of a cutesy wedding, with little page boys dressed like the groom, all wearing matching tartan kilts. In the Dumfries window, the model wore a superb blue, grey and green tartan kilt with a rugby shirt, rugby socks and trainers. Nothing formal or celebratory… just one hot image of the kilt used in a day to day situation by a guy going about his business… on this occasion… a sports fan; the heavy pleating at the back of the kilt adding a certain sexiness to his rump, while the leather sporran added an assured emphasis to his groin.
I have to say that "What does a man wear under his kilt?" doesn't really interest me that much (sorry, it does interest me…but not in the same way as some people's obsession). I like the idea of some hunk, tossing a caber or throwing a hammer at the Highland Games, spinning around with kilt flying and seeing a pair of matching tartan undies, now that to me would be quite a turn on. However, I can also see the delight if he is wearing nothing but a determined grimace as the swirling kilt reveals a hairy arse and not inconsiderable appendage. I am also aware that certain Scottish regiments prohibit the wearing of under garments, (and one has to wonder at the sexual proclivities of the brigadier who came up with that rule?) so that can give an extra frisson of interest when the troops, in full ceremonial garb are on parade or marching through your town. A battalion of fit young guys in kilts at 'attention' now that might well cause some heavy perspiring!
Model: Danny
Photographer: Mark Hawkins
Kilt supplied by Moss Bros
Underwear from Bum Chums