BWO – Music for all occasions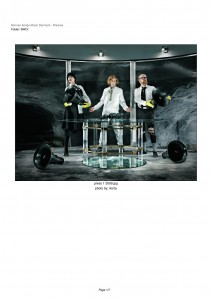 "I love BWO, Alexander Bard is absolutely mad, he has written one of the world's best pop songs of the new millennium." Mika
He's not the only one. When I get on the treadmill at the gym, plug myself into my iPod shuffle and press play… there is no better music to uplift your spirits and encourage you to exert yourself. BWO have that magic, electro-Eurobeat formula that works on the dancefloor, on the airwaves and in the sweaty confines of a gym.
Thankfully, there's a new album out soon… so prepare for ecstatic eruptions as the band renowned as the most popular pop act across Eastern Europe and Scandinavia, hit the UK with an explosive new release -Big Science.
The biographical history of this Swedish trio from Stockholm is nothing short of overwhelming as it boasts glittering accolades of platinum albums, countless hit singles across Scandinavia and Eastern Europe and awards that would make the mightiest of musical legends weep. BWO, aka Martin Rolinski (lead vocals), Marina Schiptjenko and Alexander Bard (both laptops and backing vocals), exude a unique razor-sharp image that's reminiscent of the eccentricities of bands such as Scissor Sisters and the Brand New Heavies, boldly stating that BWO are distinctively unparalleled and extraordinary in every sense. Band member, Alexander, claims that BWO are the much sought-after missing link between Abba and Kraftwerk and their success to date is living proof that he's right!
Forcefully stomping in the footsteps of their Swedish predecessors, Abba, Roxette and The Cardigans, BWO have stealthily proven that they are worthy of upholding the Swedish mantel of outstanding music and performance. Since their formation in 2003, BWO have delivered more hit singles in the Pan-European Singles Chart than any other artist in the 21st century and have toured to territories untouched by many other bands such as Lebanon, Kazachstand and South Africa. Already with four hit albums under their belt (all of which went gold or platinum in their home country), BWO's CV boasts awards such as, 'Pop Artist of the Year' in the Swedish Grammies, as well as the Rock Bear award for Sweden's most popular band two years in a row.
BWO are also no strangers to the UK as they smashed four singles into the UK Singles Chart throughout 2008, as well as scooping a Top 40 Dance Chart hit in the US.
Now for 2009, BWO's sights are firmly set on gripping the attention of the UK music market with their best album to date, 'Big Science'. The album is a collection of 14 quality electro/pop tracks, all of which have been originally penned and produced by the band, alongside internationally famed co-producer, Ander Hansson, whose previous production works include Cher and Christina Aguilera. The result is an astounding assortment of undeniably catchy and infections songs, which will have electro/pop fans reeling for more.
Album – Big Science – Out 5th October