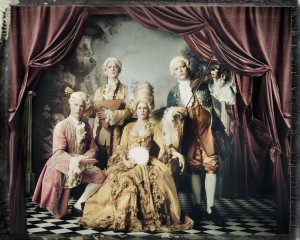 It seems only yesterday, and yet strangely so long ago, that the airwaves were filled with the sound of 'Barbie Girl' and the blissful pure pop of Aqua. Then, two albums later, they sadly split leaving the gay public grieving… but now they are back with their Greatest Hits and new single 'Back To The 80's' to once more reign as pioneers of pop. Simon Savidge went to meet them and discuss, fall out's, reunions, solo careers and if they ever got annoyed singing 'Barbie Girl'?
It's quite weird meeting some pop people, especially when they were a big part of your youth and Aqua were such with mine. In fact, I spent most of their pop reign drunk and dancing to them in various gay bars and clubs. So I am happy to admit when I met Claus, Soren, Rene and Lene… I was a little star struck.
"Hug me please," Lene says, "we are a very huggy band… we don't really do hand shakes, it's all hugs and kisses." Rene asks which magazine it is "Bend Over Magazine… wow (laughs) oh Bent Magazine? I like Bend Over, I could do your health pages and be Doctor Bend Over Please, sorry it's the jetlag and no sleep" and with that we sit down with a few beverages and a chat.
Back in 1997 the rise of Aqua in the UK was a very sudden thing, one minute we hadn't heard of Aqua (Europe had because they are better at detecting pop than us) then suddenly 'Barbie Girl' was everywhere. This aural epic was followed by a couple more hits (Doctor Jones, Turn Back Time) and it was 'Aqua overload'. "If you think it was crazy for you," Lene laughs, "it was really crazy for us. One minute we had a few big hits in Europe then unexpectedly it was Asia, America, the UK… it was like an unstoppable force and we were very much in the middle in a strange little bubble."
Was all this pressure part of what caused the band to split up just a few short years down the line?
"Yes and no." Lene ponders for a while. "I think that one of the problems was that because the success was so swift we didn't quite have time to catch up. We were constantly promoting and never actually doing anything live. I mean can you imagine we had all these hits in the UK and only now we are finally doing G-A-Y for the first time… almost ten years later? If you tour you have more time to process and catch up and that's what we didn't do. It was single promotion after single promotion, then the studio for album two and then back doing promotion."
"I also don't think it helped being constantly called a one hit wonder, even after three number ones people kept calling us one hit wonders," says Rene. "It is quite hard to constantly fight that, well not fight it but try and persuade people it wasn't the case." Lene interjects. "We know we are a guilty pleasure, we are pure, unadulterated pop. We aren't trying to have huge deep lyrics, though I think our ballads are always beautiful, we are about having fun and a party and that's it. Soren adds, "You know the world is quite a miserable place sometimes and what we want to do is bring happiness into people's world. We are all aware that we are pop, pure and simple, but people really slated us. But you knew that these journalists probably had Barbie Girl on their iPod's and probably still do."
After the split Claus and Soren both carried on in the music business. "But more behind the scenes". Rene went on to do some solo material as did Lene. However, Lene found this quite a difficult time. "After Aqua I had to find myself a bit and there wasn't quite the space to do that. Who was I? What did I want to do? You know I was straight from college when Aqua started so it was tough. It was pretty much – meet a producer, write a hit, meet a producer write a hit and while I enjoyed it in parts… it was also scary." I ask if she found it weird that her singles, Pretty Young Thing and Here We Go, have been covered by Tina Cousins and Girls Aloud. "Wow you know your pop! I didn't know that." Rene looks shocked. "Did you just say that he knows his cock?" Lene raises her eyebrows in mock despair. "No I didn't…" she winks at me "though I am sure he does" and they all start laughing.
In order to calm them all down I ask if they missed each other during the break. Rene looks over at the rest of the group, "We stayed friends but I think we all really missed each other, although during the first two albums there was times when we may have wanted to kill each other". They all laugh.
So, the $64,000 question… what made them decide to reform? Lene laughs. "You all have me to blame for Aqua coming back… sorry." Rene smiles knowingly."I knew it was coming, I almost predicted the call. I picked up Lene's call and just said 'yes let's do it". Lene grins. "It was actually more Claus and Soren… I wasn't sure they would want to do it, to be honest and Soren is my husband for goodness sake! I don't think we all knew for sure if anyone would be interested." They all laugh again. "We have taken things much more slowly though this time." Claus adds "You know now we are all at a certain age (there are muffled 'speak for yourself' and giggles). We have children, we are doing things more leisurely. We also want to make sure that everything feels right and that we are happy being back together, which of course we are, and that things happen naturally."
I tell them that according to Wikipedia they are already making the third album. "That's your clever way of asking if we are…" Soren laughs. "I tell you what though guys" Rene announces "we start from scratch. No old bits and bobs that we might have had floating around. It's all got to be fresh." Lene raises her eyebrows again and confesses "We did start a third album though before the break but we want anything new to be fresh…take our time over it. There will be something new maybe middle of 2010. It's not like we are a new Aqua, we are just an evolved Aqua, we won't be forgetting our pure pop, guilty pleasure roots." "We are quite forgetful though… we forgot to put Good Morning Sunshine on the Greatest Hits". They all laugh again.
It truly is a delight to enter the Aqua bubble… long may it continue… after all Pop is Pleasure and I feel like I've just been pleasured by Aqua!
The new single 'Back To The 80's' and the 'Greatest Hits' album are both out now. For more Aqua info visit www.myspace.com/aquaofficialsite