A great cup of tea – By Jeremy Song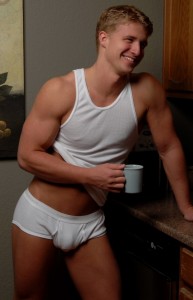 I just want to share my first experience of sex with another guy and it wasn't until I was at University that the opportunity finally arrived. In my first year I was sharing a room with another guy and he was quite the sporty type; rugby team, water polo, swimming…the lot. I got used to seeing him in his shorts and Speedos and he liked to wear very little as we studied in our room. Often he'd lay on his bed or sit at his desk dressed only in his vest and pants, or his rugby shorts or occasionally, his tight nylon swimming trunks. It wasn't because our room was particularly hot either, even on the coldest day he seemed more than happy to be in as little as possible. He slept in a pair of white nylon boxer shorts, which were almost transparent but he really liked wearing them. I had known I liked guys from an early age but had never, not even at school, so much as touched another lad. I dreamed about certain class-mates but had never been confident enough to follow any of those dreams into any kind of reality. God only knows what my mum thought of the state of my pyjamas when she took them to wash, the amount of my goo that was absorbed every night was immense. I had channelled all my energy (sexual or otherwise) into getting good grades so I could go to university, where I hoped I would finally have the confidence to 'blossom'.
Being in such close proximity to my roomy was certainly the spur I needed. On each occasion we spent time together, usually studying, I was mesmerized by the size of his cock bulging out from behind its tiny support, making a mountain from the fabric and me as randy as a pig in heat. I pretended I wasn't looking, which in a small, confined area is almost impossible to do but, not to take in the views, I thought was an insult to God who had placed such a wonder here for my benefit. Hell, was I struggling with conflicting feelings. He was always very pleasant but he was more of a jock and spent his time with other jocks and so, I only ever saw him when he got back to our room. Anyway, apparently, I wasn't fooling him and later it transpired he'd clocked my interest from the very start. He kept me waiting for months before he mentioned anything. As always, he stood in our tiny little kitchen in just his underwear making himself a mug of tea. He looked like one of those ads for underwear in my mother's catalogue. He asked if I wanted anything. I looked up and said that a tea would be nice thanks. But for some reason he looked even sexier than ever as he smiled his most cheeky smile. His hand, already fiddling with the waist band on his tight fitting white CKs, pushed the front of them down revealing the full extent of what those little pants had kept hidden. His hard fat knob sprung up and bounced and throbbed as he stood there and I looked back both shocked and mesmerised. He beckoned me over and told me to 'enjoy'. I saw he had a huge smile on his face so I thought "what the hell" and went down on him. On that first occasion, it all happened so quickly but thankfully it wasn't to be the last. After that we spent many happy hours together with me draining that spunky cock. After one particular gushing climax he told me he had wondered how long it would take for me to make the first move as he was getting as horny as hell and desperate for some release. He said he couldn't understand that I hadn't so much as rubbed his arse while he was in his dirty rugby kit, or commented on the bulge in his nylon Speedos… he wondered if he wasn't my type. Christ, HE was worried I wasn't HIS type! He said it was a relief that I'd taken to giving him a blow job so quickly because, if I hadn't, he wasn't sure he'd have been able to share the room with me much longer before he'd force the thing down my throat. He'd said he liked my soft and gentle demeanour, so different from his sporting pals and he wanted us to be more than just roomies. One morning he climbed into my little single bed with me and he had a raging hard on. He cuddled up close and I could feel his dick pressing into my arse crack. I knew what he wanted and it seemed the most natural thing to shuck off my pyjamas and let him take my virginity. To say I bit the pillow whilst he forced his way in is not too far from the truth but we stayed in bed for most of the day and by the end I was really enjoying getting stuffed by this hunk… and after…he made a great cup of tea.