Chicago: What's Hot in the Windy City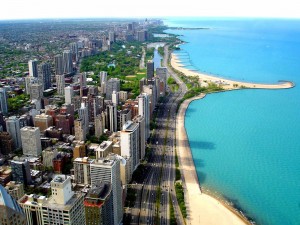 As the temperature drops and the thought of cold dark nights loom, Bryan Herb wants you to think about Chicago for your next summer vacation. It's the place rapid becoming a surprisingly new gay playground for our American cousins… and he'd like us Brits to come and join them.
There are several things that make Chicago the perfect place to spend some time. While Chicago may get a bad wrap for its winter weather, its summers more than make up for it. Chicagoans enjoy warm sunny days and gentle breezes in one of the nation's greenest cities.  Most restaurants open outdoor seating to take advantage of the fabulous natural light and fresh air that blows off Lake Michigan. The lake, with its sun-ignited aqua and turquoise hues is perhaps Chicago's biggest attraction in the summertime. However, the city would never forgive me if I didn't mention that it also gave the US its latest President, Barack Obama.
Of course, many people would consider Chicago's best feature to be the people who call it home. Famous for their friendliness and charm, Chicagoans love their fair city, and welcome tourists with open arms. This isn't one of those places where locals snarl with distrusting sneers at the out-of-towners. Rather, Chicagoans desire nothing more than for visitors to love their city as much as they do. This attitude finds itself into gay bars and restaurants as well, where you will find little, well, attitude.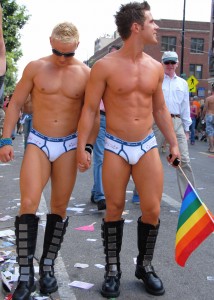 Chicago has a thriving nightlife, located in two main areas: Boys Town and Andersonville.  The most concentrated section of gay bars, restaurants, coffee shops, and gyms can be found on two parallel streets, Halsted and Broadway, between Belmont and Grace Street.  No matter what you're into, Chicago offers a little something for everyone.
The city's gay nightlife is outstanding, but it is not a city that never sleeps. Especially in the summertime, Chicagoans wouldn't want to risk sleeping away the best part of the day. Whether they're window shopping, dining in outdoor cafes, or exercising along Chicago's lake shore, Chicagoans know how to make the most of a beautiful day.
If you're gay, this definitely includes a visit to Hollywood Beach.  Located off Lakeshore Drive to the North of the city at Hollywood Avenue, Chicago's gay community swarms here in the summer time to escape the mild humidity and to gaze at turquoise waters and the man candy that abounds on the beach. Most people arrive here by bike, but you can also drive, or even take a cab. The beach has a private feel, and there is a concession stand at the top of the beach where one can buy ice cream, burgers, nachos, etc.
However, you will not want to spoil your appetite, because at 4:00 PM the beach begins to clear, and the gay boys walk or bike to Big Chicks bar for vodka lemonade and free grilled burgers, salads, hot dogs and more.  You would think that since the food is free, it couldn't be very good, and you'd be wrong-it's delicious, and well worth the long line that amasses as the day goes on. This is the perfect post beach hang out!
In addition to life in the gay scene, Chicago has so much to offer to help you round out your stay:  some of the world's best museums, riverboat architectural tours, world class theatre, outdoor recreation, and more abound.
One of Chicago's most highly acclaimed attractions is Millennium Park, which has impressed even the most scrutinizing of Chicagoans. This award-winning centre for art, music, architecture and landscape design features the work of world-renowned architects, planners, artists and designers on 24.5 beautiful acres in down town Chicago.
Just down Michigan Avenue from Millennium Park, you'll find one of the city's treasures, the Art Institute of Chicago.  The Art Institute is one of the world's most famous art museums, particularly known for its collection
of French Impressionist and Post-Impressionist paintings by artists like Monet, Renoir, Seurat and Caillebotte.  Its permanent collection is magnificent, and travelling exhibits keep the museum's atmosphere fresh and exciting.
Chicago's most famous street, Michigan Avenue, commonly referred to as The Magnificent Mile, has abundant shopping at your favourite stores. You'll find Barney's, Hugo Boss, Kenneth Cole, Louis Vuitton, Diesel, Puma and many more.  To break up a busy day of shopping, check out the RL restaurant next to Ralph Lauren for lunch, but be sure to make reservations.
Speaking of restaurants, when in Chicago you will not suffer from a lack of delicious food.  Old favourites like MK continue to please patrons with consistently mouth-watering American Cuisine.  Tru continues its reign as the trendiest upscale eatery, while Japonais gives it a run for its money, with sumptuous sushi creations.
For something quick, less healthy, and totally satisfying, you can't leave Chicago without trying its famous deep dish pizza.
Few cities offer gay travellers such a modern, well-rounded experience, and there is no better time to be in Chicago than the summertime. With the International Men of Leather (IML) party, and Boys Town's weekend festival, the Halsted Street Fair taking place around August, make sure your summer vacation plans include Chicago.
Direct flights from the UK are available at:
Virgin Atlantic     Virgin-Atlantic.com
British Airways britishairways.com
BMI                    flybmi.com
Flying into Chicago's O'Hare International Airport
The CTA's Blue Line, located at the lowest level of the main parking garage, may be the best option for getting downtown, especially if you are arriving during rush hour. Trains depart every 10 minutes. Travelling on the Blue Line will take you 45 minutes to get downtown. Cabs are also accessible, but be prepared for a possible wait, depending on the time you arrive, and it will take you about 25 minutes to reach downtown.