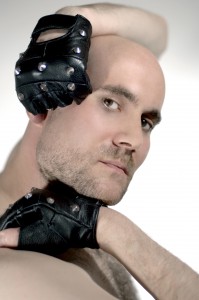 The boys are back in town. And this autumn it's all about the electro boys. With Calvin Harris and Frankmusik giving La Roux and Little Boots a run for their money at the top of the charts, London-based James Leon has emerged as the male darling of the underground electro scene, soon to go overground with the release of his single "Purple Heart".
Inspired by 80'S bands like Duran, The Pet Shop Boys, Depeche Mode, A-ha all bands with style and parents who held a family disco on a Sunday night as the Top 40 was announced, James has been surrounded by music all his life. He sites PSB as his main influence:  "…with their mix of intelligence, understated but heartfelt lyrics, and pop sensibility have inspired me quite a lot."
He's played Prides, festivals, clubs, private parties, disco, fetish nights but says he loved a recent gig in London: "I played at a night called DIY at The Green Carnation in Soho; it's quite a random event with poetry, comedy etc, very arty but so much fun, really relaxed and without ego so I loved that." Ahhh but let's get back to the fetish nights… does he have a secret he wants to share? "Oh dear, probably quite cliché ones; can't help but find men in football or rugby kits so sexy, and builders are hot." I guy with very clear sensibilities but we push him further, in a sort of inspired Smash Hits circa 1980 question, does he have a favourite pair of underpants? Laughs. "I am not one for pants with labels, never bothered with the uniform Calvin's or D&G  – I tend to buy them from H&M and stuff (not very glamorous is it?) but I guess I have a pair of purple and white ones that I really like. I know it sounds a bit daft  cos my song is called Purple Heart – but it is actually a colour I really like – he-he."
Great link back to the single there James. This pulsating piece of electro-pop drips with emotion. It's insistent and driving hook remains firmly lodged in your brain, long after the track has finished. … have a listen.
Purple Heart can be downloaded from  iTunes.