The other evening after I'd finished my daily workout at the gym (yes I can see those muscles ripple and flex… pity they aren't mine) and switched on my phone to half a dozen messages telling me that pop star Shayne Ward was having dinner nearby.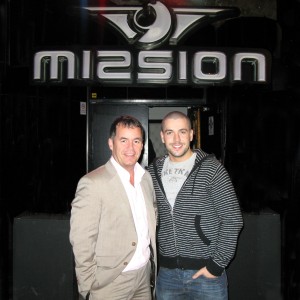 I didn't want to miss the opportunity to meet up with him again so I text him offering to show him around Leeds – nice guy that he is… he replied and said he'd love to.
After he'd finished his meal we jumped in my car to drive to Mission  (the club I own) so I could give him the VIP treatment. He started to look through the CD's I had in my car and immediately picked out one with eighties music – "I really love the eighties" he said and proceeded to serenade me at the top of his voice with Vienna by Ultravox.  It sounded amazing and I said he should definitely release it as a single. I gave him a couple of eighties CD's that I had and he was delighted.
His next career goal is breaking into the US charts and he has some international tours in the pipeline.  In Japan he's already a huge star and has appeared on loads of their TV shows. Apparently they do lots of crazy things and because he laughs along with them they think he understands what's going on.
He spoke to me in Japanese and I was really impressed. When translated though it meant 'Hello good evening, I'm Shayne Ward and I'm so happy to be here." It's the only sentence he knows!!
Recently, I was invited to the South Bank Studios by my friend, the comedian Alan Carr. He was filming his show The Friday Night Project and asked me along to the green room.
I chatted to Barrister Nicholas De-Lacy Brown who became the first to get the chop from the new series of The Apprentice. He has been lapping up all the press since his eviction but he is so full of his 15 minutes of fame… I don't think he's realised how quiet his phone will be once another bolshy go-getter falls flat on their face and gets to hear those demolishing words from Sir Alan "You're fired.". He was quite obnoxious and kept asking for a waiter to bring him another drink. Alan Carr soon put him in his place and told him he had to serve himself in his green room. He was also made to run through the audience wearing a coat full of money – a task Alan and Justin used to do themselves but the audience got too rough with them. They now only let the celebs who don't mind getting a bit of roughing up have that privilege. Alan's other, much more grounded guests were Dancing on Ice winner, Suzanne Shaw, Doctor Who aka David Tennant and Freema Agyeman who played his companion, Martha Jones in the last series.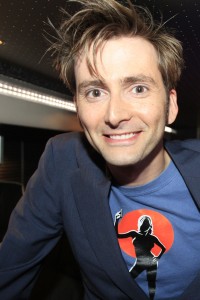 David kept looking at me in the green room, and I could see he was trying to work out where we had met before.  I reminded him it was at last year's switch on of the Illuminations in Blackpool. He confessed he was scared to come out of his trailer that night as he attracts such a strange group of fans, and I witnessed this first hand as we left the studios at the same time. Hundred's of the weirdest people were hanging around waiting for David outside. Most of them could have passed for aliens straight out of Doctor Who.