Quentin Harris – He's good looking, gay, extremely talented and has his own gay night in New York called 'kiss my black ass'. Bent ogled his press photos and then thought it might be time to find out more about this guy who seems to know how to sell himself to an audience.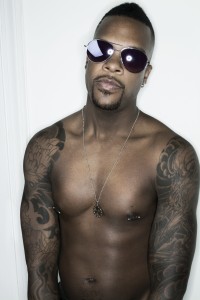 At five he was teaching himself the piano. At thirteen he was making music in his uncle's recording studio. As a young man he rubbed shoulders with the likes of Eminem, Jay Dee and Slum Village before anyone even knew who they were. And at 20 he was recording sessions as a trumpeter with Aretha Franklin. Prodigy doesn't even start to cover it when it comes to Quentin Harris. Now, this enigmatic and handsome producer presents a sublime slice of New York culture with his debut album 'No Politics'.
Quentin Harris is a musician, DJ and producer, a leader and innovator in the field of soulful and deep House; the prominent sound of underground New York. He came to renown through a string of club hits including his own, 'Let's Be Young', and remixes of Donnie's 'Cloud 9' and Mariah Carey's 'Don't Forget About Us' and has twice been voted Re-mixer of the Year by his peers at New York's Underground Archive awards, having worked that Harris magic on tracks by artists ranging from Justin Timberlake to R.E.M during his 15 years in the industry.
His style is heavily influenced by his Detroit upbringing. He grew up immersed in early techno, blues, funk, hip-hop, soul and Motown and assimilates all these types of music into his work has made him one of the most distinctive and versatile artists of our time.  "I have a very diverse following," he says. "It comes from all of the different musical backgrounds I have; I just incorporate them all into what I do."
House music is not typically known for carrying a message but the title of Quentin's album, 'No Politics', reflects a desire to rid music of niches, divides and genre boundaries: "I have this analogy – and this belief – that nothing is new. Everything's been done before – we're not re-inventing the wheel. I just like all music and what I make just so happens to sound like what it sounds like." But despite his desire for music to be politics-free Quentin cites his own album as an example of current concerns. "There were disagreements between the American record label and Japan," he explains. "It's complicated but it became very political; that's when I decided the album should be called, 'No Politics'." When asked what the album represented for him he enthusiastically declared "No Politics is a small window into my crazy mind. And my mind is only going to get crazier," he warns.
When talking about Quentin it is impossible to overlook his love of the legendary New York club Shelter; it has become a second home to him. It is here that he met the notorious producer Timmy Regisford; an artist and DJ that would provide him with great inspiration.  In recent years he's been experimenting with parties of his own there. "Recently I started a party called 'Kiss My Black Ass…' You laugh – that's what the name was intended to do! I think people take themselves too seriously in music. I just wanted to create a night where people could come as they are; you hear it all the time, 'Come as you are!' But no, people were coming to my party really as they were; some girl had a lamp-shade on her head, I was like, 'Oh, fine."
Quentin Harris 'My Joy' (Strictly Rhythm)
Full album available on CD, 3×12" and digital download