You Can't Take That Away From Them…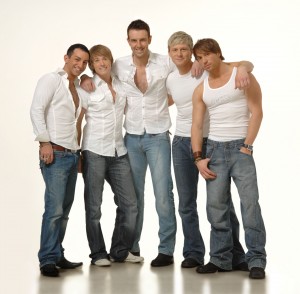 We've had the Madness Musical 'Our House', the Blondie Musical 'Desperately Seeking Susan' and many others… but our favourite is 'Never Forget' the Take That musical. After a successful tour the show is now moving into the West End, Bent joined the lads in their dressing room to chat about the show and the West End move.
So what's the story line behind Never Forget for those who haven't seen it yet?
Stephane: Basically it's the story of five misfits who audition for a Take That Tribute Band and their journey from being quite bad to becoming quite good and competing for a national prize. On that journey there are reflections of the individual member's lives and backgrounds. It's a lovely 'feel good' story.
Were you all fans of Take That?
Tim: Yes.
Dean: People always expect us to say yes, but it's actually true we love the music.
Eaton: We're not like massive stalker fans but yeah their music was brilliant.
Did you ring up the helpline when they split up?
All: (Laugh) No.
Is it quite weird singing their songs and being a tribute act especially as they have had such loyal fans?
S: It is actually.
T: The good thing about it is that we are not really trying to emulate Take That. We aren't playing them as characters, more characters playing them. If you want any comparisons its more like Mamma Mia and the Full Monty I guess. There's a fair amount of flesh on stage.
Craig: They are great songs to sing and towards the end when it's a concert feel and everyone is joining in its great.
E: At rehearsals we were all saying 'god I loved that song'.
Because of how successful it's been it is now moving into the West End how exciting is that for you all?
All: We cannot wait.
D: By the time it opens we will have all been in it a year which is quite a while…
T: We have all been surprised at the success…
C: Definitely.
T: We've all done loads of shows and some in this genre. For me personally and I think for everyone else it's just exceeded expectations completely.
D: I think its taken everyone who has been involved by surprise not just us, so many shows now tour and then vanish it's just been great.
T: I think people forget how big Take That were and you have the older fans bring their kids, friends, Mums, Grandmas.
So can the gay audience get a good amount of flesh on stage?
All: Definitely.
E: My character is a stripper so there could be some flesh involved.
T: Hot pants feature.
C: There's a changing outfit scene which features us in our pants.
S: Take That had a huge gay following and we have been really lucky as the gay fans seem to like that… it's a huge compliment.
Never Forget opens at The Savoy Theatre, London from 7th May.