AUSTIN ROGERS LIKES A GOOD ROGERING!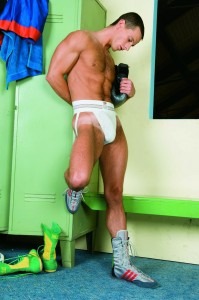 Austin Rogers is the star of Private Man's latest DVD release 'Sex Olympics.'  Set in the world of professional sports, 10 sportsmen soon find out that it's a very tough game, especially when the team coach demands sexual favors in return for gold medals. We had a chat with Austin to find out how dirty he likes to play…
Tell us a bit about yourself Austin…
I am Hungarian, I'm 25 years old.  And I am a gay porn actor.
Are all your friends jealous of your job?
Some of them are yes.  But it's not an easy job, I spend a lot of time working out to keep my body in shape.  I have to watch what I eat and I love sweet things, so I have to limit myself, which is a bit of a torture.  I can't go out and party if I am shooting.  But of course on the good side I get to have great sex with some really hot guys.
Do you like sports?
Yes, I like boxing and soccer.  I play in a gay soccer team in Budapest and we get together every week to have a kick around.
And is there any extra 'sport' going on in the locker room afterwards like in 'Sex Olympics'?
I haven't done anything, but we did once catch two guys sucking off our coach, who is actually married.  Apparently they had a bet on with some of the rest of the team to see if our coach had gay tendencies.  Obviously they won the bet.
Wow!  That's such a gay sex fantasy, having sex with a straight sportsman in the locker room…
Yeah, it is pretty horny, especially when you're all sweaty from a soccer match.  I actually love the smell of body odour, licking out armpits, smelling sweaty jock straps.  I like men to smell like men!
You are turning into a very popular star, we also saw you on the front cover of Man-size's 'The Club'…
The Club was a very horny movie to work on.  We were all dressed up in leather gear.  But putting on some of those leather harnesses was so complicated, so many buckles and chains…   We filmed the movie in a sex club in Vienna and I think I did a cum shot in practically every scene.  I always have a lot of cum in my balls and can shoot long distances, so the director asked me to cruise the club and wank over what I saw
So are your balls bionic?
What like the 6 million dollar man?  Ha ha.  No they aren't but there is a secret to make lots of cum.  Some guys swear by eating lots of protein, but the best one is to eat lots of lettuce each day.  I was told that by another porn star and I definitely noticed a difference, so I always have a big salad with every meal, and when I'm filming even for breakfast.
So how is your love life?
I'm single at the moment.
And what is your ideal type of guy?
I don't really have a type.  I'm more into cuteness, not necessarily good looking, but that special something that makes you go awe… so cute.
Have you ever been in love?
Not for a while.  I'm a bit scared to get involved with someone at the moment to tell you the truth.  My last relationship ended up really badly, plus with my job, it makes it difficult.  But you never know when love is going to come along, and there is no better feeling!
Austin Rogers stars in 'Sex Olympics' with 10 other hunky, muscled boxers, swimmers, footballers & marshal arts sportsmen who are all competing for cock!
Available from Clone Zone, all good sex shops or online at www.man-size.com