Doctor… Who's in charge?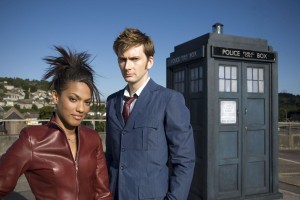 Doctor Who returns to our TV screens later this month and series producer, Phil Collinson, tells Bent what we can look forward to… and how he got the job.
Yorkshire born Phil went to the same drama school as Mark Gattis of League of Gentlemen fame, and was destined himself for the life as an actor. When his mate, Russell T Davies told him he'd written a character for him in a new Channel 4 series called Queer as Folk, he thought his luck was in. The part was that of Alexander but as we now know, it wasn't Phil who ended up on screen.
Just how pissed off were you when Antony Cotton waltzed in and got the part?
At the time I was upset because I'd read the scripts and absolutely loved them. Despite it being lovely that it was written for me… in the end, I couldn't have played it as well as Antony. It was a life altering thing because it made me think. Although I had started doing some script editing for TV by then it was like the final nail in the coffin. I hadn't auditioned that well so I called it a day on acting.
Where you a big Doctor Who fan before you got the gig as Producer?
I'd always watched it as a kid and in my teens I went with a mate to a Doctor Who society… so, yes, I suppose I was quite a fan.
You do realise that makes you sound such a 'geek'?
I don't mind… I really don't mind.
Is it par for the course, if you're gay you have to be into Doctor Who?
As a youngster living in the north of England and wrestling with what my sexuality was, it was a brilliant escape for me. It always was, and still is, an asexual programme. It was about a hero and not like all the other programmes around at the time that centred on the family. Doctor Who was a man to whom sex didn't matter and offered an alternative lifestyle I suppose, where fun and adventure could still be had.
The Captain Jack and gay thing doesn't seem to have upset too many people… or is that simply because I don't have access to your mail bag?
It's true and I think that's a real testimonial to the strength of the show… and if some parents had to explain to their kids just what was happening… terrific. If that means five more kids get educated about sexuality… that's fantastic.
What can we expect in the new series?
I don't want to say too much. We have a new companion, Martha Jones, played by Freema Agyema, so that opens up a whole new dynamic. New monsters, we have an episode set in New York, they meet Shakespeare, and the Daleks are back… but even more fearsome than ever.
Doctor Who returns at the end of March on BBC1