"The Official Mark Carter Mr Gay UK Charity Calendar is out now! Raising funds for the Albert Kennedy Trust – Visit markcarter.co.uk and buy one today!"
Mark Carter – Mr Gay UK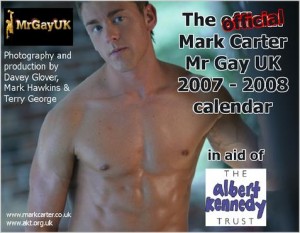 Hello – well this year is flying by we are already into March 2007! But what a disaster my calendar has been? Most calendars start in January – but oh no not mine…..MARCH – Yes March 2007 to February 2008 – but hey at least you get a full 12 months use out of it!
There have been a few problems with the calendar including lost pictures and miss-communication etc – nevertheless it is here: The Official Mark Carter Mr Gay UK Charity Calendar is out now! Raising funds for the Albert Kennedy Trust – Visit markcarter.co.uk and priced at £8.75 plus P&P – buy one today – come on its for charity!
I have recently been back down in London discussing the production of a drama based on my coming out story. I've had a meeting with Jonathan Harvey – the writer of the excellent Gimme, Gimme, Gimme series and he seems keen to get involved – I will keep you updated about this next month.
Then there were the Police drug raids in Leeds where numerous bars and nightclubs were searched – not so much of a shock to most I shouldn't think. I mean lets face it – we all know it goes on – don't we? I just wanted to take this opportunity though – whilst I have the benefit of my own column – to say that I am pleased this problem is being dealt with. I just felt sorry for all those non-drug using clubbers who got evacuated well before the final whistle – and thus lost their entrance fee and forced to find another venue.
I've also been involved with the organisation of the fabulous 2007 Pink Picnic – AKA Huddersfield Gay Pride in West Yorkshire – this is always a great weekend and, with West Yorkshire Police taking an active role in its organisation alongside a group of volunteers, it should mean that it's even bigger and better. There's even talk of a camp site – for those who want to pitch a tent for the weekend – or bring a caravan! So get your sleeping bags ready! Keep checking pinkpicnic.com for details.
I was also invited to attend the Gay and Lesbian Ball in Birmingham – held at the stunning International Convention Centre, this was very much the Gay Oscars! I and a guest were put up in a hotel, once again, courtesy of Simon Baker and his team at the Nightingale Club in Birmingham. This was a great event and the champagne flowed freely. We had dinner, live entertainment and then finished the night off back at the Club. It was great to be back in Birmingham again – the people are great.
I then had a night at the Star Bar Event, which was held at Huddersfield's Cotton Factory, in aid of the Laura Crane Trust – a charity which pays for research into cancer affecting 13 to 25 year olds.
I arrived by Stretch Limo with the other celebrity bar staff which included: Former Manchester United footballer and Dancing on Ice contestant Lee Sharp, Emmerdale's Matthew Wolfenden (who plays David Metcalf), Verity Rushworth (Donna Windsor Dingle) and Alex Carter (Jamie Hope).
We had a great time pulling pints and mixing cocktails – as well as raising vital funds for a worthwhile charity. Presenters from The Pulse radio station hosted the evening and oversaw an auction of celebrity memorabilia. All the proceeds from the ticket sales and the money raised through the auction went to the Laura Crane Trust. It was also nice to see the X Factor finalist and former Happy Mondays singer Rowetta again, she performed a couple of songs. The last time I saw her was at the Mr Gay UK final.
I also visited the launch of the Calderdale Lesbian, Gay, Bisexual, and Transgender Network Conference in Halifax – I was a guest speaker – talking about the issues I've faced whilst growing up and coming out in the Police. This conference gave all organisations, businesses, agencies and individuals the chance to ask questions on all types of gay related issues in a learning environment.
And finally, I am now back in training again! I have had confirmation that I am the official UK Delegate of the Mr Gay Europe Competition 2007. The event is to be held in Budapest between 1st and 5th August. Check out www.mrgayeurope.com and see who I'm up against! I'll update you next month with further details.
Mark Carter
Mr Gay UK