A Piece of the… Action!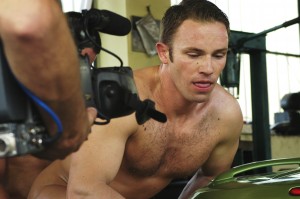 Tom Bradford is a Hungarian director based in Budapest, he has directed movies for international companies including Kristen Bjorn, Blue Dolphin, Pacific Sun, High Octane and Man-size's Private Man.  He created the best selling 'Desperate Househusbands' as well as  'Horny Hotel' & 'Flatmate From Heaven' and he will be directing the movie created by the winner of the Bent/Man-size screenplay competition.  So we thought we better find out a bit more about this successful gay porn director…
How did you get into the gay porn business?
I was a reporter working on a TV documentary about eroticism and met with a gay porn company shooting in Hungary. I got introduced to the porn stars, director and production people, so it got me interested.  In 1999 I started to shoot my own porn movies, I began doing straight movies, but after shooting three I decided my heart wasn't really in straight porn, being gay myself, so I decided to only shoot gay.
How long have you been a director?
For 6 years now, before that I was a cameraman for Hungarian TV.
What do you look for in a script when all anyone wants to see is guys shagging?
It depends what kind of movie you are shooting.  For Private Man they like to have a proper movie with a good, amusing script, that includes sex scenes, the theory is that the viewer can also view the movie as entertainment as well as for sex.  Some companies prefer to get straight into the action, but with a script you can lead the audience into different scenarios, setting the pace throughout the movie to build up to the climax in the final scene.  I also personally prefer working with a script because it's more creative for me to think about the screen play, where I'm going to film each scene, how the continuity will work, what camera angles I'm going to use.  I just finished filming a movie called 'Here Cums The Bridegroom' where I really played with different camera angles and it turned out like a Hollywood movie.  This is a lot more interesting to me that just shooting sex scene after sex scene.
How do you deal with auditions?
There are two ways.  I contact modeling agencies and they send me many recent pictures of guys.  I will select my preferred ones and check on their availability.  Then they come to visit me in the studios and I see them in the flesh.  I also get emails sent from models all over the world.  And if they are really hot then I will use them in the movies too.  For example Antonio Moreno in 'Flatmate From Heaven' sent me his photos from Mexico and I liked him so much, we put him as the lead for the movie.  Sometimes you take a risk with flying in guys from other countries and when they arrive they cannot perform, so I have to cut my loses and send them home.
Who's your favourite actor?
I have many favourites, but I really like Frenky, his cock is so thick and long and he's really muscled and hairy.  And definitely Julian Viacenzo, he is very professional and a great performer.
What's the hottest scene you've directed?
That would have to be the mechanics scene in 'Internet Sex.' It was with Julian Vincenzo & Rob Nelson.  They had been flirting with each other heavily during the shooting of the movie so when it came to their scene they were so hungry for each other I couldn't stop smiling as I filmed, because they had so much sexual energy.
What would be your own personal fantasy scene?
That's the great thing about making these movies – I can live out my sexual fantasies.  I would really love to shoot a scene on top of a mountain as a thunder storm broke, shooting the sex in the rain, seeing the water glistening on the boys bodies as they fuck like animals.
CUT!