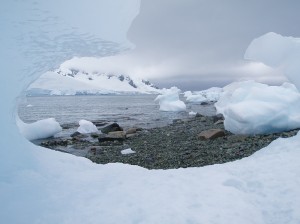 By Adrian Gillan
Who says penguins are the only gay thing in Antarctica? Bent's intrepid explorer, Adrian Gillan, heads south on an LGBT-friendly cruise – to discover the most remote, magical and awesome place on Earth.
OK, so you've done the gay safari in Africa and sampled queer Mongolia. So that's rather that, isn't it? Wrong!
Gay-beckoning Antarctic tour operators, Antarpply, can't wait to give you a warm welcome on one of their 10/12-day cruises, Nov-March, from the tip of South America across to the continent's peninsula and surrounding islands – not least the South Shetlands. A veritable feast of icebergs plus a frosty wildlife safari, offering an abundance of spectacular marine mammals and bird life, including unique species of seal, penguins, seabirds and some of the best whale-watching the world can offer. Enjoy the 80-passenger, 40-crew ice-strengthened M/V Ushuaia – complete with bar, library, lounges and a 24/7 "open bridge" policy where you can go up and fraternise with the dishy, young crew.
Package includes all meals and non-alcoholic drinks aboard ship; all shore excursions and activities throughout the voyage; lectures by expedition staff; an experienced expedition leader and team, including a doctor; and a detailed post-trip log and "Antarctic Expedition Certificate"!
Pack your thermals, sunglasses, sea-sickness pills and factor 50+ cream! Next stop: the Moon!
BOX-OUT 1: Antarctic tour highlights
Sip champagne as you leave Ushuaia near Cape Horn, on South America's southernmost tip, and head off – Antarctica-bound – along the stunning Beagle Channel.
Cling onto your bed during 50 degree tilts whilst crossing the infamous Drake Passage.
Spot your first iceberg.
Sight your first penguin chick amidst a rookery of 100,000+ squawking cuties.
Rest on a boulder, letting a penguin waddle up to peck you on your welly.
Duck as a 3-metre-span albatross swoops past your head.
Watch a pod of orcas (killer whales) basking and playing in the setting sun.
Stumble upon a 10-foot-long Weddell seal dozing in the snow.
See thousands of tonnes of ice calve off a glacier as you pass.
Speed around ice-filled lagoons in an inflatable Zodiac.
Discover old stone shelters left by early heroic explorers.
Visit a scientific base, not least the historic Port Lockroy – a little bit of Britain at the ends of the Earth – where you can get your passport stamped and send postcards via the Royal Mail.
Set foot on the Antarctic Peninsula itself, at Paradise Bay; hiking up a snowy hill, then sliding down on your arse.
Steer into the flooded, still-active volcanic vent of Deception Island, before stripping off to bathe in natural thermal pools or skinny-dip in the sub-zero Antarctic Ocean.
BOX-OUT 2: Icy facts & figures
Antarctica is a continent surrounded by oceans; the Arctic, up north, is a frozen ocean, surrounded by continents.
Antarctica is larger than Australia – and doubles its area in winter due to the expansion of sea ice.
It is the coldest, windiest, driest continent on Earth.
Temperatures can fall as low as minus 90 deg C in the interior.
70% of the world's fresh water is locked up in Antarctica's continental ice.
Brit skip Captain Cook was the first to cross the Antarctic Circle, in 1773.
Russian explorer Bellingshausen was the first to sight the continent, in 1820.
Sealer John Davis was (most likely) the first to land on the continent, on its Peninsula, in 1821.
Norwegian Roald Amundsen and his dogs were the first to reach the South Pole, in 1911 – pipping our own ill-fated Captain Scott and co by just 33 days.
The first native "Antarctican", born on the continent, was Emilio Marcos de Palma, in 1978.
The continent's isolation makes it an ideal place to study the environment – not least the impact of global warming and the manmade hole in the Ozone Layer.
The Antarctic Treaty of 1959, and subsequent amendments, preserves the continent as a place of peace, conservation and science – neither conceding nor challenging any countries' claims to sovereignty.
Antarctic tourism happens almost exclusively during the southern summer months (Nov-March). Over 27,000 tourists land each year nowadays, but this is increasing and so must be closely monitored and regulated (by IATTO – www.iaato.org) to help minimise any environmental impact.
Antarpply are an IAATO-regulated company operating gay-friendly 10-12-day tours, from Ushuaia – the world's southernmost city, on the tip of Argentina, near Cape Horn – to the Antarctic Peninsula and South Shetlands. Expeditions go through to late March 2007 (the end of the Antarctic Summer) and start at around £1800 (excluding flights to/from Ushuaia). For more info, including other Antarpply tours: www.antarpply.com