We are Family, especially in Margate!
More and more gay families now include children – adopted, biological, maybe even from previous op-sex relationships. Where better to take your little sprogs than for a fun few days out by the sea in born-again-trendy Margate, and wider Thanet, in queerest Kent? And just in time for Margate Pride (7-13 Aug 2017)!
For the past 250 years, Londoners have been escaping to the 'Isle of Thanet' – the furthest south east you can go in Britain, although now in fact a peninsula, an 'almost island'! But the journey's never been easier or quicker, now taking a mere 75 minutes by train from the centre of the capital! Moreover, there's rarely been a better time to visit, to experience Margate's Bohemian retro-chic "hipster renewal", in part powered by an arty gay influx, much of which will doubtless be hugely on display in the imminent Pride!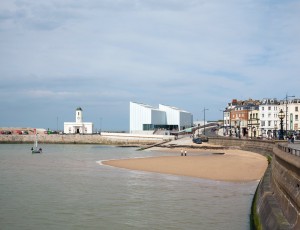 Sandy beaches, chalk cliffs, fresh sea air and sweeping skies have long graced Thanet's three main Georgian/Victorian resorts – Margate, Broadstairs and Ramsgate – attracting the likes of Turner, Dickens and TS Eliot. Now, there's a cool new gloss-and-twist to tad-outdated 20th Century seaside kitsch. And an influx of creative souls, of all persuasions, now powers a wide variety of indi shops, bars, eateries, salons and hotels. Gone is the pier, in a 1970s storm. Vanished are the mods, rockers and skins. Here is the Turner Contemporary gallery, and iconic Dreamland. And hordes of lovely queers.
STAY

Stay at the historic seafront Walpole Bay Hotel (Fifth Avenue, Cliftonville, Margate, Kent CT9 2JJ; T: +44 (0)1843 221703; www.walpolebayhotel.co.uk) in Cliftonville, a genteel eastern district of Margate. This magical, authentic property was built in 1914, extended in 1927 and is now being lovingly restored to its former ('Edwardian') glory by the Bishop family, overseen by the gorgeously matriarchal and hands-on figure of Jane Bishop – dubbed the "Banshee of Margate" by regular guest Tracey Emin, who's portrait of Jane is on proud display in the hotel's unique Napery Gallery (of napkin art)! The rooms are large, light and en suite, many with balconies, all with sea views. Being family-run, the Walpole Bay Hotel is very child-friendly, with a large number of family rooms and suites. Kids will especially like the sprawling on-site and ever-growing museum of local Margate and Thanet history and everyday life in days gone by, brimming with old artefacts across all five floors; plus the snooker room! Lovely foyer (complete with original fully-working trellis-gated lift and still-played pianola), bar-lounge, restaurant, outdoor flower-deck veranda and 1920s sprung-floor ballroom too! And with a character like Jane in charge, this amazing hotel is not only child-friendly but extremely gay- and pet-friendly 'n all! Excellent characterful staff likewise help ensure a home-from-home atmosphere that keeps fans returning year-on-year, not to mention celebs like the cast of the film Last Orders, including Sir Tom Courtenay! Great Wi-Fi throughout! Top cream teas and Sunday lunches! Occasional murder mysteries! To top it all, the hotel even has its own in-house VIP hair and make-up salon, run by award-winning French-born Jerome Hillion who, in addition to a jet-set international career, has also fallen in love with Margate, and the Walpole. More at: www.jeromehillionhairandmakeup.co.uk/the-salon. In gist, there can be very few hotels in the land that have such history, variety and eccentricity as the magical Walpole Bay Hotel!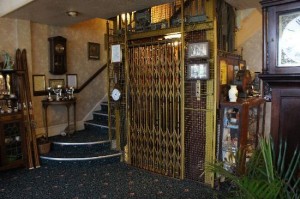 EAT
Eat at much-lauded GB Pizza Co (14 Marine Drive; www.greatbritishpizza.com) slap-bang on the seafront, open from noon all-week-round serving freshly-made pizza on a thin and crispy base, made with a special secret dough and slow-cooked tomato sauce, and topped lightly but deliciously with local cheeses and British cured meats! Founders Rachel and Lisa know their stuff and are passionate about food, having toured their pizzas up and down the country, out of a Campervan, before falling in love with Margate and setting up shop on the Marine Drive here five years ago, and undergoing a full refurb just earlier this year – in trendy pink neon and greys! Well-behaved kids and dogs most welcome! Place your orders at the counter and take wine from the self-service taps! Takeaways too, but no delivery. Pure Margate: trendy and tasty, friendly and quirky!
TOP 10 THINGS TO DO FOR KIDS (OF ALL AGES!) IN/NEAR MARGATE
Many of Thanet's top lures – sea, beach, harbour, gallery, Dreamland entry – are free! Those that aren't offer great value!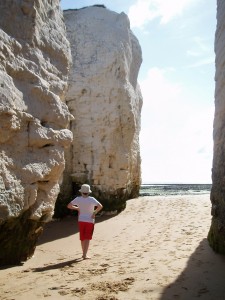 To gad about, get almost-new yet retro-style hire bikes – complete with locks, helmets and excellent advice from ace staff – from superb 'ride' (www.ridethanet.co.uk), hubbed near the railway station. Margate and wider Thanet are so geared up for bikes, being hooked into national cycle routes, that you can easily explore the whole coast, from towards Herne Bay out west to Broadstairs and Ramsgate, via jaw-dropping chalk-pillared Botany Bay, out east!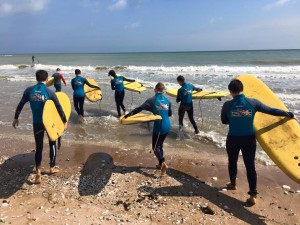 MARGATE SCENE & PRIDE
Of course, you're unlikely to sneak your sprog or sprogs past the bouncers at many bars or clubs, and – even where a licence permits – that could prove a bit of a bore in a child's bigger scheme!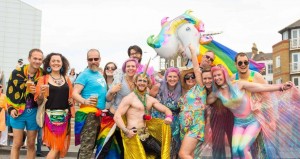 However, when out on the main beach or promenade, one can hardly miss Margate's, nay Thanet's, only LGBT bar, restaurant and club. Sundowners (1 Albert Terrace; www.facebook.com/Sundowners-225539844272032/) is open from noon 'til late, offering a lunch menu daily from opening until 7pm, with specials and a traditional roast available on Sundays. Friday is 'It's all a bit gay Fridays', playing pop and camp tunes. Saturday is 'Glow', with regular theme and cabaret acts and more great music. Sunday means Karaoke night. Nice seafront terrace too!
And everyone loves a party! Few are quite such fun as Margate Pride (7-13 Aug 2017, www.margatepride.org), this year offering a week-long LGBT arts festival – from performance art, The Death of Tracey Ermine, with a wake and private view, featuring over 50 dresses, to films like Lucy: My Transgender Life – all climaxing on Sat 12 Aug with heaps more events, a Pride Parade & Rally, parties and an incredible Afterparty at Dreamland! Then chill out around the harbour on Sun 13 Aug!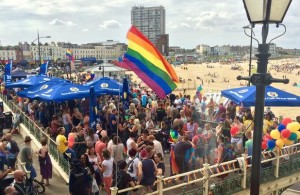 In such a trendy, arty town, it's hard to miss fellow gays at almost every turn, as one's own organic gaydar begins its crackle-and-twitch! And, of course, these days you're rarely more than a metre or two from even the most closeted queer life, thanks to the usual apps and social media!
For more information on Margate and wider Thanet: visitthanet.co.uk
Margate is easily reached direct by rail from London Saint Pancras International (1¼ hrs) or London Victoria (1½ hrs) by wonderful Southeastern: southeasternrailway.co.uk
Comments via Facebook
comments