We are Family, especially in Hastings!
More and more gay families now include children – adopted, biological, maybe even from previous op-sex relationships. Where better to take your little sprogs than for a fun few days out by the sea in Hastings and 1066 Country? Just in time for Hastings Pride (27 Aug 2017)!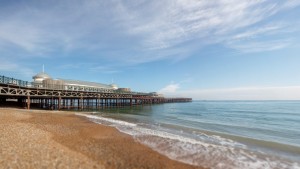 950 years after its famous namesake battle, Hastings and its surrounds still draw in visitors from far and wide, with its cliffs, pier and beaches; cliff-top Castle ruins and narrow-laned cobbled Old Town; child-wooing attractions and trendy new Jerwood art gallery – not to mention fight-site Battle itself, just inland, and Bexhill, a pleasant cycle ride due west.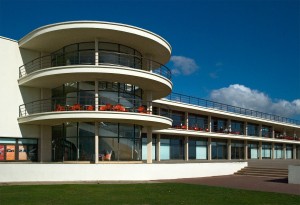 After the Norman Conquest, Hastings grew from a medieval bastion and fishing village, nestling between the West and East Cliffs, into a more sprawling Victorian seaside resort, with grand squares, parks and piers. Now home to 100,000 inhabitants, including a fair few gays priced out of Brighton, recent decades have seen Hastings and locale emerge from the post-war dip in seaside tourism into a winning combination of old and new, with regenerated pier and cutting-edge art galleries.
TOP THINGS TO DO FOR KIDS (OF ALL AGES!) IN/NEAR HASTINGS
Many of Hastings' top lures – sea, beach, pier, cliffs – are free! Those that aren't offer great value!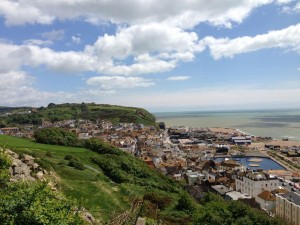 To gad about, get hire bikes – complete with locks, helmets and excellent advice from top staff – from superb Seaside Cycle Hire. Hastings and the whole coast westwards, via St Leonards, to Bexhill are so geared up for bikes, with dedicated lanes and national cycle routes, that you can easily explore!
Hastings Old Town – The medieval core of Hastings, once straddling the Bourne stream that cut down between the West and East Cliffs, now long since paved over but still flanked by the High Street and All Saints' Street. George Street was the first street to be built outside the town wall as Hastings began its westward spread in the 18th Century when a large garrison was sited here to fend off the French! Tourists now enjoy the Old Town's churches, narrow lanes, atmospheric tea rooms, pubs and eateries, museums and antique shops, not to mention The Stade – Europe's largest beach-launched fishing fleet, complete with historic net huts.
Hastings Country Park – 660 acres of woodland glens and cliffs inside the High Weald Area of Outstanding Natural Beauty, accessed from the Old Town via the East Cliff Railway funicular.
Cliff Railways – Take the West and East Hill Lifts – two Victorian funiculars – up to the cliffs above the town – the former giving access to Hastings Castle; the latter to Hastings Country Park.
Hastings Beach – Stretching along both Old and 'New' towns, with lovely sea-smoothed pebbles.
Hastings Pier – Originally built in 1872, damaged by storms in 1990, closed in 2008 and further damaged by fire in 2010, before being re-opened in 2016 following a £14m reconstruction project providing a new two-storey visitor and heritage centre, restaurant, bar and roof terrace café.
Hastings Castle & 1066 Story – Hastings Castle was the first castle to be built in England after the Norman Conquest. Only ruins remain, most notably the dungeons, chapel walls and a high archway and spiral staircase. Take in the breath-taking views of the surrounding coastline while you explore the history of this iconic building, perched up on the West Cliff and easily reached via funicular. Learn how the Battle of Hastings unfolded through a 20-minute video, taking you on a journey from 1066 right up to today. Combined ticket available with Smuggler's Adventure and Blue Reef Aquarium.
Smuggler's Adventure – Step back in time though the mysterious tunnels and caverns of St Clements Caves above Hastings to discover the dark secrets of the smugglers of days gone by. Notorious 'Hairy Jack' will lead you on a self-guided tour through acres of underground passages featuring over 70 life-sized characters plus eerie sound and light effects that bring this shadowy, dangerous and often blood-curdling world to life! Combined ticket available with Hastings Castle & 1066 Story and Blue Reef Aquarium.
Blue Reef Aquarium – Take the ultimate submarine safari for close encounters with seahorses, native sharks, giant octopus and hundreds of other aquatic stars. The core giant ocean display lets you walk through an underwater tunnel amidst shoals of colourful, flickering fish. Fab Jungle Room reptile house too! Combined ticket available with Hastings Castle & 1066 Story and Smuggler's Adventure.
Hastings Adventure Golf – Three Amazing 18-hole seaside courses – from traditional Crazy Golf with wind and water mills, through 'Florida style' Adventure Golf with waterfall and fountains, to swashbuckling Pirate Golf. Use a score card or keep tally via an app! Lots of eating options too, from fish 'n chips, through crepes 'n waffles, to burgers 'n pizzas.
Jerwood Gallery Hastings – Housed in a modern award-winning space on the Old Town beachfront, enjoy the permanent 20th and 21st Century art collection including Spencer and Lowry; and temporary exhibitions like the current one featuring world-famous illustrator Quentin Blake, 'til 15 Oct 2017.
Hastings Museum & Art Gallery – Family-friendly museum in glorious Victorian building, showcasing objects of local history, natural sciences, fine and decorative arts, and world cultures. Highlights include new displays Before Hastings (Prehistory to the Saxons) and The Story of Hastings in 66 Objects (from 1066 to today). Also, check-out two other gems in town, the Shipwreck Museum and the Fishermen's Museum!
White Rock Theatre – Offering the very best in live comedy, music, dance and drama. Nice Pavilion Café too.
Bexhill – Scarce a half-hour bike ride westward along the coast from Hastings, boasting rich Edwardian and Victorian architecture, not to mention the famous recently-renovated Grade I-listed De La Warr Pavilion, built in 1935 as one of the very first modernist (Art Deco / International Style) public buildings in Britain – today a free-entry contemporary arts centre, with one of the largest galleries on the south coast of England. Also check out Bexhill Museum, for local history and archaeology, plus fashion and motor heritage.
Battle Abbey & Field – Mere miles inland from Hastings, and an absolute must! 1066 and all that! Stand on the spot where Harold met William – and lost. Explore abbey ruins, the sculpture trail and the gatehouse exhibition before heading to the roof for stunning views out over the battlefield.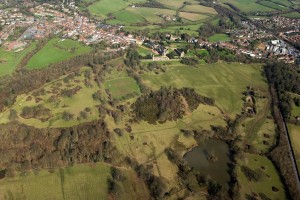 HASTINGS PRIDE
Of course, you're unlikely to sneak your sprog or sprogs past the bouncers at many bars or clubs, and – even where a licence permits – that could prove a bit of a bore in a child's bigger scheme!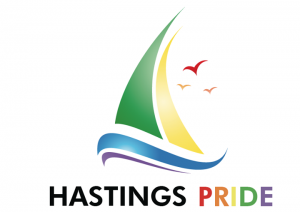 If you want a gay bar, you can easily hop on the coastal bus to Eastbourne or Brighton!
That said, everyone – big or small – loves a party! And few are quite such fun as Hastings Pride (19-27 Aug 2017), this year comprising a week of events from Sat 19 Aug 2017, culminating on Sun 27 Aug 2017 with a parade, plus a festival with lots of acts on at The Oval, Hastings! The 2017 theme is 'Peace & Love', marking the 50th anniversary of 1967 (partial) decriminalisation.
In such an increasingly trendy, arty town, it's hard to miss fellow gays at almost every turn, as one's own organic gaydar begins its crackle-and-twitch! And, of course, these days you're rarely more than a metre or two from even the most closeted queer life, thanks to the usual apps and social media!
Hastings and 1066 Country is easily reached in well under two hours direct by rail from London Charing Cross or London Victoria on wonderful Southeastern.