by Adrian Gillan for www.bent.com

 Angling for something a bit different this winter? Adrian Gillan enjoys snowy piste 'n spa – plus the odd spot of ice fishing – in central Switzerland! Oh, and did we mention the sexy Swiss guys!
Adrenaline-fuelled lifestyles and fresh mountain air can't be the only thing to give lush locals such a glow and cheeky burn! At these giddily high altitudes, it's all enough to make even the straightest boy blush!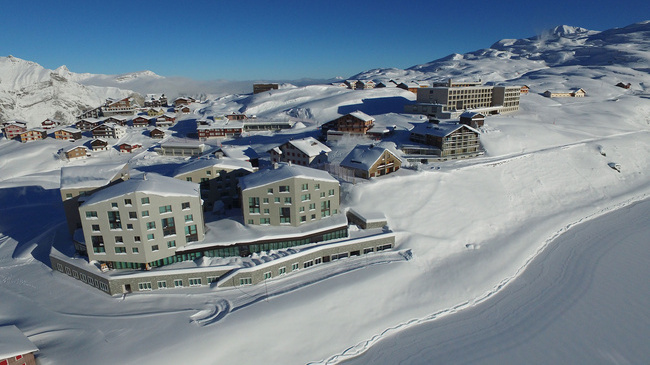 Make the stunning three hour journey from Zurich Airport to the lofty Melchsee-Frutt resort hideaway in the German-speaking Lake Lucerne Region – via Lucerne itself, Sarnen and basecamp Stöckalp – using amazing Swiss trains, buses and even a 10/15-minute 900-metre-ascent cable-car odyssey for the final leg: so remote and road-free in winter is this place! And all so authentically unspoilt Swiss!
Attracting discerning tourists since the mid-1930s, Melchsee-Frutt itself is in the municipality of city Kerns, in the canton of Obwalden – incidentally itself also home to perhaps better-known Engelberg, due East. The small resort village is 1,920 m above sea level – on a lake plateau, rimmed by a cauldron of peaks – boasting alpine skiing, snowboarding, cross-country skiing, snowshoeing and sledging in winter; hiking, biking, rock climbing and even paragliding in the summer; and fishing at any time!
STAY, SPA & EAT
Perched in this pristine haven in the Swiss Alps, in the very geographical middle of Switzerland, the 67-room Hotel Frutt Lodge & Spa (6068 Melchsee-Frutt;) has a stunning lakeside location with panoramic views; modern interior designs using natural materials, inspired by the rustic charms of an Alpine lodge; plus, mercifully, direct winter access to all those pistes, trails, tracks 'n runs.
Host Markus and his friendly team do everything they possibly can to make you feel welcome! Rooms are spacious, with baths and separate shower rooms. After a relaxing cocktail or light snack at the giant-cowbell-dominated bar, hit the vast spa with its azure-blue pool plus "textile free" sauna-and-steam area, complete with rest zone, footbaths, ice-cold room and terrace. Go on: treat yourself to some treatments!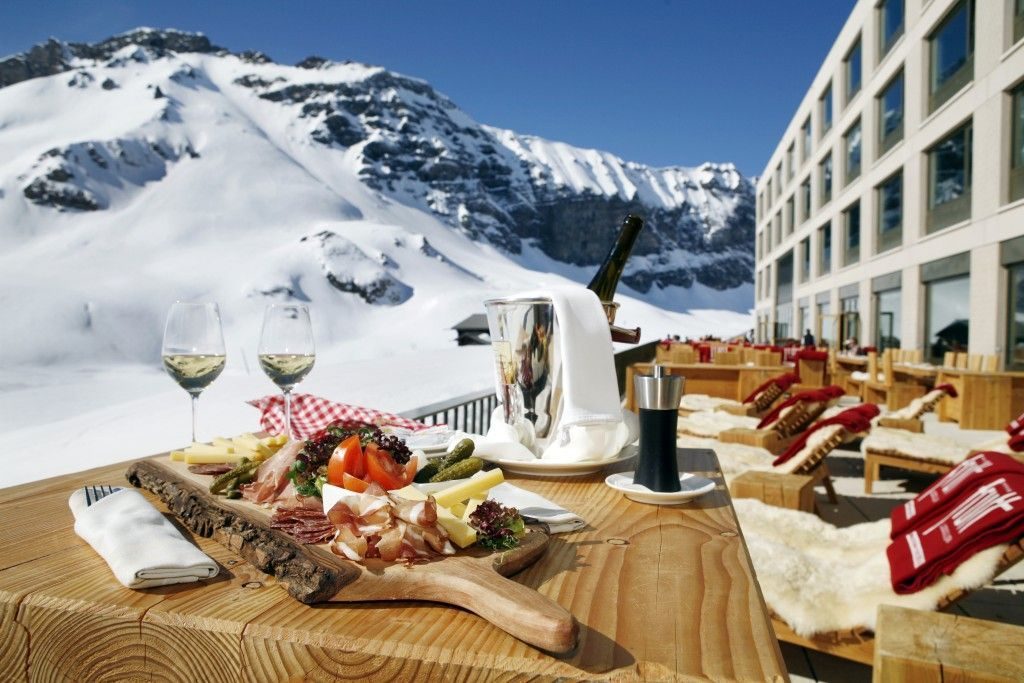 The hotel's Restaurant Titschli serves breakfasts plus deliciously simple Swiss and international lunch and dinner dishes – from soups and steaks, through fondues and raclettes, to some truly wicked deserts – all beautifully prepared and presented with passion and care; always with veggie options. Sommelière Steffi can advise on your wine; and even offers guests fun wine-tastings every Friday afternoon!
The Hotel Frutt Lodge & Spa is linked via a Bond-lair-like foot tunnel to its nearby, tad smaller and younger, 47-room sister site – the Hotel Frutt Family Lodge – which is naturally aimed more at families with children, boasting its own spa complete with giant bath ducks, plus bowling allies, cinema and airy Restaurant Lago for pasta, pizza and other more Mediterranean fare.
Whichever of these two stunning hotels you stay in, you will have full access to the facilities at both!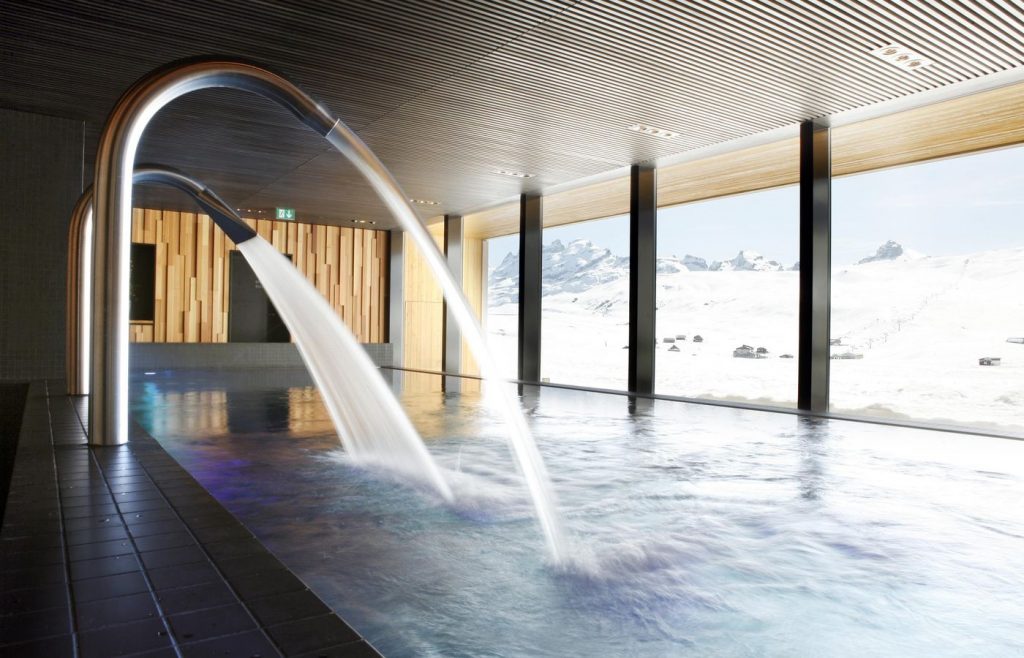 ON THE PISTE
Dominated by its three main peaks – Erzegg (2,150 m), Balmeregg (2,255 m) and Bonistock (2,160 m) –
Melchsee-Frutt's small-but-beautiful 32-acre-skiable resort is open to the public for winter, early Dec – early April, accessed and navigated via four chairlifts, four T-bar lifts and two gondola lifts. With a harmonious run-mix of blues, reds and blacks, it's especially good for the intermediate skier!
Ski/lift passes are oft included in hotel packages or can be purchased separately by day-skiers.
Skiing, snowboarding, cross-country skiing, sledging or snow-shoeing: Stöckli Outdoor Sports is a one-stop-shop for all your snowy rental needs, at the foot of the resort gondolas! Staff bend over backwards to help! Or, up in the resort, try smaller Frutt Rental.
Rusty technique? Use the guys at Ski & Snowboard School Melchsee-Frutt. It'll all be swiftly downhill – only in the best way – if you're lucky enough to bag instructors Chris or Fab!
Lunch on the slopes at cool Bonihorst Bar & Lounge – where the coolest snowboarders at Melchsee-Frutt meet up, and where "legendary" parties allegedly take place. Situated right at the top of Bonistock, it boasts the very best views over surrounding peaks!
DISHY FISHING
Fancy a nice dangle? Win braggers rights by ice fishing with highly personable local guide Gusti Berchtold and his team. You'll quickly learn how to drill, tease and catch. Top tips: keep your (ice) hole clean and do throw in the occasional tug!
If you twitch and land a line, most likely a colourful rainbow trout, it can even be prepared for lunch or dinner – for a modest fee – at either of the two aforementioned Hotel Frutt-related restaurants.
Indeed, the Hotel Frutt duo's spas, bars and eateries are sure to delight, pleasure and entertain throughout. But anyone craving the odd more specifically queer fix can start or end their Swiss trip back down in lovely Lucerne…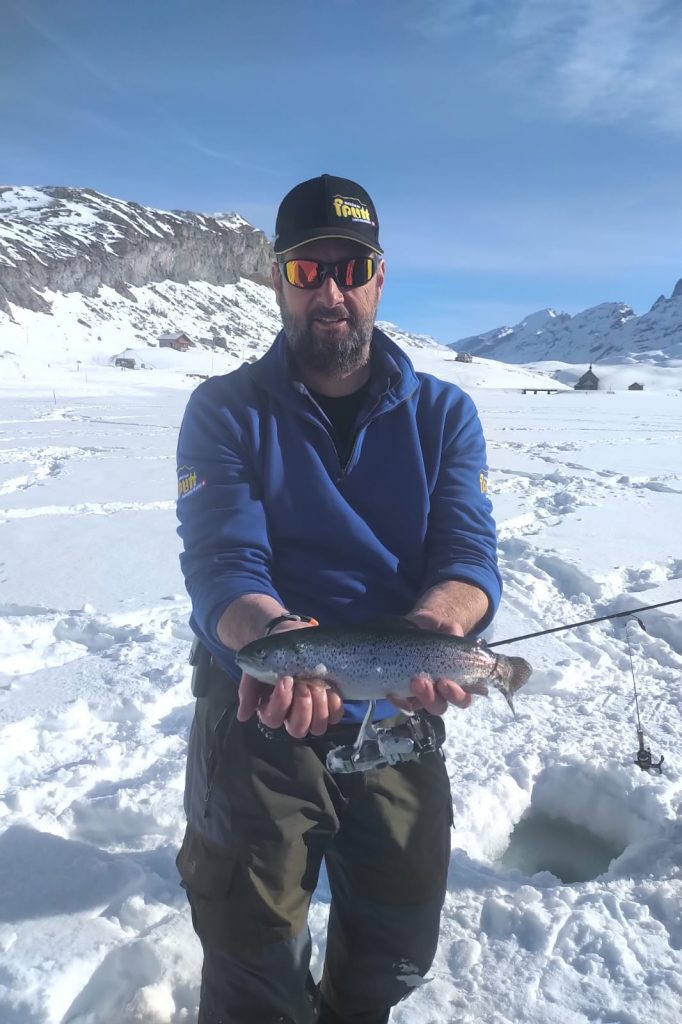 LUCERNE: TO TOP-AND-TAIL YOUR TRIP!
Perched on its eponymous lake, Lucerne is known as the 'City of Lights' and is home to several annual festivals – notably Easter/Summer Fests, plus indeed its tad spooky wintry Carnival!
Whenever you are here, be sure to explore the Old Town with its historic covered wooden bridge crossing the lake inlet, plus lofty city walls, old town squares and lakeside promenades, Then browse the amazing Rosengart Collection with its Picasso and Klee; KKL music and arts complex; plus 19th Century indoor panorama and Lion Monument. Ascend nearby mountains, Rigi (1,800 m) and Pilatus (2,120 m) for fun all-year-round!
The Lake Lucerne Navigation Company runs a whole fleet of boats of all sizes out of the docks and harbour near the KKL complex. Lake transportation is included in your amazing Swiss Travel Pass (info below) or can be bought separately. Daily lunch cruises show off the boats' amazing onboard restaurants! Evening and themed dining too at peak times! A top tip is a leisurely two-hour round-trip lunch cruise to Weggis and back – a relaxing and fun way to view the city, from its lake!
Scene-wise, check out gay-friendly trendy joints like Blue Bar Lounge (Pilatusstrasse 15;); or Penthouse Roof Top Bar (Hotel Astoria; Pilatusstrasse 29;) for great views. It's even full-on Frigay every third Friday of the month at El Cartel! Also check out Discus Sauna and Cruising World plus the week-long Pink Panorama LGBT film fest every November.
FOOTNOTE – TWO SWISS GAY SKI WEEKS: AROSA & LENZERHEIDE
Seeking a more purely pink piste wintery experience? You are spoilt for choice, thanks to linked resorts Arosa and Lenzerheide in Eastern Switzerland, hosting the two annual Swiss gay ski weeks!
OK, so you literally just missed it for 2020! But 2021 will be the 17th year for Arosa Gay Ski Week (always latter half of Jan), attracting hundreds of queer skiers from all over the world every January to an avalanche of wintry sport – both the outdoor and indoor variety! Apart from all the skiing with your new ski-fit pals, enjoy torch-lit sledge-runs; organised walks; drag queen races; concerts; plus dinner, pool 'n peak-top parties galore!
But you're still in good time for its sibling event! Running for a decade longer than the Arosa Gay Ski Week, GaySki Lenzerheide (8-15 March 2020) well-nigh prides itself on still being a perhaps tad smaller affair than its bigger gay bruv over the hill in Arosa. Hubbed around the Lenzerheide Hotel Schweizerhof, it's a heady mix of skiing, dinners, parties and… that hotel hamam!
SWISS offers more than 150 weekly flights from London City, Heathrow, Gatwick (seasonal), Manchester, Birmingham, Edinburgh and Dublin to Zurich, Geneva or Sion (seasonal). One-way fares start from £74 including all taxes, fees and surcharges, plus one piece of hold and of hand luggage. SWISS is also happy to transport your first set of ski or snowboard equipment and boots free of charge in addition to your standard free baggage allowance subject to availability (excl. hand-luggage-only fares).