Review: My Brilliant Friend, Olivier Theatre (National Theatre)
by Adrian Gillan for www.bent.com
Poverty v. aspiration; friendship v. rivalry; male chauvinism v. feminism! Bent's Adrian Gillan gets immersed in My Brilliant Friend – the epic two-part stage adaptation of Elena Ferrante's four Neapolitan Novels about the entwined lives of two women in modern Italy post-WW2 – at the NT!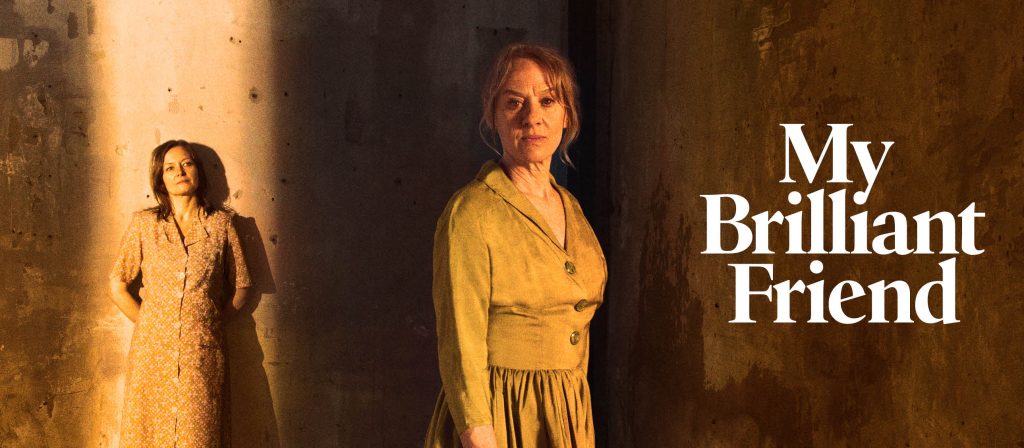 Quite a feat to pen a four-novel series tracing the complex bitter-sweet love-hate interlinked lives of two women – both aiming to lift themselves out of poverty in the face of domestic and societal male oppressions – spanning the past six decades of modern Italy! No less ambitious to then proceed to adapt this to 5½ hours' fast-moving traffic on the stage, complete with 24 actors playing dozens of roles!
Best-selling Italian author Elena Ferrante published her four "Neapolitan Novels – My Brilliant Friend (2012), The Story of a New Name (2013), Those Who Leave and Those Who Stay (2014) and The Story of the Lost Child (2015) – in swift annual succession, 'though she views them all as a single overarching novel. Translated into English by Ann Goldstein, they were then adapted into a two-part play by April De Angelis – all under the banner title of the very first novel, My Best Friend – which premiered at the Rose Theatre, Kingston (2017); who now co-produce this very transfer to the National Theatre (2019/2020).
Attractive to those who've already read the novels, and those keen to avoid having to! You do need to see both Parts 1 & 2, and in the right order – perhaps even on the same day or on successive evenings!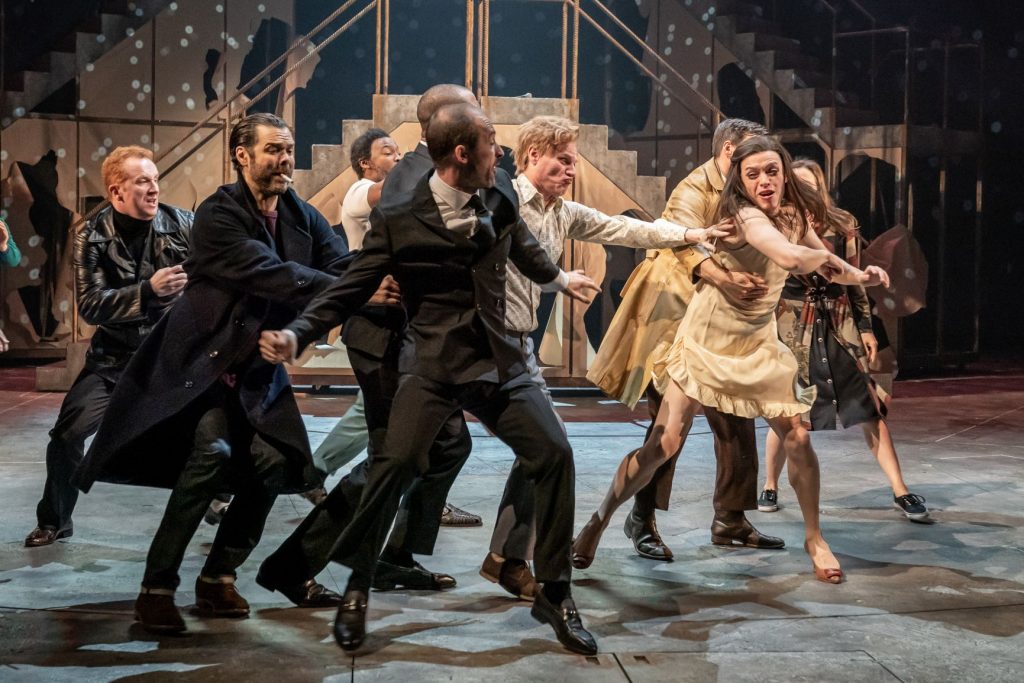 Other core themes here tackled by Ferrante include sexual and intellectual jealousy between women; inner and outer obstacles to social mobility; self-belief and self-destruction; capitalism v. socialism; technology and protest; and the inescapably (semi/quasi-)autobiographical nature of creation itself – the novels are self-referentially being written by their very own famed-novelist-protagonist, one "Elena"!
Taking in social and political change, sexual revolution and the rise of the Camorra: Elena ("Lenù") recalls and analyses the past 60 years of her push-pull, on-off relationship with lifelong "friend" Raffaella ("Lila") prompted by the latter mysteriously going missing. Mafia? Suicide? Self-imposed reclusion?
Director Melly Still and her creative team adapt and amplify their Rose Theatre offering for the far vaster Olivier space and NT resources, whilst also maintaining an impressively uncluttered ingenuity and simplicity in staging, to induce imagination and to enable fluid and fast-flowing set-free action.
Soutra Gilmour's design utilises three large movable stairway frameworks upon the Olivier revolve, all in front of Tal Yarden's huge video screen backdrops – now a child writing, now fireworks exploding, now archive footage, now a giant computer screen – amidst Malcolm Rippeth's atmospheric and flexible lighting. Gilmour's evolving costumes likewise integrate well with Jon Nicholls' sound design and Jim Fortune's original compositions and period pop music to take us on a six-decade-spanning joy-ride.
The two-dozen-strong cast – almost all playing multiple characters – rise to the vigorous physical demands of such a spartan yet giddily paced theatrical canvas. Fun bravura ensemble highlights include the sea swim; car cruise; and plane take-off. All credit, indeed, to movement director, Sarah Dowling, plus fight director, John Sandeman – both kept especially busy! Ditto re the sporadic puppetry, designed and directed by Toby Olié – conjuring dolls, babies and toddlers, even girls being chased or raped!
Niamh Cusack wonderfully conveys Lenù's parasitic passivity as she jealously and creatively feeds off the more "brilliant", attractive and earthy Lila, played with feisty but increasingly world-weary venom by a scorching Catherine McCormack. Martin Hyder plays both girls' fathers – supportive Vittorio and brutal Fernando respectively – as well as Lenù's suave publisher; and Mary Jo Randle extracts much humour from Lenù's coarse-to-the-end mother, Immacolata, with Badria Timimi playing Lila's icy mum, Nunzia.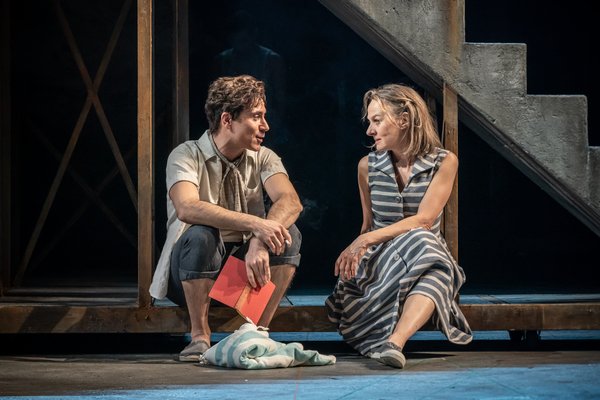 Jonah Russell is intimidating as Lila's husband, Stefano, son of the old local murdered mafia boss, and already a poodle to the new Solara mafia dynasty – namely its swaggering hot-tempered brothers Marcello (Ira Mandela Siobhan, charismatic) and Michele (Adam Burton, menacing) and their thuggish matriarch Manuela (Emily Mytton, show-stealing), all of whom meet with aptly brutal ends.
Dishy Ben Turner is the hypocritical, smug, self-centred lothario Nino, effortlessly emotionally bouncing between both Lenù and Lila; his initial abandoning of Lenù on holiday in favour of her friend, leading her to give her virginity away to his equally philandering father Donato, played toe-curlingly by Al Nedjari.
Justin Avoth shows his versatility as Lenù's jilted love-interest, Antonio; and as her subsequent husband – the amusingly bookish but benign and gentlemanly professor, Pietro. David Judge is touching as Lila's older brother, Rino; and youthfully energetic Colin Ryan shines in more roles than you can blink at, including Michele's murdered cross-dressing love-interest Alfonso. Trevor Fox exudes warmth as Enzo, Lila's childhood friend and subsequent partner, traumatised by the sudden suspicious disappearance of their young daughter. Toby Wharton is truculently sexy, both as worker-turned-activist, Pasquale Peluso and as randy sausage-maker, Bruno. The rest of the large cast has not a single weak link, their much-needed voices well-coached by Jeannette Nelson and Victoria Woodward.
Whilst dramatically imperfect – why is Part 1's ending so low-key? – a must-see for its audacious epic conception; boldly uncluttered, sweeping staging; and highly-physical multiple-role ensemble acting!
My Brilliant Friend (Parts 1 & 2) runs at the Olivier Theatre (National Theatre) in London until 22 Feb 2020. For more info and to book tickets, call 020 7452 3000 or visit www.nationaltheatre.org.uk
– ends –