Review: Happy 70th Birthday, English National Ballet, London Coliseum
by Adrian Gillan for www.bent.com
World-class dance company – with a broad, ever-expanding repertoire; global and home-grown talent; and state-of-the-art new home for itself and its school! Bent's Adrian Gillan joins in with the applause at the English National Ballet's 70th anniversary gala bash at the London Coliseum!
Seventy glorious years
Former Ballets Russes stars and Diaghilev protegees, Dame Alicia Markova and Sir Anton Dolin, joined Dame Ninette de Valois' precursor to the Royal Ballet, before splitting off to tour nationally and internationally with their very own company in the 1930s/40s. It was this company that formed the basis of the London Festival Ballet, founded in 1950 in the run up to the Festival of Britain; renamed English National Ballet in 1984, under its then-artistic-director and former dancer, Peter Schaufuss, who simultaneously founded the English National Ballet School – independent of the company but now co-housed within the ENB's spanking new purpose-built home on London City Island in East London.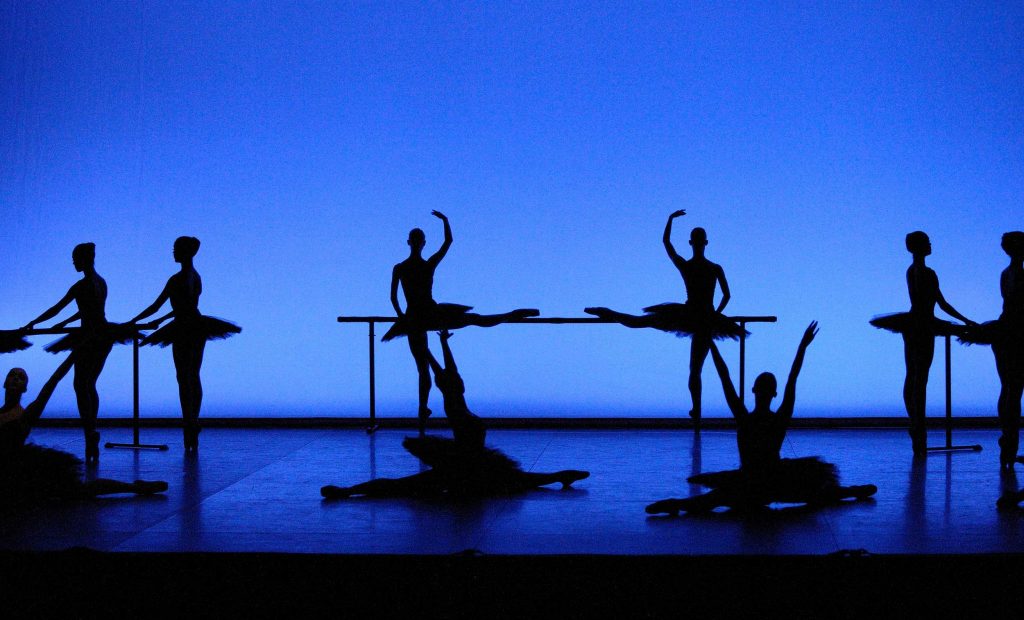 This new creative base features a Production Studio with fly-tower where ENB can rehearse with full set and lighting; seven state-of-the-art full-sized rehearsal studios; a costume workshop, with dye room and shoe room; two learning and engagement spaces; hydrotherapy pool, gym and pilates studio; green room and spacious dancer changing rooms, with separate public changing rooms; and generous public access to café and exhibition spaces. The adjoining ENB School has its own lecture theatre, rehabilitation centre, gym and green room, plus internal windows right onto the ENB's rehearsal rooms!
The ENB today employs around 70 dancers plus numerous other creative, production and admin staff; boasts its own English National Ballet Philharmonic; and performs regular seasons at the London Coliseum, Sadler's Wells and even in-the-round at the Royal Albert Hall, as well as conducting extensive touring in the UK and abroad. ENB also has the longest-established educational program of any national British dance company – all to make ballet and other linked dance forms accessible to new audiences – plus a thriving ENBYouthCo group.
Take a bow! ENB Artistic Directors over the past seven decades (1950-2020) are co-founder Sir Anton Dolin (1950–1962); John Gilpin (1962–1968); Dame Beryl Grey (1968–1979), widely credited with raising technical standards and engaging prominent guest stars and choreographers like Massine and Nureyev; John Field (1979–1984); Peter Schaufuss (1984–1990), not only responsible for the renaming and the ballet school but also for bagging Princess Diana as patron and for presenting many important choreographers' ballets by the ENB for the first time, including work by Ashton, MacMillan, Balanchine and Petit, to name a few; Ivan Nagy (1990–1993); Derek Deane (1993–2001); Matz Skoog (2001–2006); Wayne Eagling (2006–2012); and, currently, Tamara Rojo (2012–), herself bravely leading from the front, still very much a lead dancer, with Gavin Sutherland as her Music Director.
Celebratory Gala
70 years of ever-increasing artistic excellence, innovative collaborations and bringing world-class ballet to the widest possible audience! Countless dancers, choreographers, artists, musicians, artisans, technicians and audience members have contributed to the ENB story, as it – and ENB School – came together for a once-in-a-lifetime celebratory event, looking both backwards and very much forwards!
The three recent Gala showings sought to "evoke a dreamlike blend of film and performance to look back at ENB's history, and that of modern ballet". TV director Dominic Best drew upon archive footage of English National Ballet plus fresh interviews with some of its key figures – extended video versions of which can still be viewed at www.ballet.org.uk – to create a unique film projected onto a vast lowered gauze screen which sporadically dissolves into live performance on stage of extracts from signature works associated with the company over the years.
International flamenco-ballet dance star Sergio Bernal kicked off proceedings as a Guest Artist with a taught, disciplined and dramatic farruca from Manuel de Falla's Three-Cornered Hat (choreography by Soler). Then Erina Takahashi and Fabian Reimair led a mesmeric arm wave undulation sequence from Dust (chor. Akram Khan); followed by Swansong (chor. Christopher Bruce) where stellar Jeffrey Cirio, James Streeter and Matthew Astley powerfully expressed the darkly comic menace of enforced intimacy between human rights abusers and abused, using ironic elements of tap and vaudeville.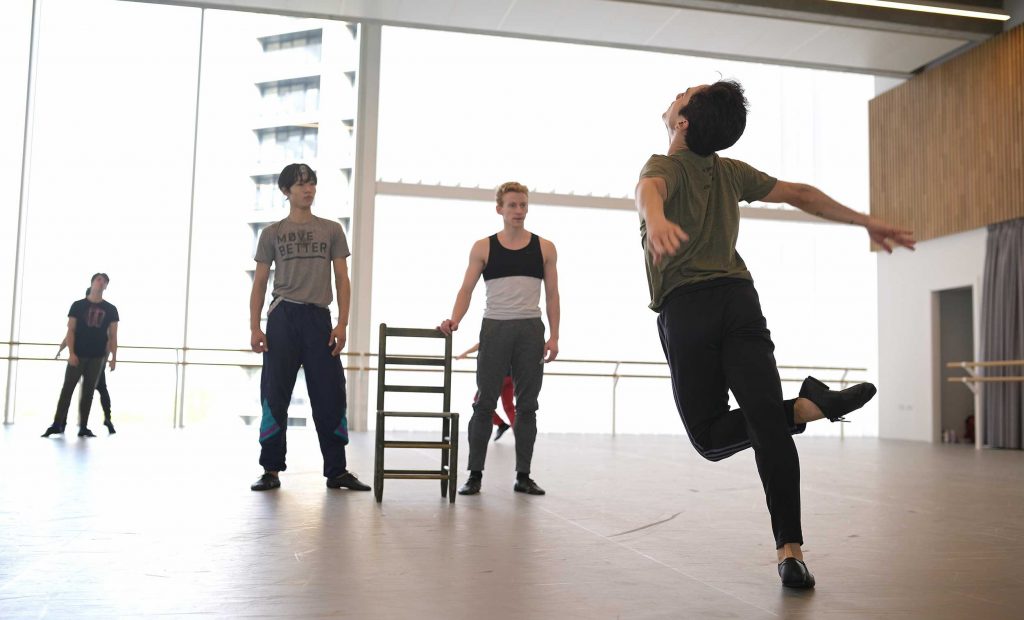 Then: to the future, and inclusion! ENBYouthCo gave a joyously spirited and endearingly energetic ensemble rendering of …Of What's To Come (chor. Richard Bermange) to the gorgeous music of Adam's Giselle; followed by rising star Daniel McCormick's masterfully bestowed exposed solo of restrained impassive grace as the eponymous hero in Stravinsky's Apollo (chor. George Balanchine).
Alison McWhinney (Juliet), Skyler Martin (Paris) and Daniel Kraus (Tybalt) clearly relished the quirkily mannered moves and rich costume's in Prokofiev's Romeo & Juliet (chor. Rudolf Nureyev); before the English National Ballet School hypnotically migrated to-and-fro across the London Coliseum stage in Giselle (chor. Akram Khan); segueing into eccentrically comedic character-relationship dancing from Tamara Rojo and a well-padded Fabian Reimair in Broken Wings (chor. Annabelle Lopez Ochoa).
Emma Hawes made the delightful Gershwin-fascinating-rhythm-riff Who Cares? (chor. George Balanchine) look so typically effortless; before Francesca Velicu and Joseph Caley led the crisply-marshalled English National Ballet School corps in La Sylphide (chor. August Bournonville); after which a truly princely Daniel McCormick was aptly flanked by females Katja Khaniukova, Anjuli Hudson, Julia Conway and Carolyne Galvao in Tchaikovsky's The Sleeping Beauty (chor. Kenneth MacMillan).
Fernanda Oliveira and Junor Souza gave a masterclass in controlled athleticism in the show-stopping Three Preludes (chor. Ben Stevenson), with its creative, disciplined variations around a ballet barre.
Francesco Gabriele Frola proved he's not just a world-class leaper by also a top-flight lifter – here of Tamara Rojo, and you really don't want to drop your boss! – in Bizet's Carmen (chor. Roland Petit); before Shiori Kase and Brooklyn Mack cheekily shone as Swanhilda and Franz in Delibes' Coppélia (chor. Ronald Hynd) – the ENB Philharmonic, under Gavin Sutherland's baton, on especially tip-top form; followed by a delicately wistful Erina Takahashi plus fantasy-man Isaac Hernández with their touchingly dreamy duo in Strictly Gershwin (chor. Derek Deane), sung live by Brittany Wallis.
The first half climaxed on a massive high as breakdancing meets male corps-de-ballet and the ENB's A-List boys try to out-dance each other in Playlist (Track 2) (chor. William Forsythe), with quicksilver kinetic-king Jeffrey Cirio pulling off possibly the single-most stunning dance feat of the whole night!
"Terrifying" or at least "exciting" for performer, heart-stopping for an audience: the evening ended with a fearless showcase of the great talent across all the ranks of English National Ballet, with its perennial favourite Études (chor. Harald Lander), first performed in 1955. The piece begins with traditional ballet exercises and steps and ramps up to a dazzling display of dance. To see Isaac Hernández, Joseph Caley, Jeffrey Cirio, Francesco Gabriele Frola and crew all leaping together: aesthetically orgasmic!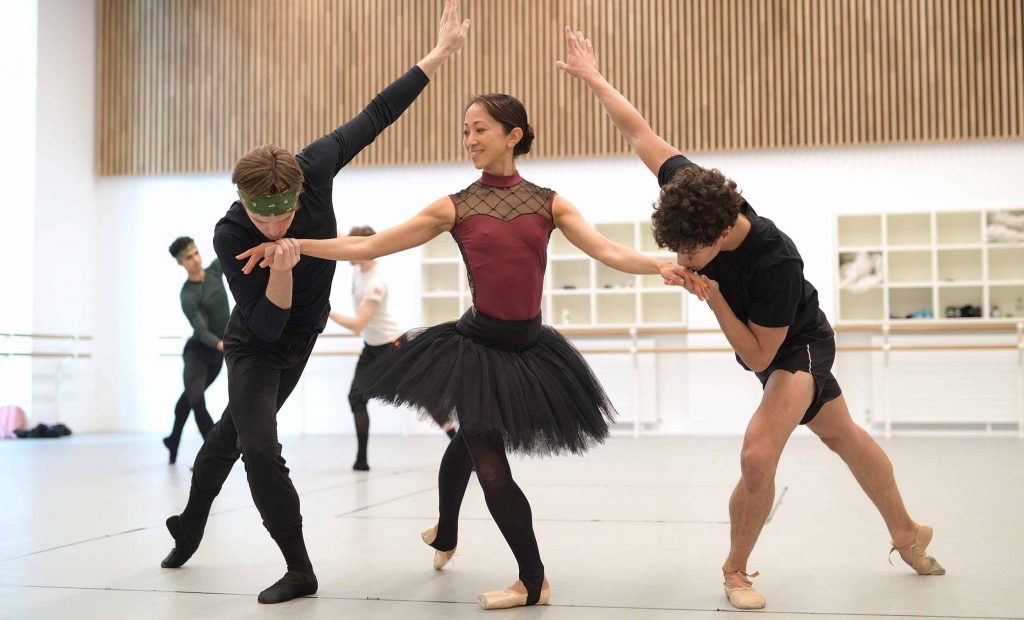 In gist, the galas gave a representative and diverse selection, showing-off all layers of the company via significant standout motif works from throughout its history – all well-sculpted so as not to appear too "bitty", and interspliced perfectly with illuminating gauze-projected film footage. As the final curtain lowered and our cheers and ovations began to fade, you could clearly hear the party really only just getting under way backstage! Bravo, encore!
Keep 'em peeled for forthcoming English National Ballet productions, both in London and on tour. Forthcoming highlights include Creature by Akram Khan (1-8 April 2020, Sadler's Wells, London); Akram Khan's Giselle (22 April 2020 – 18 July 2020, International Tour); and Derek Deane's Swan Lake in-the-round (17-28 June 2020, Royal Albert Hall, London).
For more info and to book tickets for English National Ballet shows: www.ballet.org.uk
– ends –