Review: The Mikado, English National Opera, London Coliseum
by Adrian Gillan for www.bent.com
Bent's Adrian Gillan falls topsy-turvy in love with the ENO's latest revival of Jonathan Miller's now-classic 1930s-monochrome production of Gilbert & Sullivan's farcical satire, The Mikado!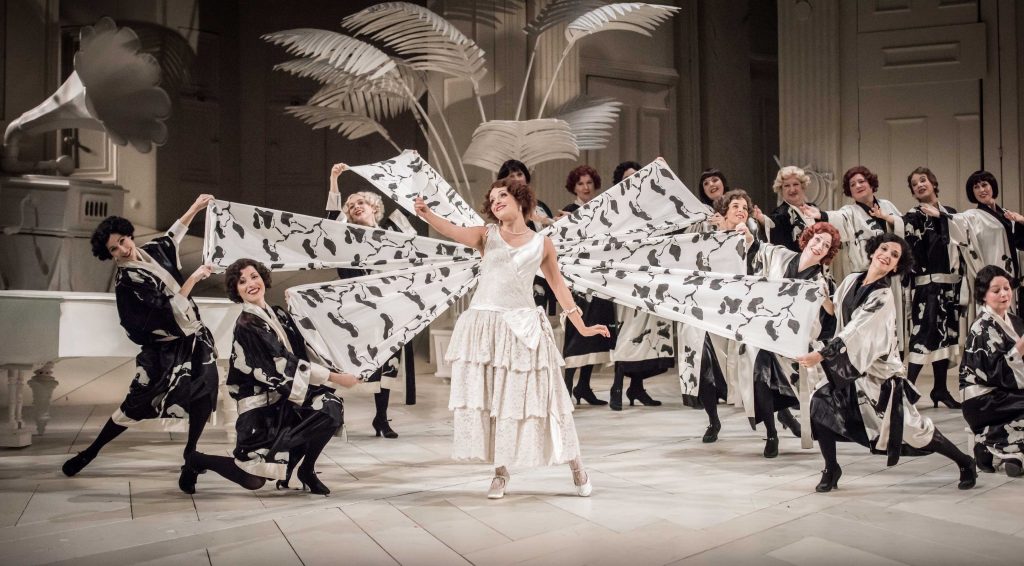 First staged in 1885, Gilbert & Sullivan's most popular operetta is ingeniously deceptive! Themes – of love and beauty, power and justice, class and pretence, death and transience – cheekily emerge from the frothy core of its tuneful soufflé. The Mikado's zany and disarmingly flippant satirical illogicality is tightly crafted to hit its pompous, hypocritical targets – prudish British censorship, oft-inhumane law-making and fatuous blustery governance – albeit scarce tickling a ruthless imperialism then at its height.
Its creators drew upon the late-Victorian British craze for all things Japanese merely as a guise in which to cloak domestic targets. Jonathan Miller's staging – regularly revived by the English National Opera since its 1986 premiere – downplays the now-culturally-sensitive orientalisms of the original, setting it more directly in a surreal yet quintessentially-English, faintly-faded 1930s hotel full of spivs 'n flappers, bellboys 'n maids, cream flannels 'n chorus lines: albeit one still clearly swayed by Far-Eastern fashions, just when the Far East was likewise assimilating Western tastes. "Titipu" nestles neatly at this junction.
In a work that sits squarely in a comedic lineage, from precursor Lewis Carroll through to Monty Python and right down to the present, it is fitting that Miller himself emerged from the left-field 1960s comedy milieu of Beyond the Fringe; and cast former Python stalwart Eric Idle as an early Ko-Ko.
G&S star stalwart Richard Suart here returns to said lynchpin role of Ko-Ko, the Lord High Executioner – which he has played numerous times over decades and even written books on – as ever, topically updating his opening "Little List" song of people who'd "not be missed" if they got the "chop"!
Veteran ENO baritone Andrew Shore is joyously pompous as Pooh-Bah, Lord High Everything Else; alongside baritone Jonathan McGovern delivering a delightfully spunky spivish Pish-Tush.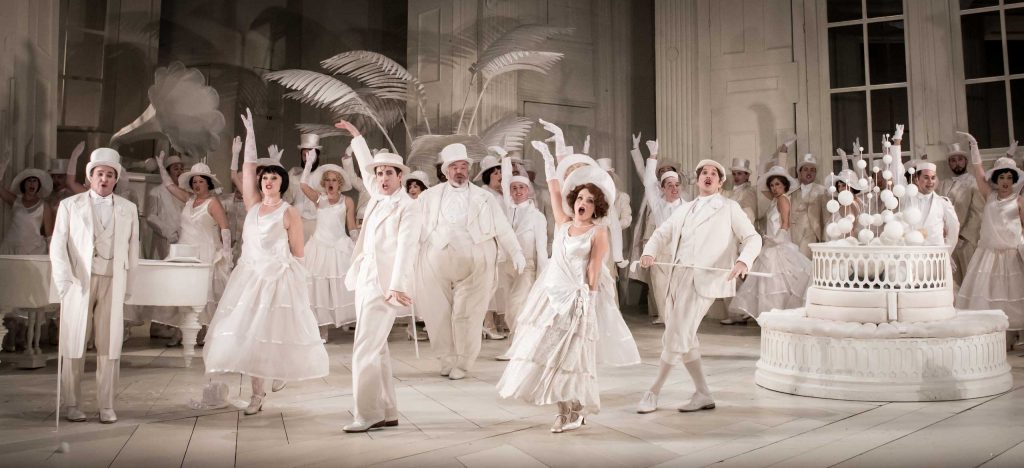 Two homegrown ENO Harewood Artists, soprano Soraya Mafi and tenor Elgan Llŷr Thomas, do themselves and their incubating company proud as the young romantic lead couple, Yum-Yum and Nanki-Poo respectively; and mezzos Sioned Gwen Davies and Kitty Whately ably support as Yum-Yum's sisters, and co-wards of Ko-Ko, Pitti-Sing and Peep-Bo, again respectively.
Mezzo-soprano Yvonne Howard succeeds in engaging our sympathies as fearsome, stoical, dogged cougar-predator Katisha, first spurned by her young target Nanki-Poo, then trick-wooed by Ko-Ko who is merely trying to save his own neck! She almost brings the house down with her "Alone, and yet alive!" number.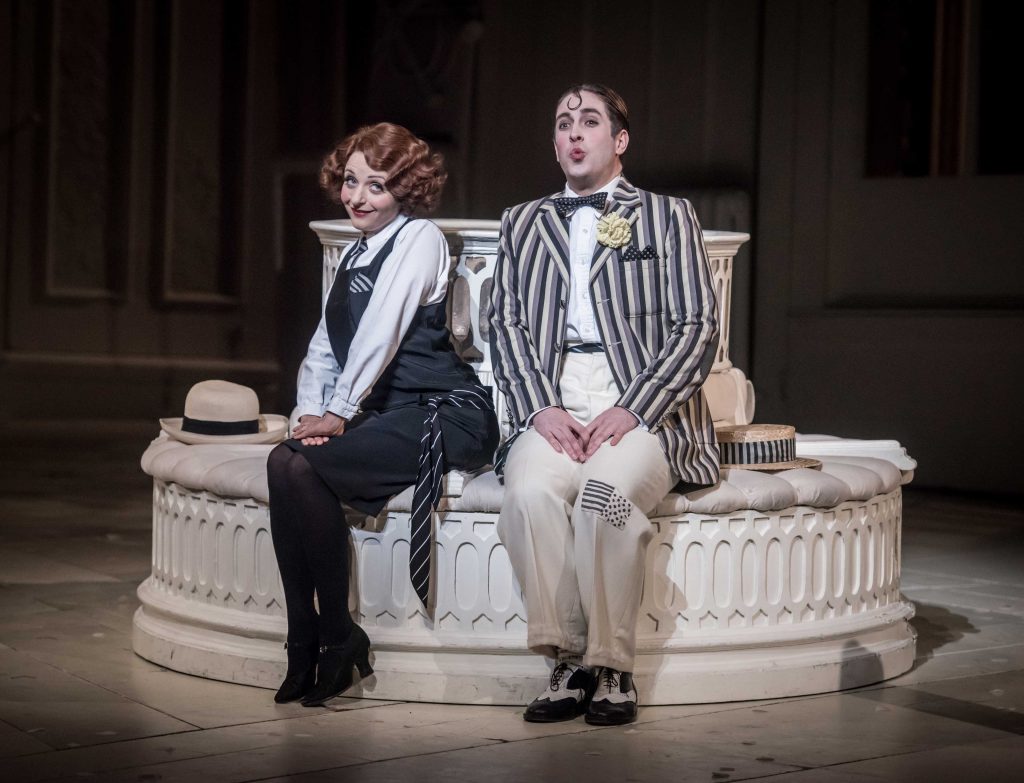 Better known for singing Wagner or Bartók, but here happily celebrating his 50th ENO role, world-renowned bass Sir John Tomlinson is clearly loving "letting himself go" in the title role of The Mikado – rolling around the stage like some benign giant inflatable Edward VII, carrying his own immense body as resignedly as he bears the bonkers burdens of his ridiculous yet strangely familiar realm.
The magnificent English National Opera Orchestra likewise seems to enjoy letting its musical hair down for a jolly 2½ hours, under the crisply cheery baton of conductor, Chris Hopkins; although the typically glorious English National Opera Chorus are somewhat upstaged by the outrageous troupe of dancers continuously strutting their stuff right in front of them – not least its contingent of unceasingly camply-prancing bellboys! Anthony van Laast's original choreography, here faithfully revived by Carol Grant!
Just so, Jonathan Miller's now-legendary direction of – and then-radical concept for – the whole show has been energetically revived by Elaine Tyler-Hall. Sue Blane's costumes still charm and amuse.
The late Stefanos Lazaridis' monochrome, angular, vertiginous, period-modern set – with supersized gramophone and potted palms – has become a celebrated classic of recent-era theatre design.
Deceptively deep; art concealing art! Cheers: G&S, ENO, Mr Miller and Co! To another 33 years?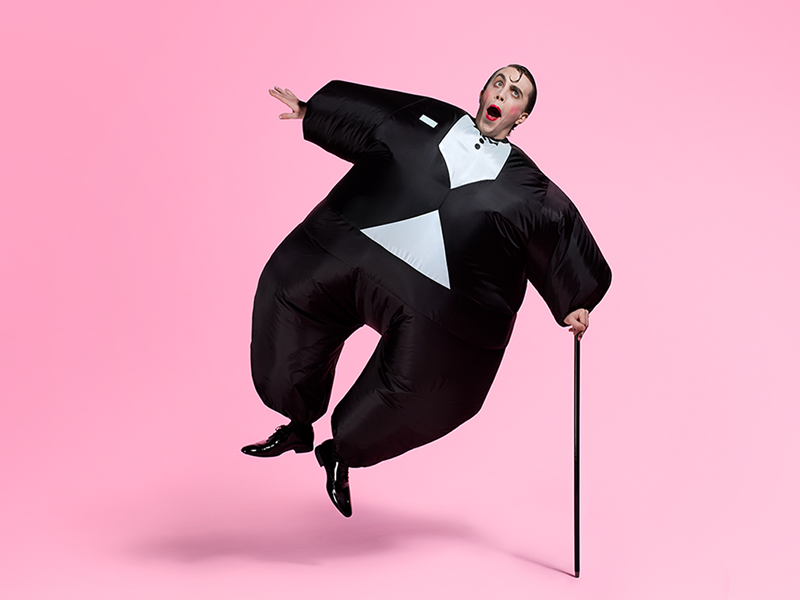 English National Opera 2019/20 Season
With a "the rise of the feminine" theme and now under new Artistic Director Annilese Miskimmon, ENO's 2019/20 season features seven new productions and three revivals at the London Coliseum. Remaining new productions are Gluck's Orpheus and Eurydice (until 19 Nov 2019); Offenbach's Orpheus in the Underworld (until 28 Nov 2019); Philip Glass' Orphée (15-19 Nov 2019); Verdi's Luisa Miller (12 Feb – 6 March 2020); Mozart's The Marriage of Figaro (14 March – 18 April 2020); and Dvorak's Rusalka  (28 March – 15 April 2020). Remaining revivals are this very Jonathan Miller production of Gilbert & Sullivan's The Mikado (until 30 Nov 2019); Calixto Bieito's production of Bizet's Carmen (29 Jan – 27 Feb 2020); and Anthony Minghella's Olivier Award-winning production of Puccini's Madam Butterfly (26 Feb – 17 April 2020). A fifth of all tickets sell for £20 or less, many for just £10. Free balcony tickets are available for Under-18s every Fri and Sat performance, plus Opening Nights! Truly a people's opera!
The Mikado runs at the London Coliseum until 30 Nov 2019.
– ends –