Review: Death of a Salesman, Piccadilly Theatre
by Adrian Gillan for www.bent.com
 Societal expectation and self-delusion! Bent's Adrian Gillan enjoys this brilliantly acted and designed new production of Arthur Miller's classic dissection of a pitiless American Dream!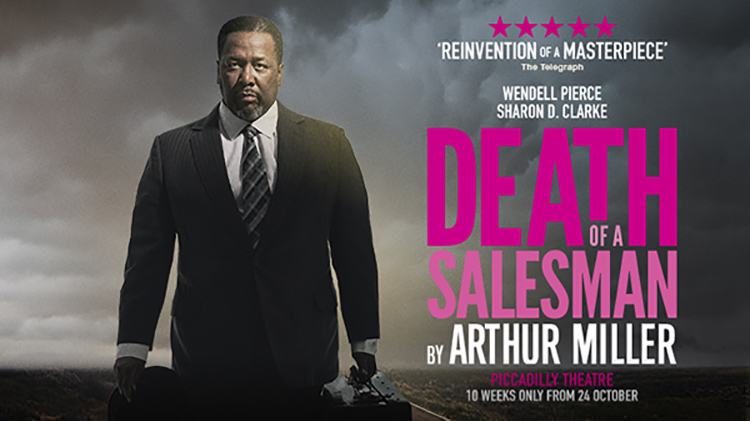 Widely considered as one of the greatest plays of the 20th Century, Arthur Miller's 1949 classic, Death of a Salesman, examines the fragmentation of an ordinary man under the incessant pressures of go-get-ahead materialism, as socially- and self-imposed vanities and delusions buckle under human realities.
Over the decades, many fine actors – including Lee J. Cobb, George C. Scott, Rod Steiger, Warren Mitchell, Michael Gambon, David Suchet, Dustin Hoffman, Philip Seymour Hoffman and Antony Sher, to name a few – have relished the timeless role of its central tragic hero, Willy Loman, as he fails to live up to the totemic aspirations of a dead father and brother, and of family, neighbours, employer and society.
Co-directed by dream-team Marianne Elliott and Miranda Cromwell, this latest production – which has transferred after a sell-out at the Young Vic – assembles a sizzling cast, including a black Loman family, plus truly stellar creative crew.
Wendell Pierce makes a physically imposing and charismatic Willy Loman, thereby all the more inwardly dramatically disintegrating as the play progresses, deftly drifting in and out of daydreams and hallucinations throughout. A magnificent actor, cutting a psychologically trapped and truly tragic figure.
Double-Olivier-Award-winning Sharon D. Clarke is likewise outstanding in the lynchpin role of his wife, Linda Loman, desperately trying to keep the domestic situation together as Willy fragments; as their sons stall and go off-the-rails; and as bills begin to mount.
Sope Dirisu brilliantly portrays Willy's older son, Biff, crushed and forced-to-dissemble by the pressures heaped upon him by a father whose own hollow façade and human failings he is all-too-fully aware of. Dirisu is perfectly paired with the splendidly youthfully confident Natey Jones, as his cheekily wise-cracking, womanising younger brother, Happy.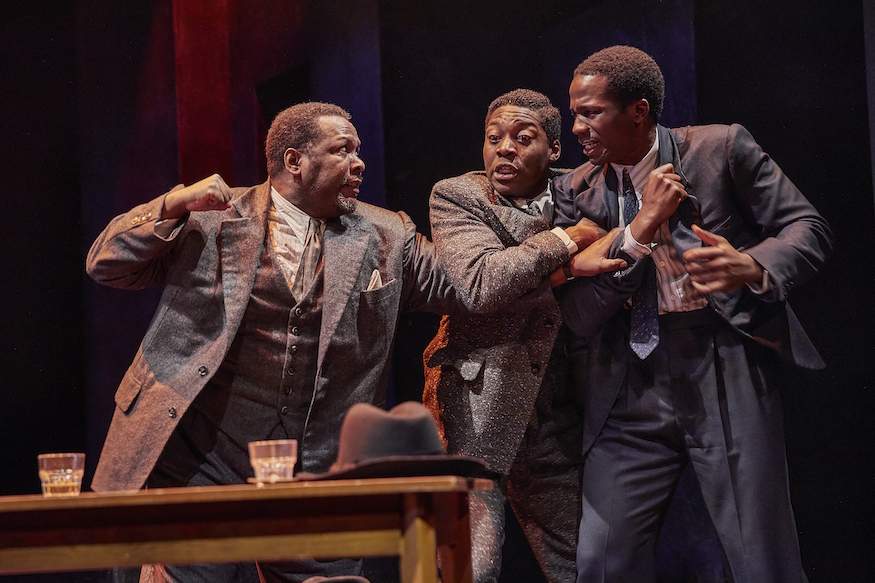 Trevor Cooper is well-cast as Charley, the successful, generous neighbour that Willy is so jealous of, and too proud to accept a job from – an envy exacerbated by Willy's reliance on Charley for cash hand-outs; and by the success of Charley's son, Bernard, superbly played by a wonderfully nerdy, Ian Bonar.
Joseph Mydell lends a poetically ethereal and slo-mo surreal quality to the role of Willy's dead brother, Uncle Ben, in their ongoing hallucinatory scenes together – goading, coaxing and ultimately morbidly calming. Femi Temowo appears briefly as Willy's Father and makes a significant contribution throughout as musician/composer and as MD.
Matthew Seadon-Young almost steals the show as Willy's whimsical yet callously hardnosed young employer, Howard, in their electrifying scene together; he also doubling up as fixer-waiter, Stanley.
A world-class cast is completed by Victoria Hamilton-Barritt, as Willy's fling, The Woman, she also doubling as Jenny, Charley's secretary; and by Carole Stennett and Nenda Neurer, as the Loman brothers' dinner dates, Miss Forsythe and her friend, respectively.
Anna Fleischle's set creates a shifting mindscape with its suspended fly-in furnishings, its multiple acting areas well-segued by Aideen Malone's lighting – complimented by Carolyn Downing's intricate sound design, working with Dominic Bilkey to produce highly effective hallucinatory soundscapes. Spasmic light 'n sound are oft linked with actors' jerky physicality as Willy's brain fitfully flits in and out of delusion.
Tip-top work from Hazel Holder as voice and dialect coach; and from Yarit Dor in the combined role of "fight and intimacy director" – in this new, happily improved age of professionalism and safeguarding.
Although too literal a reading of a black Loman family would obviously create issues vis-a-vis the historical credibility of certain scenes and relationships, the fact that the play works as thus cast shows how universal Miller's themes are and so, in that sense, adds to our appreciation of his masterpiece.
Dazzling production, especially from an acting or design perspective. Worthy of the odd "nom or gong"!
Death of a Salesman runs at the Piccadilly Theatre in London until 4 Jan 2020.
– ends –