Review: Orpheus in the Underworld, English National Opera, London Coliseum
by Adrian Gillan for www.bent.com
Raucously hellish Can-can operetta rebooted for a #MeToo age! Bent's Adrian Gillan hails ENO's fiercely anti-patriarchal new reading of Offenbach's cynical satire, Orpheus in the Underworld!
Maverick director Emma Rice (Kneehigh Theatre, Shakespeare's Globe) has worked a wicked spell on Jacques Offenbach's already riotously borderline-anarchistic lampoon of prissy cultural reverence – and of social corruption and hypocrisy – to leave an especially fresh bleak 'n sour twist, turn and after-taste!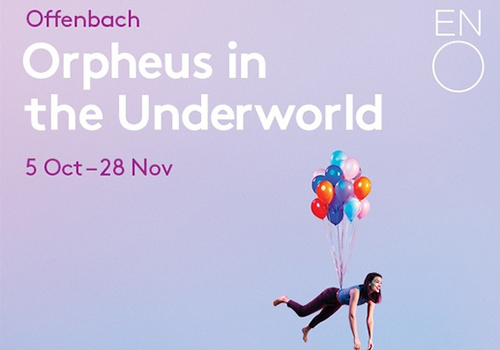 Originally, this most famous of French operettas parodied Ovid's tragic love-story alongside arguably-overly-pious classical operatic derivations by the likes of Gluck. It evolved over decades – the first 1850s version expanded in the 1870s, and later embellished yet further – out of the debauched milieu of a bloated socio-political landscape and a giddily fizzing Parisian cabaret scene. Shock now gone?
In this freely adapted version by director Rice (English lyrics by Tom Morris), dramatic knobs are twiddled to make the core Orpheus-Eurydice relationship more sincere than in traditional versions – where the two lovers are at best indifferent to each other – their initial estrangement here rationalised via a tragic back-story given in a wordless "dumbshow" prologue; and their subsequent romantic reawakening then all-the-more-shockingly counterpointed via the gods' attempts to stymie and thwart.
Action shifts from Earth up to a divinely languidly hedonistic 1950s Beverly Hills Hollywood poolside Heaven, playground of bored, indolent, all-too-human gods; and then down to an exploitative and seedy peepshow-Hell where women – Eurydice in particular – are passed from man to man like slabs of meat.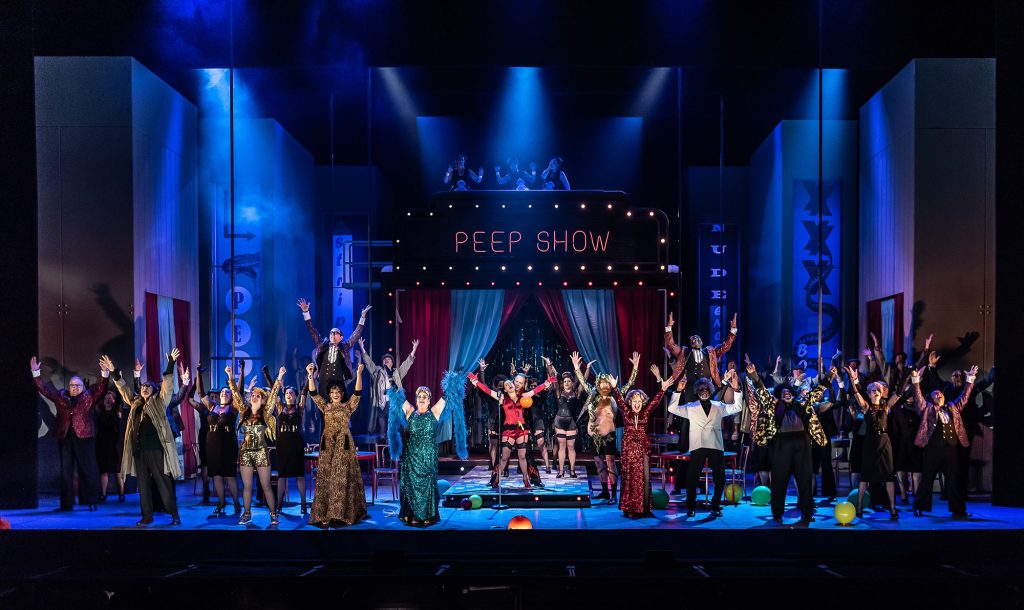 The god of the Underworld dupes a grieving and vulnerable woman into abandoning her true love and descending into Hell where she is imprisoned, exploited and abused by other gods, all in collusion.
Dance the pain away! In this darkly audacious version, there is no happy ending as the final despairingly dizzy Can-Can chorale rings hollow, exhorting one and all – oppressed and oppressor, victim and perpetrator – to a disconcertingly mind-numbing oblivion. Frivolity is thereby satirically slapped-in-face by timeless patriarchal abuse, brought into especially sharply focus by Rice in our current #MeToo era!
As Orpheus, Ed Lyon may be playing a mortal, but he has the sweet voice of a god; and is extremely moving in his fractious and subsequently passionately romantic scenes with Mary Bevan – herself sublimely anguished, and ultimately stunned, in the complex role of fragile, misused Eurydice.
ENO Harewood Artist, Alex Otterburn, shines, relishing every single moment as narcissistic, sexy bad-boy Pluto, alongside a whole heavenly raft of Olympian cameos… by brazen Anne-Marie Owens (Juno), flighty Ellie Laugharne (Cupid), sultry Idunnu Münch (another ENO Harewood Artist, as Diana), lovelorn Judith Howarth (Venus) and decadent Keel Watson (Mars) – all headed by one silver-fox big-daddy of a performance from veteran, Sir Willard White, as the shamelessly degenerate Jupiter! Alan Oke also excels as an especially seedy John Styx, a lusty Hellish guardian who used to be the King of Poland! One of the world's first openly transgender opera singers, Lucia Lucas is superb in the largely spoken role of Public Opinion – dishing out her "knowledge" from a London black cab!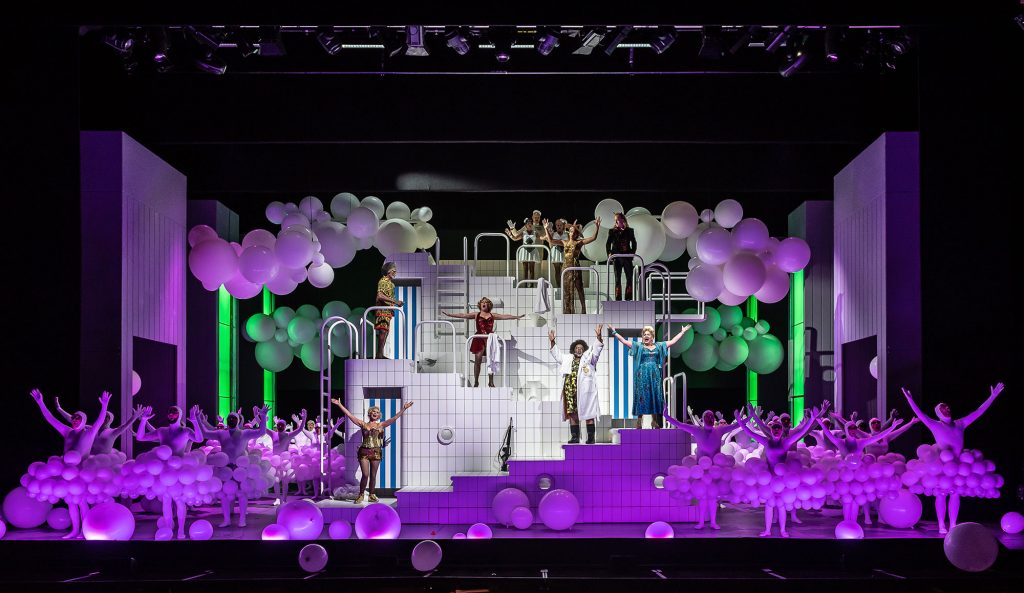 Lizzie Clachan's bold, colourful yet simple set designs switch effortlessly between Earth, Heaven and Hell, even – ingeniously – magically morphing to also be the settings of the ENO's other three Orpheus-themed operas this season! Her clever well-nigh-thematic use of balloons to variously conjure up sheep, clouds, bubbles, ballet tutus and wild parties is an especial highlight – herself working closely with Lez Brotherston (costumes), Malcolm Rippeth (lights), Simon Baker (sound) and Etta Murfitt (choreography).
Brilliant former ENO Music Director Sian Edwards returns to conduct the ever-effervescent English National Opera Orchestra and eternally ecstatic English National Opera Chorus. What an ensemble!
You will find yourself leaving The Coliseum humming and whistling all those wonderful tunes – yet with an uneasy, startled look upon your brow. Shock reinjected! Offenbach would surely have… approved!
English National Opera 2019/20 Season
With a "the rise of the feminine" theme and under new Artistic Director Annilese Miskimmon, ENO's 2019/20 season features seven new productions and three revivals at the London Coliseum. Remaining new productions are Birtwistle's The Mask of Orpheus (until 13 Nov 2019); Gluck's Orpheus and Eurydice (until 19 Nov 2019); this very Orpheus in the Underworld (until 28 Nov 2019); Philip Glass' Orphée (15-19 Nov 2019); Verdi's Luisa Miller (12 Feb – 6 March 2020); Mozart's The Marriage of Figaro (14 March – 18 April 2020); and Dvorak's Rusalka (28 March – 15 April 2020). Remaining revivals are Jonathan Miller's production of Gilbert & Sullivan's The Mikado (28 Oct – 30 Nov 2019); Calixto Bieito's production of Bizet's Carmen (29 Jan – 27 Feb 2020); and Anthony Minghella's Olivier Award-winning production of Puccini's Madam Butterfly (26 Feb – 17 April 2020). Over a fifth of all tickets are for £20 or less, many for just £10. Free balcony tickets are available for Under-18s every Fri and Sat performances plus Opening Nights! Truly a people's opera!
Orpheus in the Underworld runs at the London Coliseum until 28 Nov 2019.
– ends –