Review: A Day in the Death of Joe Egg, Trafalgar Studios
by Adrian Gillan for www.bent.com
You can only laugh away so much pain! Bent's Adrian Gillan is moved by a blistering revival of Peter Nichols' bleak farce, A Day in the Death of Joe Egg, at the Trafalgar Studios, London!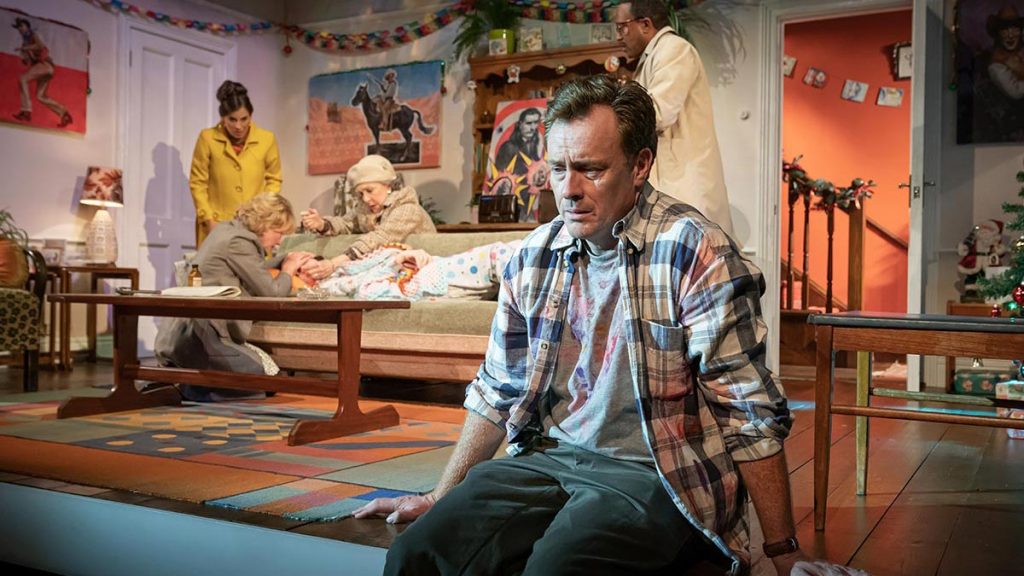 Peter Nichols died just days before the opening of this latest revival of his unsettling and meta-theatrical  black comedy that uses humour – often the characters' way of coping with despair – to ironically explore the still largely taboo topic of the impact of caring for someone severely disabled or incapacitated.
The play originally premiered in Glasgow in 1967, West End and Broadway transfers following; since when it has enjoyed several subsequent revivals on both sides of the Atlantic, and wider. It still feels as relevant and shocking today as over half a century ago – not least because disability-related issues are still not sufficiently out in the open; and because carers still struggle to receive the support they need.
With influences from Orton to Osborne via Joan Littlewood, A Day in the Death of Joe Egg is, from start to finish, gloriously self-consciously theatrical, actors both singly and jointly oft directly addressing, and confiding in, the audience; some "role play" scenes delivered in the style of music hall routines – Nichols himself thereby doubtless drawing on his own experiences entertaining troops whilst in the army, to help shape a form via which to convey content also drawn from his own life, as father of a disabled daughter.
This is not easy viewing, devoid of all cathartic sentiment! The bleak humour – albeit infused with a pained love and desperate hope – deliberately leaves an audience continuously disorientated, unsure whether to laugh or tut, heightening our awareness of the acute and seemingly unavoidable plight of the caring parents, and the strains upon their relationship, intensifying our conflicted response to this.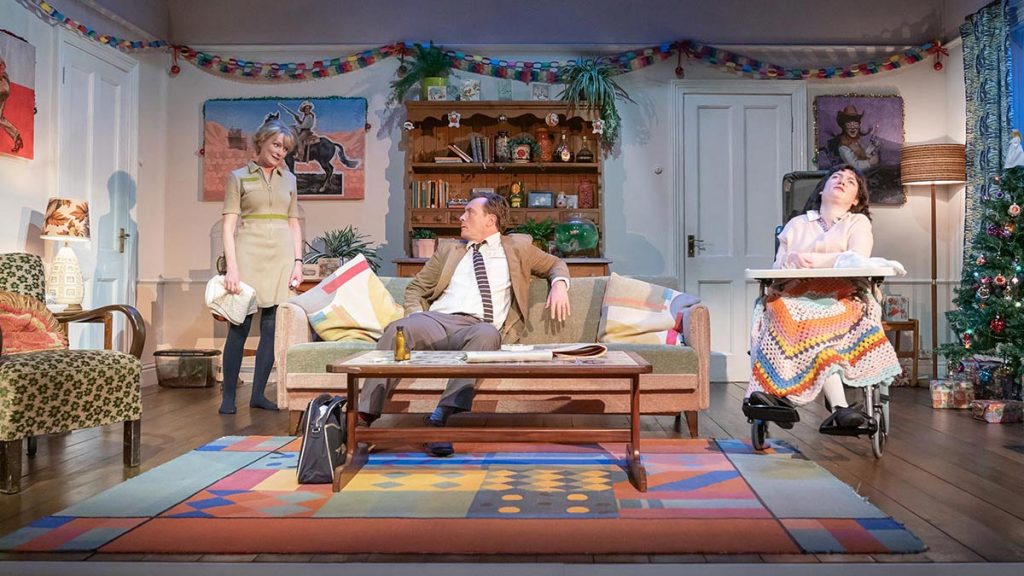 Toby Stephens is disturbingly believable as Bri, young disabled Joe's father, cracking jokes like a vaudevillian to hide the pain of what he feels is his trapped, lost existence – just about keeping it together as a school teacher; knocking out the odd bitterly kitsch painting at home; and fantasising that his wife is having affairs just to spice up his own stalled sex life. We only once see him explicitly tender with his daughter, albeit fleetingly; and he chooses his future path just as darker thoughts loom, threatening yet deeper catastrophe. Desertion or existential self-defence: who are we to judge?
As his wife Sheila, superb Claire Skinner is shockingly complicit in much of Bri's ironic joking, but mainly simply in order to endure. She is desperately moving, lovingly holding out hope where scarce any exists. As Grace, Bri's mum, veteran Patricia Hodge enters to stir things up in the final half hour, her confusions and unguarded comments helping tip the tragi-farce towards its sad yet open-ended conclusion.
Clarence Smith dazzles in the plum role of patronisingly well-meaning but callously pragmatic "socialist industrialist" Freddie, Sheila's friend – this, a technical tour de force and comedic acting masterclass – his more engaging tone mitigating the naïve but selfish and offensive views of his smug and spoilt young wife, Pam, unapologetically played by the excellent Lucy Eaton.
And disabled actress Storme Toolis plays Joe with enormous presence and commitment, her unexpected speech at the end of Act 1 brilliantly reminding us that we are watching a play, no attempted opioid fourth-wall illusion – a fact rammed home throughout by director Simon Evans and creative team.
Peter McKintosh's set-upon-a-stage-within-a-theatre design, revolving to overtly show backstage warts-and-all, and the fluid use of the front-of-stage area for interactions with the audience – supported and enhanced by Prema Mehta's clever lighting right the way through – all celebrate and magnify the work's intrinsic theatricality! Hats off too to sound designer and incidental composer, Edward Lewis.
Indeed, the play is about more than just parents coping with child disability, and a man's grin-and-bear-it mentality. It is, more broadly, about life-as-theatre where the tragi-comic show limps on; and humour as an understandable, if flawed, survival strategy in the eternal struggle between hope and despair.
A Day in the Death of Joe Egg runs at the Trafalgar Studios until 30 Nov 2019.
– ends –