Review: 'Master Harold'… and the boys, Lyttleton Theatre (National Theatre)
by Adrian Gillan for www.bent.com
Insecurity tests dignity, hurting what it loves! Bent's Adrian Gillan hails the National Theatre's revival of Athol Fugard's apartheid-era masterpiece, 'Master Harold'… and the boys!
Set in 1950 in Port Elizabeth, white South African dramatist Athol Fugard's 'Master Harold'… and the boys – initially banned in his home country – was his first work to premiere overseas, in the US in 1982.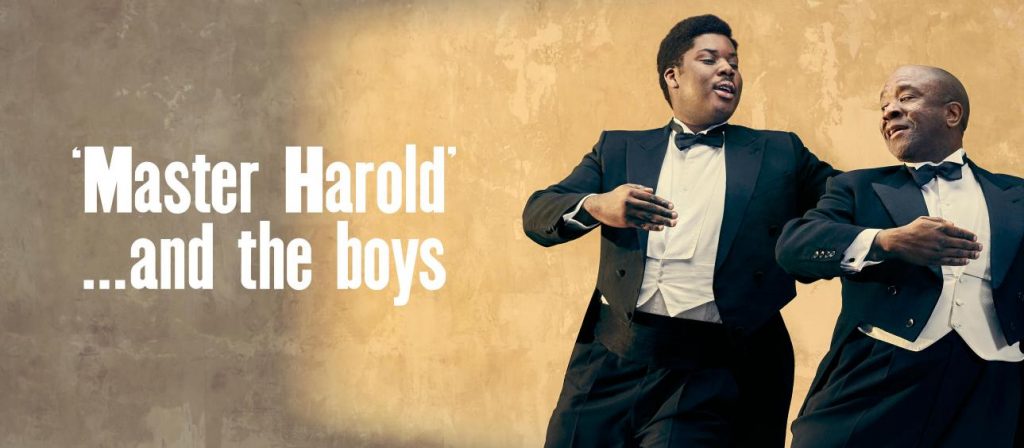 Largely autobiographical – in its setting, even down to the names of characters – it is the playwright's cathartic attempt at an apology for this own youthful behaviour and mindset. Bratty white loner teen Harold (Athol's birthname) is intimate and playful with his family's two black employees, perhaps his only "friends", until his own upbringing, insecurities and personal unhappiness – focussed around his unseen racist disabled alcoholic father – force ugly tensions to surface: hurting "the boys" and, crucially, himself.
The play is self-consciously theatrical, actors "acting out" past remembered scenes; and, at times, didactic – not least the long scene of characters debating the merits of potential heroes. It is also laced with poetic metaphor, from its kite-flying imagery to the core notion of beauty in dance, and an escapist, aspirational world of ballroom harmony that might, just might, hold out hope for reconciliation in reality.
With limited prior professional stage experience, Anson Boon delivers an admirably and courageously bold and clear characterisation in the title role – brash and gawky on the surface, lonely and damaged beneath. He demonstrates considerable technical ability – not least in his down-aged squeaky vocals – in what is a very complex and demanding role for any young actor, one he will doubtless increasingly "ease" into throughout the run. Bravo young man.
Half waltzing while he works, Lucian Msamati is magnificently dignified as Sam, the older of the two black employees at Harold's family tearooms: patiently playing surrogate father and mentor to young "Hally" – within the confines of his own social and employment status – and despite the disapproval of Hally's offstage parents. All the more shocking, then, when his protégé – who he had tried to morally raise, and who had always, oft unknowingly, sought refuge in him – turns so brutally in his face.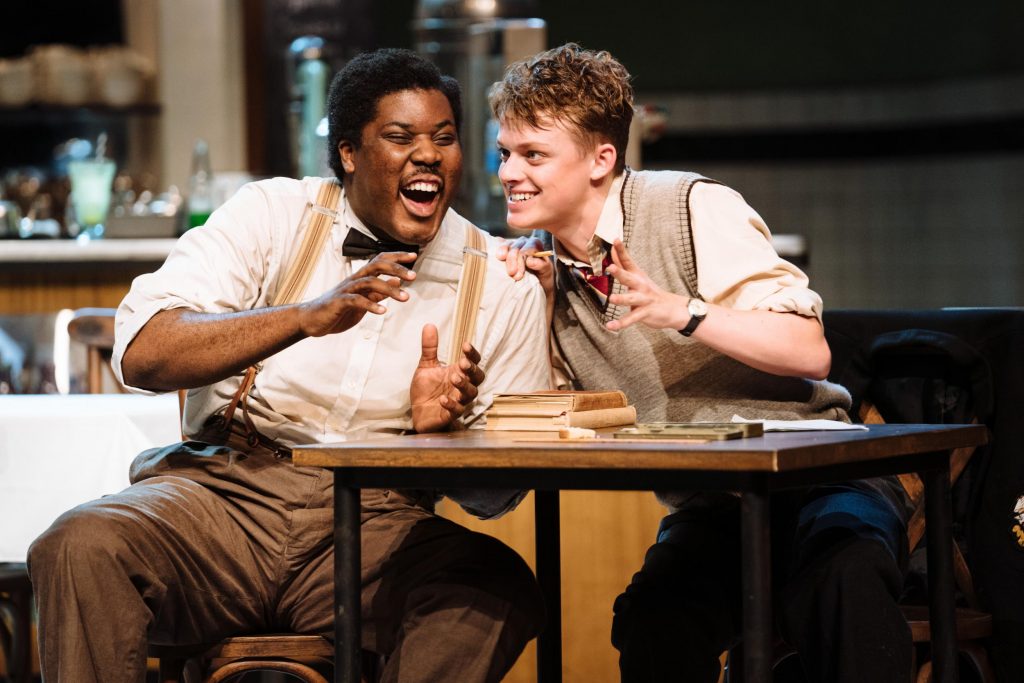 Hammed Animashaun is likewise excellent as Willie, the younger of the two black employees, who older Sam is training up for the imminent ballroom contest, amidst tearoom duties. He conveys quiet resolve, restraining an underlying violent anger, both with his own unseen girlfriend, and with Hally at the close.
Designer Rajha Shakiry's tearoom set evokes broader metaphysical oppression and gloom with its rain splattered glass roof, before finally transforming into a dreamy dancehall as Sam and Willie twirl away their pains – all complemented by Paule Constable's lighting and Giles Thomas' sound.
Shelley Maxwell's unfussed movement and choreography work with all three actors plays a central physically starring role throughout. Big bows too, vocally, for Simon Money (company voice work) and
Joel Trill (dialect), doubtless similarly kept rather busy!
Director Roy Alexander Weise ensures Fugard's intended tension mounts, disarmingly, throughout 1½ hours (no interval) pre the emotionally shocking ending, which is left painfully open. We all hope vulnerable young Hally with have learnt a life-changing lesson, and grow; but we can never know. Go.
'Master Harold'… and the boys – runs at the Lyttleton Theatre (National Theatre) in London until 17 Dec 2019. For more info and to book tickets, call 020 7452 3000
– ends –