Gonna Puglia: Bari & Brindisi!
by Adrian Gillan for www.bent.com

Pulling in Puglia! Bent's Adrian Gillan adores the fine history, culture, cuisine – and men – in and around this maritime city duo in southeast Italy! All a mere short flight away with fab easyJet!
Oh perfect pairing! Two of the top towns in the heel of that Italian boot: 100km apart, brimming with fun!
Plus, with low-cost carrier easyJet serving both Bari (from London Gatwick and Manchester) and Brindisi (from London Gatwick and Bristol), you are almost here – with extra cash left in your pocket to use on arrival! On time, with highly personal yet professional service, easyJet always delivers what it says on the tin! Ace!
Bari
Capital of the Puglia region, on the Adriatic Sea, in the far south east of Italy, with its port and university, 320,000-populated Bari is the most important economic hub "down south" after Naples and Palermo.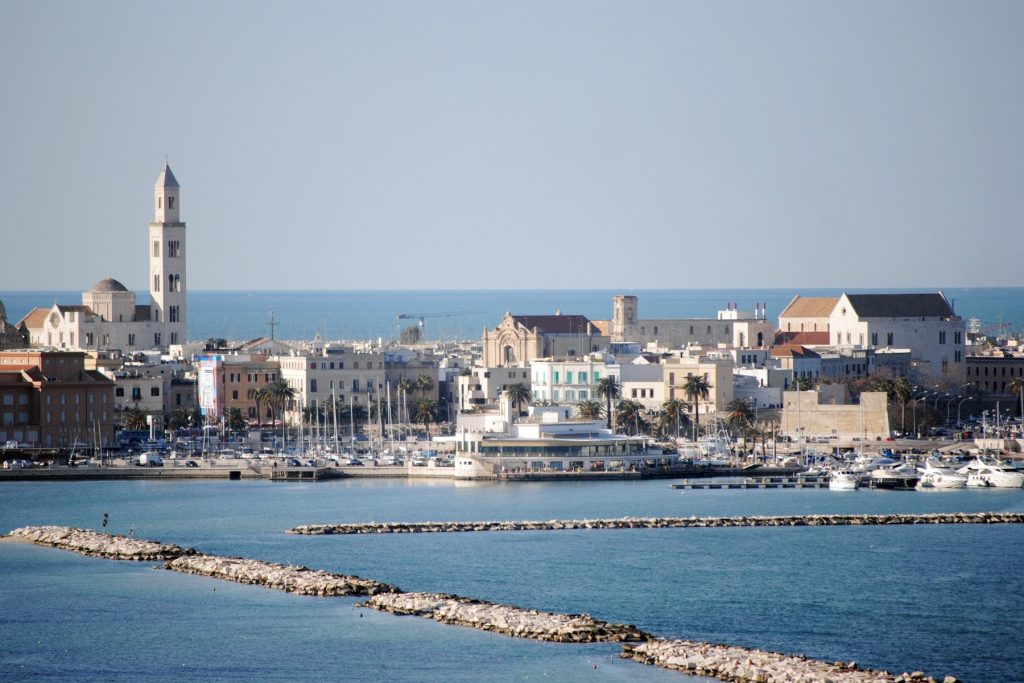 At its north, is the ancient alley-warren Old Town – now also a big nightlife district – on the peninsula between two modern harbours. Just south: the largely 19th Century Murattiano Quarter, with its rectangular grid-plan, long sea promenade and shopping zone, hubbed around Via Sparano and Via Argiro. Beyond this, modern residential zones expand outwards, dating from the 1960s and 1970s.
Best explored on foot, there are two great ways to enhance your pedestrian adventures in Bari…
Trenino della Felicità – with a joyously youthful team of guides, this family-run "little train of happiness" is precisely that: a tiny train of "wonder wagons" that take you, effortlessly, on a panoramic tour around the old town, with occasional forays on foot. You might even meet lovely owners, sunny Roberta (mum) or dishy Ricardo (son), popping into their quality Puglia souvenir craft shop, Magicaterra for that extra boost of Bari bliss!
Velo Service Tour & Rental (Strada Vallisa 81, Old Town; Corso Italia 64, Train Station; & Cruise Terminal, Port – Bari;) – run by charismatic Paco and his delightful gay-wooing team, this fun polylingual company offers guided city tours: by foot, bike, rickshaw, even Segway! Food is one of Bari's glories, and food/wine tasting can be arranged en route – perhaps at one of the many "open houses" making "orecchiette" (little ear-shaped pasta-shells) over generations, or in local-produce delicatessens like gorgeous Antica Salumeria (Strada Bianchi Dottula 17, Bari)!
Highlights include:
Column of Justice – Old Town pillar where baddies used to get tied up and spat at, naked!
Basilica of Saint Nicholas – with impressive gold ceiling; and crypt with supposed selected remains of St. Nicholas, the city's patron saint. Far more important that the city's nearby Cathedral!
City Walls walk – take a stroll atop the old city walls that hem in the Old Town, starting at the angular, chunky Norman Castle to the west, passing the former Monastery of Saint Scolastica on the northern tip, ending at the Fortino of Saint Antony to the east.
Teatro Petruzzelli – see opera, theatre and concerts at the largest theatre of Bari, and the fourth largest in all Italy by size. Destroyed by a fire in the early 90s but rebuilt exactly as-was! Also keep an eye out for the old Teatro Margherita, just up the street!
Gay scene
No full-time gay-only venues, but several blatantly LGBT-friendly homo-haunts and a few regular queer club/party nights – plus the odd sauna, beach and cruising spot! Puglia Pride runs every June/July, in a different town within the region, to "spread the love"; and sometimes feisty Bari even strikes out proudly with its own Pride! Some must-tries:
La Ciclatera Sotto il Mare (Via Venezia, Bari;) – on the Old Town's eastern edge, a trendy and overtly gay-friendly haven, with quirky, energetic-yet-laid-back staff; cosy downstairs inner; and breath-taking harbour-view outer! Open day 'n night!
La Ciclatera (Corte Colagualano 36, Bari;) – quiet, intimate gay-friendly Old Town bar, near its namesake sister venue listed just above. Open 7pm-1am daily.
Reverso Unconventional Bistro (Strada Vallisa 79, Bari;) – stylish, modern, ambient Old Town restaurant, with occasional cabaret.
Makumba @ Aquapark (Via Caldarola, Bari;) – since 2006, fortnightly Saturday event at the Bari Aquapark, just south east of centre, with GoGos and drag.
Millennium Bath (Via Adriatico 13/A, Bari;) – in a street on the peninsula just west of centre, over two floors – with Finnish sauna, Turkish bath, whirlpool, video room, maze and bar. Open 3.30pm-10pm daily. Anddos Card needed, available on the door.
Piazza Cesare Battisti – to at least initiate liaisons, unattached gents oft "take airs" of an eve in this open area amidst the uni buildings just west of the Piazza Re Umberto, pre retiring elsewhere.
Pietra Igea beach – near Cozze, just south east of Bari, along the coast.
Cala Incina beach – near Polignano A Mare, again just south east of Bari, along the coast.
Brindisi
Still in Puglia, just 100km SE along the Adriatic coast from Bari – well connected by train and bus if you've no hire car – lies 85,000-populated Brindisi, capital of the province of the same name. The city has a fine Old Town and waterfront; and has historically been, and still remains, a major trading port.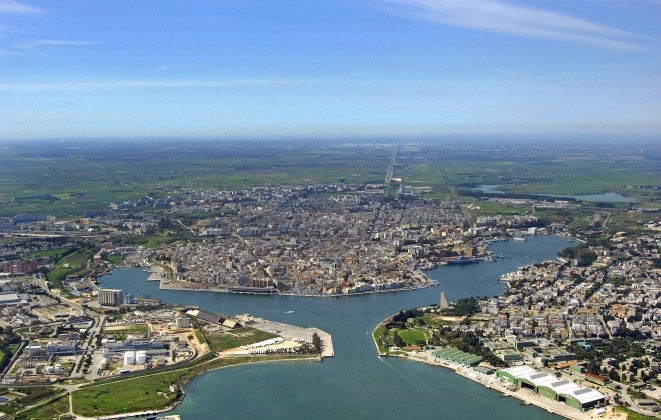 Highlights include:
Norman Castle – built by Emperor Frederick II, parts dating back to the 13th
Duomo (cathedral) – 18th Century reconstruction (post-earthquake) of an 11th/12th Century Romanesque original, fragments of whose mosaic flooring can still be seen inside.
Ancient Roman Pillar – one of two originals that have become symbols of Brindisi, located at what would have been the end of the "Appian Way", the ancient road starting at Rome. Steps from here lead down to the town's beautiful harbour waterfront promenade.
Monument to Virgil – the great Roman writer, author of The Aeneid, lived and died in Brindisi.
Monument to Italian Sailors – tall structure dominating the harbour, as memorial and protector.
Forte a Mare – on the S. Andrea island facing the harbour and port, with parts dating back to the 15th
Though no scene here, in warmer months, you might try the secluded Torre Guaceto Nature Reserve, a 25-minute drive north of Brindisi, with its nudist-frequented beaches, including a gay one, tho' it's a good 45-minute walk even from the "Penna Grossa" beach car park!
 Beyond
Puglia, in the very "heel of Italy" is a rather long region! From Foggia and the Gargano National Park in the North to Taranto, Lecce and Gallipoli down South: its variety is immense. Some top tips if based closer to Bari or Brindisi, ideally with a car:
Castel del Monte – imposing and beautiful UNESCO World Heritage Site, this 13th Century octagonal white-stoned citadel was built by Emperor Frederick II on a hill in Andria, a pleasant short drive west of Brindisi. If up here, be sure to have a drink, or full meal, at the lovely old Taverna Sforza 1910!
Spagnoletti Zeuli – near the Castel del Monte, with a heritage dating back several centuries, this old winery and olive grove boasts what must be one of the most magically atmospheric wine cellars in the world. Tours and tastings for groups large and small!
Monopoli – just a ¾-hour drive south east along the coast from Bari, with fine beaches and more…

Saleblu restaurant @ La Peschiera" Hotel (C. da Losciale 63, Monopoli;) – secluded hotel with infinity pool, spa and private beach; plus spacious white-wooden fish-focused restaurant-with-terrace protruding out over the sea!
Il Melograno (Contrada Torricella, Monopoli;) – sizeable inland "masseria" (fortified farmhouse with estate), so prevalent in Puglia: this one luxuriously converted into a hotel and restaurant, plus spa with pool, sauna and large steam room!

Ostuni – perched on a ridge of inland hills just north west of Brindisi, this 30,000-populated picture-postcard "White City" notably flourished in Medieval/Renaissance times.
 easyJet
easyJet serves Bari from London Gatwick (prices from £33.99 per person – one-way, including taxes and based on two people on the same booking) and from Manchester (prices from £24.22 per person). easyJet serves Brindisi from London Gatwick (prices from £29.27 per person) and from Bristol (prices from £28.99 per person). This brill, great-value airline is punctual, offering friendly yet professional service; and boasts a vast, ever-expanding network of exciting routes, covering much of the UK, Europe and beyond.

 Gatwick Express provides a high-frequency, non-stop, half-hour shuttle service to/from Victoria in the heart of London. The trains have real-time passenger info systems, air-conditioned carriages, power sockets and Wi-Fi.
– ends –