Review: Falsettos, The Other Palace, London
by Adrian Gillan for www.bent.com  

A man; his wife, son, gay lover and shrink; plus lesbian neighbours! Bent's Adrian Gillan adores the long-awaited Euro-premiere of 90s US gay musical Falsettos, at The Other Palace in London!
Based around the life and loves of New York Jew, Marvin – as he embraces his attraction to men, despite having a wife and son, with AIDS on the horizon – Falsettos has been a long… time… coming!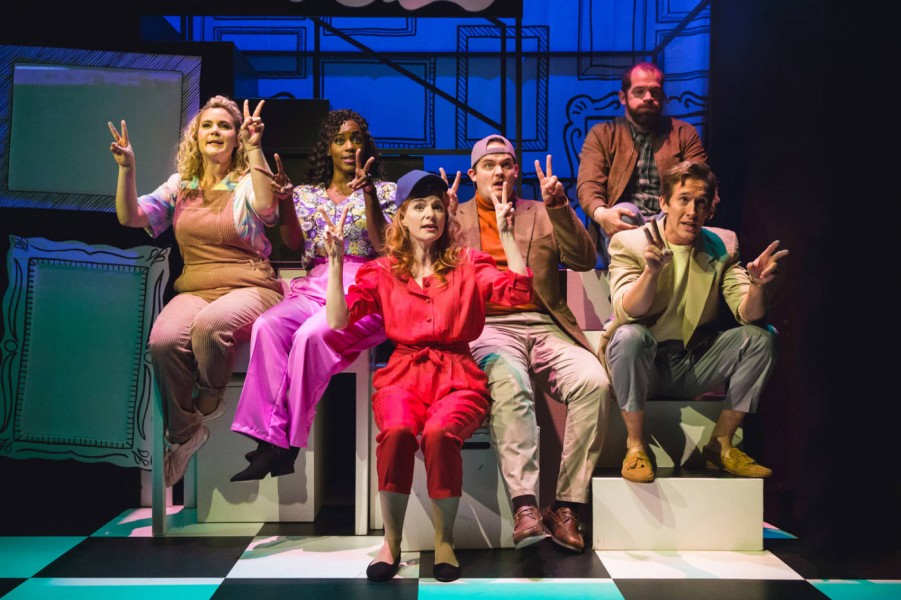 A late-70s prequel called In Trousers first introduced the character of Marvin; then March of the Falsettos premiered in 1981, just pre-AIDS; followed by Falsettoland almost a decade later (1990), at the height of the AIDS crisis. The last two parts of this trilogy were promptly combined into Falsettos which received its Broadway premiere in 1992, scooping two Tonies – for Best Book of a Musical and Best Original Score – and revived again on Broadway, twenty-five years later, in 2016.
At long last, current producers Selladoor Worldwide here give Falsettos its UK (nay European) premiere at mid-size gem, The Other Palace, in London – thus, well over four decades after character Marvin's creation, and the best part of three decades since the complete show first opened on Broadway!
Tackling serious issues with edgy, oft spikey, humour throughout, themes include complex gay-related family dynamics; and the power of love to transcend fear, even death. The show also manifests an ongoing, at heart affectionate, satire: of Jewishness (opening number, "Four Jews in a Room Bitching") and – most notably in part one – the then-rampant urban American obsession with psychotherapy.
William Finn's music and lyrics, based on James Lapine's book, are infectious, moving and witty, many (like "The Baseball Game") containing spectacular rhythmic bravura and wordplay. Being through-sung, with no spoken dialogue, it makes perfect sense to use a director-choreographer – not least someone of the calibre of Tara Overfield-Wilkinson.
The work is overtly meta-theatrical – explicitly parodying various dramatic genres and conventions, as with the number, "Marvin at the Psychiatrist (A Three-Part Mini-Opera)" – and demonstrates a definite Sondheim influence in terms of both music and concepts, with hints of his Company and Follies, amongst others, the form oft turning outright playfully and dreamily surreal.
The rationale for the overarching, doubtless gender-identity-related, titular "falsetto" motif is never made entirely explicit – perhaps left deliberately mysterious?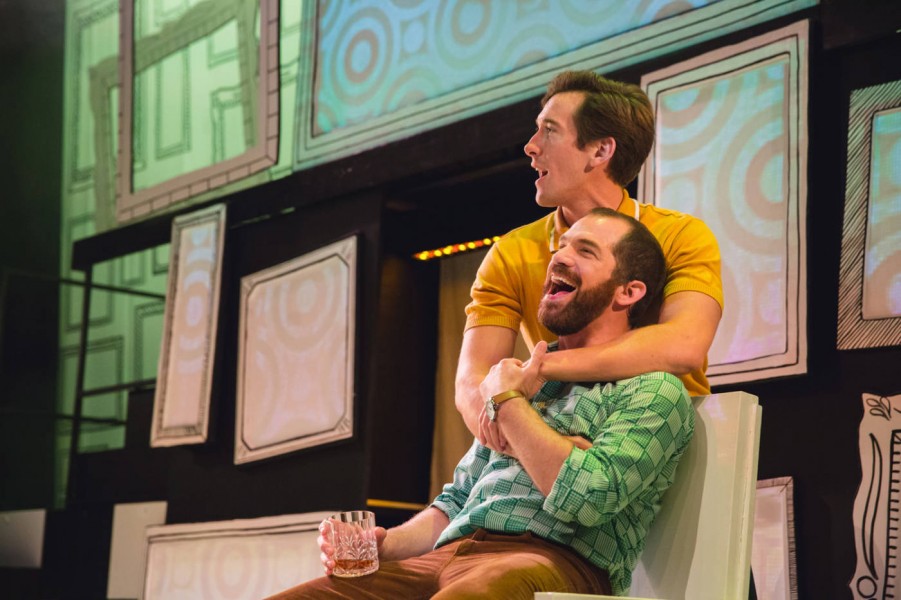 Marvin's relationship with his wife (Trina) and teen son (Jason) comes under strain when he falls for a younger man, Whizzer – forcing the whole family into therapy. But, when Trina then falls for the therapist (Mendel), Marvin feels extra strain and parts with Whizzer. In part two, Trina and Marvin bicker over the details of Jason's imminent bar mitzvah – cue nouvelle kosher catering by lesbian neighbours – just as Whizzer comes back into Marvin's life, only to succumb to a deadly illness starting to impact gay men…
Daniel Boys powerfully anchors the piece as main-man, Marvin, alongside at-times-increasingly-cracking-up wife Trina, brilliantly neurotically played by Laura Pitt-Pulford who pretty much steals the show with her stunning "I'm Breaking Down" number!
Handsome Oliver Savile makes a fine Whizzer, taking Marvin on a rollercoaster, right to the moving end.
And young Elliot Morris (in the performance we saw), is magnificently vulnerable, blunt and angsty as loner teen son, Jason, right from his explosive "My Father's a Homo" first number – his relationship with his dad and dad's male lover very touching, ultimately the glue that pulls them back together again.
Sweet-voiced Joel Montague makes a fine therapist-turned-lover, Mendel, his many witty songs largely powering the first half; and, in the second half, Gemma Knight-Jones and Natasha J Barnes add humour and pathos as the lesbian neighbour couple, doctor Charlotte and caterer Cordelia respectively.
MD Richard John heads a small live band, clearly relishing Michael Starobin's generous orchestrations.
PJ McEvoy's simple monochrome staging is cleverly and effectively enhanced by the numerous small framed screens that occasionally come colourfully to life to help illustrate direct setting, historical context and narrative – all further complemented by Nic Farman's lights and Chris Whybrow's sound.
Triumphantly upbeat and satirical, even as tragedy looms, Falsettos is far from dated, but rather surprisingly well-aged. And, after such a long wait, you'd be utterly mad to miss!
Falsettos runs at The Other Palace in London, until 23 Nov 2019.