Review: Bitter Wheat, Garrick Theatre, London
by Adrian Gillan for www.bent.com
Burn Hollywood burn! Bent's Adrian Gillan hails John Malkovich's blistering turn as a casting-couch ogre in David Mamet's new dark farce, Bitter Wheat, at the Garrick Theatre in London!
In the wake of Harvey Weinstein and #MeToo, American Pulitzer Prize-winning playwright David Mamet has chosen London's West End for the world premiere of his latest work, provocatively and satirically exploring the exploitative abuse of power, as specifically manifest in Hollywood, but also more generally.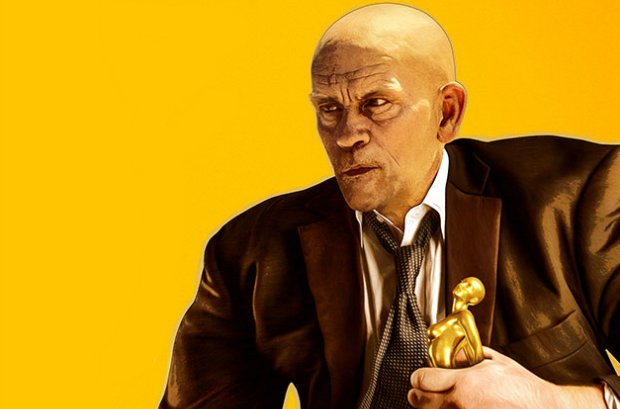 Bitter Wheat is a fast-paced, 90-minute (plus 15 minute interval) satirical farce energetically revolving around its monstrous protagonist character, booze-and-Viagra-fuelled movie mogul Barney Fein, played with breathtakingly outrageously shameless relish by charismatic, technically dazzling John Malkovich, on stage in London for the first time in almost thirty years, directed by none other than Mamet himself.
It does not make easy viewing since you often hardly know whether to laugh or wince, or both, at the audacious, comically grotesque – sometimes even borderline absurd – lead character and plot, the latter whizzing along, oiled by Mamet's expletively poetic prose and a generous peppering of witty one-liners.
Act 1 sees self-loathing Fein desperately descend, arguably out-of-control, into his habitual compulsively abusive behaviour – from office to restaurant to apartment. Act 2 sees him deal with the fallout, back in the office, deftly thought-provokingly raising issues of power, personal responsibility, cause and blame – not to mention the cynical money-making business of Hollywood itself – but never in a didactic way.
God broke the mould with John Malkovich and aren't we the lucky ones! This actor's actor leads from the front, loving every single beat as insatiable life-lusting fiend Fein, scarce pausing for breath in a 1½-hour-long tour de force whirlwind masterclass, worth the ticket alone – his bravura braveness well-nigh making odious sweet. Vocally, physically, comically: a joy and a privilege to watch! Nominations please!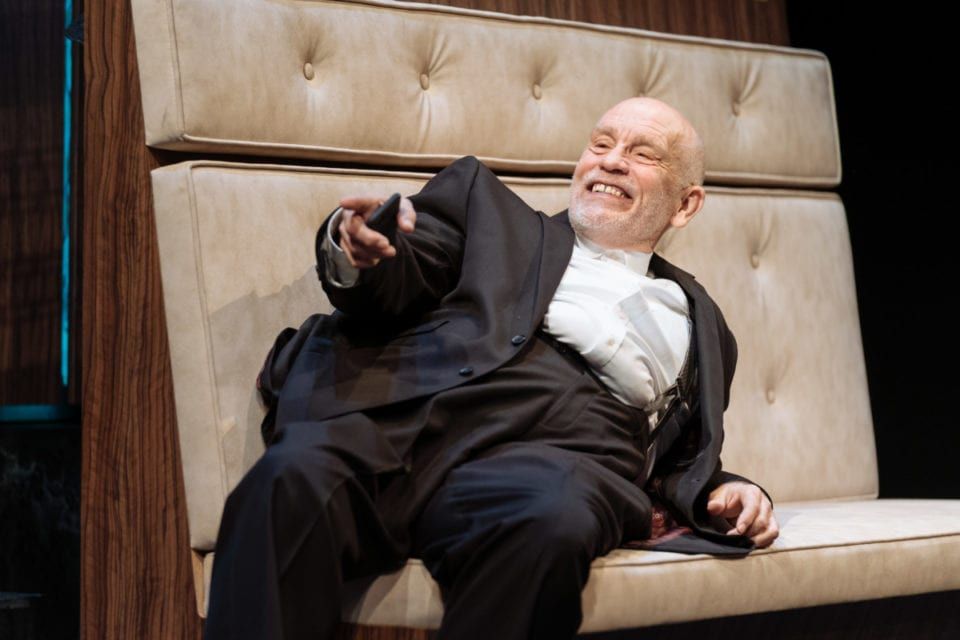 Doon Mackichan is wonderfully simmeringly blank as his jaded, steely loyal-until-almost-the-last PA, Sondra. Ioanna Kimbook is refreshingly natural, if a tad underwrought, as his naïve sex-target actress, Yung Kim Li. Sexy young Alexander Arnold is suitably stressed-out as set-upon junior office staffer, Roberto; and Teddy Kempner, as Doctor Wald, is morally compromised between professional ethics and the demands, bullying and bribes of his tyrannical boss. Matthew Pidgeon permits a tough edge to the play's brutal opening, as The Writer, coolly-yet-ferociously savaged and spat out by Fein; and Zephryn Taitte adds comic suspense as wannabe writer Charles Arthur Brown at the very end.
A genre orgy, perhaps enough to perplex the more stolid critics: from farce and literally roll-around slapstick, through thriller and play-of-ideas, to satire and the absurd! But ultimately: pure Mamet, hanging sharply, stylishly, playfully together! And the dramatist's tight direction – aided by Christopher Oram's cleanly-designed, neatly segueing sets – ensures it never outstays its welcome. Go see!
 Bitter Wheat runs at the Garrick Theatre in London, until 21 Sept 2019.
– ends –