Coming home to Shakespeare in Stratford!
by Adrian Gillan for www.bent.com

Adrian Gillan makes his home-from-home at the amazing old-yet-new Hotel Indigo, in Stratford-upon-Avon – itself hometown to the Bard, and the world-famous Royal Shakespeare Company!
Well, call me Shakes-queer! You'll well-nigh feel like you're in Stratford-upon-Gayvon at this stylish new LGBT-wooing hotel – amidst all sights, scarce two or three minutes' walk from the gay-run RSC!
Stay & Eat
Settle into the boutique 4-star Hotel Indigo Stratford-upon-Avon (4 Chapel Street, Stratford-upon-Avon; +44 (0)1789 279953;), in an historic property that blends tradition and today, literally just over the road from New Place, where Shakespeare lived his latter years, and passed away. Originally a public house, the hotel's beautiful Grade I-Listed façade dates back to the 15th/16th Century – to pre-Will! In the 1960s, the building was extended, and you will find a fun, quirky selection of contemporary art, murals and objects inspired by Shakespeare throughout the property.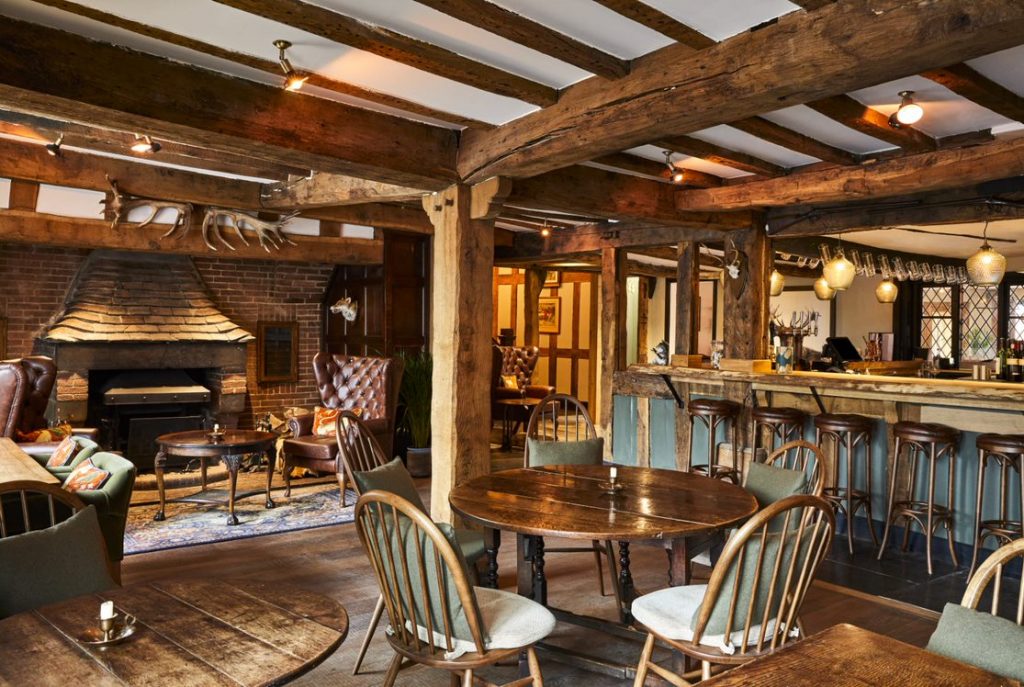 The hotel aims to "bring the outside in", drawing on the local neighbourhood to infuse and colour every aspect, from intriguing decor to locally inspired menus. And General Manager Carl Davies-Phillips and his friendly team look forward to welcoming you! They even celebrated Pride at the hotel only recently!
The 93 playfully chic guest rooms (from just £149 B&B) pay homage to the town's heritage, using classic English materials like wool and raw wood. A mix of antique furniture and modern fixtures help create a present-day space that celebrates the past, with a modern twist. The three distinct room designs are either inspired by the Bard or reflect Stratford's history – Tudor Rooms, displaying 16th Century tradition, affording views of Shakespeare's final home, New Place, across the road; luxuriously charming Georgian Townhouse Rooms, inspired by Shakespeare's theatre; and sophisticated, modern, elegant Contemporary Rooms, in the new wing. All have Nespresso coffee machines; 40-inch flat-screen TVs; IHG Connect Wi-Fi; yummy Bramley toiletries; and super-comfy Hypnos beds.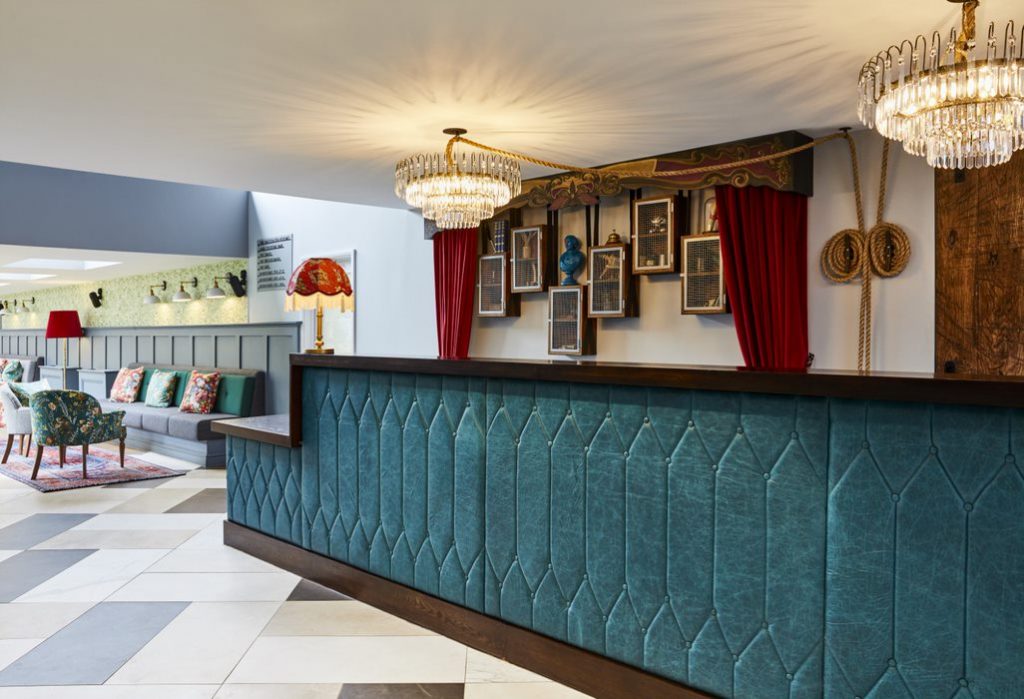 In milder months, guests can enjoy the hotel's pleasant sizable split-level private walled garden filled with herbs, and an undercover outside BBQ area. Other offerings include spacious, atmospheric guest relaxation lounge, The Snug; 24/7 business services; meeting rooms; an on-site gym, open 6am-10pm; free Wi-Fi throughout the hotel; plus housekeeping, laundry and same-day dry cleaning.
Hotel Indigo also boasts a fab restaurant and bar, The Woodsman, headed by Executive Chef Mike Robinson, co-owner of the Michelin-starred Harwood Arms in Fulham, London, known for his passion for locally-sourced seasonal British produce, a 'field to fork' philosophy and the use of sustainable wild food – either from his own estates, or from trusted suppliers. A large wood-fired oven and charcoal grill forms the culinary heart of the restaurant, where guests can watch the "theatre of food" as top chefs prepare the finest British deer, wild boar, beef or Hebridean lamb, not to mention fish!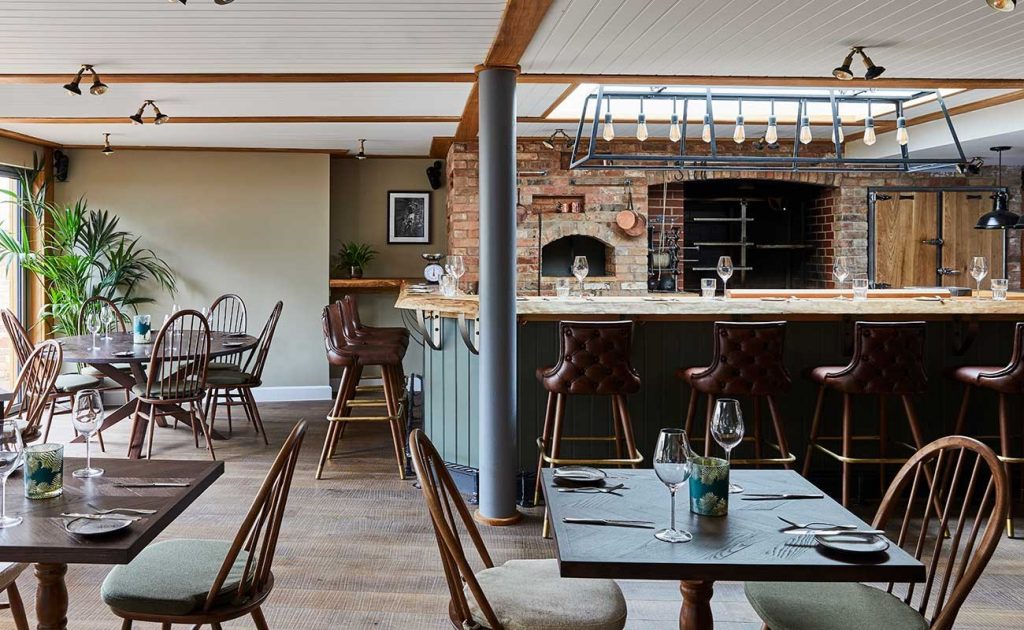 Old and cosy around the front, light and airy around the back where dining tables look – in summer, even spill – out onto the aforementioned private garden, you can enjoy lunch or dinner, including pre-theatre, always with seasonal daily special options. The Woodsman's local ales and fine wines brilliantly accompany its food; or are perfect to just savour by themselves at the lovely bar. Enthusiastic, knowledgeable staff even bring an aperitif trolley to your table – Negroni, G&T or bubbly? Hard to resist!
The restaurant also has a theatrically tapestried Feasting Room that serves as a breakfast space for hotel guests every morning, offering rustic cold table buffet or an à la carte menu; and, by night, transforming into a private dining room available for hire, complete with a long central table for up to 30 guests. Alternatively, book The Warren, the restaurant's smaller, more intimate private dining space.
Take an elegant afternoon tea in the hotel's Falcon Tea Room, at the property's especially old front corner – its interior wood-panels originally from the pre-demolition New Place over the road; and its name a deliberate, gracious nod to the building's past, when it used to be the historic Falcon Hotel. By night, this space serves as a romantic, luxurious extension to the hotel's dedicated cocktail bar. Enjoy!
See & Do
Follow the town's 'Shakespeare Trail', taking in key sites connected with the Bard's birth, life, and death!
To help orientate yourself, and gain background, Stratford Town Walk offers entertaining, informative, award-winning guided sightseeing walking tours around town, notably its standard daily 2-hour offering – 'tho you won't actually see inside many of the main sites on this.
For many, Stratford's heart and soul will always be Shakespeare's Birthplace, the half-timbered house-with-garden where he was born in 1564, and which stayed first in his family and then in his sister's 'til 1806 – complete with more recent biographical exhibition attached, and even actors performing famous speeches and scenes from the plays!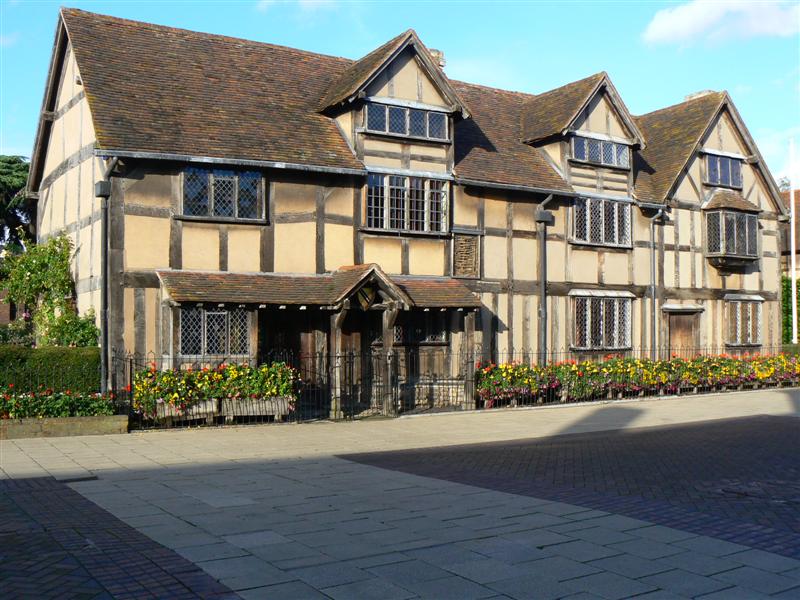 Learn about The Bard's education (1571-1578) at Shakespeare's Schoolroom & Guildhall in the building and very room where this bright Midlands schoolboy learnt to read and write, first enjoyed touring professional theatre, and became inspired to become the world's greatest playwright! Enjoy an immersive, atmospheric and authentic experience, including even taking part in a live Tudor lesson under the watchful eye of a 'master'!
Anne Hathaway's Cottage (where Shakespeare's wife-to-be lived before marrying him) and Mary Arden's House (where Shakespeare's mum lived before marrying his father) are both easily reached via the CitySightseeing bus, with its audio commentary.
New Place is where Shakespeare lived with his family, writing many of his late great plays including The Tempest – from 1597 until he died here in 1616. Follow in Shakespeare's footsteps through a new entrance on the site of the original gatehouse and enjoy contemporary landscaped gardens that reveal the footprint, and scale, of the Shakespeare family home, long since demolished. Superb indoor exhibition, too, of artefacts found on site or nearby – including what is almost definitely The Bard's very own previously-thought-lost gold signet ring!
Hall's Croft, where Shakespeare's eldest daughter, Susanna, may have lived, is mere streets away.
Tranquil riverside Holy Trinity Church is where Shakespeare was baptised and is where he and Anne Hathaway are both buried – its gardens bordering the lovely swan-filled Avon.
For an earthy, multisensory slice of Tudor life, visit the vividly atmospheric, ghoulishly entertaining (think 'Horrible Histories') and highly informative Tudor World – housed on the site of an inn whose lusty landlord reputedly inspired Shakespeare's great comic character, Falstaff!
Magic Alley is a mystical world based on the bestselling Chronicles of Wizard's Thatch by local author Dave Matthews, unravelling the lost years of William Shakespeare when The Bard apparently became a… time-travelling wizard! Enjoy its lofty Golden Broomstick Café; browse the large Magic Alley Store; or pay to explore the atmospheric Enchanted Manor – a magical blend of fairy-tales, time-travel and twistory that brings the spellbinding Chronicles to life with costumes, exhibits, behind the scenes extras and sneaky peaks at what's still to come! Can you solve its mystery?
Fancy a few things absolutely – arguably well-nigh refreshingly – unconnected with Shakespeare? The MAD (Mechanical Art and Design) Museum is a fun, quirky and unique attraction, slap bang in the centre of Stratford-upon-Avon, housing around 60 interactive mechanical contraptions. Perfect for kids of all ages, including the adult kind, especially if you like art, design, science and/or engineering! Rolling ball machines, interactive light walls, 3D faces, giant rocking birds and so much more! Friendly staff! Or visit the UK's biggest Butterfly Farm, just over the river; or hear the renowned Orchestra of the Swan .
Close to the RSC theatres, down pre-play grub in the "Dirty Duck" (a.k.a. 'The Black Swan', Waterside, Stratford-upon-Avon; T: 01789 297312;>). What with all the theatre crowd, not least post-show, it's probably the closest thing Stratford-upon-Avon has to a gay venue! Be sure to raise a glass to The Bard's own sonnet-teasing sexuality!
RSC
The Royal Shakespeare Company has been attracting some of its best reviews in years under openly gay chief, Greg Doran, who even sometimes directs his partner – the great actor and longstanding RSC stalwart Sir Antony Sher! And rave critiques look set to continue throughout 2019/20.
Themes for coming seasons include diversity and nationhood, partly using a new touring-as-rep ensemble, its actors cast to reflect the gender, ethnicity, regionality and disability make-up of the UK.
In the Royal Shakespeare Theatre, see As You Like It by William Shakespeare ('til 31 Aug 2019, RST); and a gender-reversed production of The Taming of the Shrew by William Shakespeare ('til 31 Aug 2019, RST). Also: two shows directed by Greg Doran himself – Measure for Measure by William Shakespeare ('til 29 Aug 2019, RST); and The Boy in the Dress, from the novel by David Walliams, "book" by Mark Ravenhill, music & lyrics by Robbie Williams & Guy Chambers (8 Nov 2019 – 8 March 2020, RST). And don't miss Live at The RSC: Stand Up Comedy (12 – 21 Sept 2019) featuring big names in UK stand-up comedy in a festival of live performance on the RST stage.
In The Swan Theatre, productions include a Restoration Comedy and a Restoration Tragedy, two favourites of actor-manager David Garrick, whose famous Shakespeare Jubilee in 1769, 250 years ago, launched Stratford-upon-Avon as the epicentre of the "Shakespeare Industry" – The Provoked Wife by John Vanbrugh ('til 7 Sept 2019, Swan); and romantic political thriller Venice Preserved by Thomas Otway ('til 7 Sept 2019, Swan). They run alongside, King John by William Shakespeare (19 Sept 2019 – 21 March 2020, Swan); A Museum in Baghdad by Hannah Khalil (11 Oct 2019 –25 Jan 2020, Swan); and The Whip by Juliet Gilkes Romero (1 Feb – 21 March 2020, Swan), about the multi-billion pound 19th Century "bailout" for slave owners rather than compensation for those they had been keeping enslaved. For younger audiences, First Encounters with Shakespeare: The Merchant of Venice (30 Sept – 5 Oct 2019, Swan), plays The Swan, pre touring to schools, regional theatres and local communities.
Note: If you miss them in Stratford, you can also see these three Shakespeare plays during the RSC's winter season at The Barbican, London – As You Like It (26 Oct 2019 – 18 Jan 2020); The Taming of the Shrew (5 Nov 2019 – 18 Jan 2020); and Measure for Measure (12 Nov 2019 – 16 Jan 2020).
Additionally, the RSC's first ever permanent exhibition, The Play's The Thing, can be enjoyed in the recently restored Swan Wing, showcasing rarely seen and constantly changing costumes, props and other theatrical treasures from the archives, with plenty of interactive hands-on fun! Also: ascend the 36m-high RSC Tower for panoramic views of town and surrounds; go on back-stage theatre tours; dine at the RSC's Rooftop Restaurant; or sip 'n snack at the Riverside Café (RST) or Swan Café (Swan), or even at the new Susie's Café at a gloriously revamped The Other Place – this latter venue also offering its own behind the scenes tours, workshops, studio theatre festivals, plus fascinating, constantly changing foyer exhibitions. All in all, what with its London seasons, national and global tours, cinema screenings, and vast youth and community outreach work, the truly world-class RSC has simply never had more for us all to be really rather proud of!
Shakespeare's England Explorer Pass is a great-value pass, with adult/child and 1-/2-/3-day options, granting free access to up to 17 top attractions, plus discounts at selected shops, hotels and restaurants throughout Shakespeare's England.
Stratford-upon-Avon is just 2 hours away from London Marylebone by Chiltern Railways, and even closer to other major UK cities.