Review: Noises Off, Lyric Hammersmith, London
by Adrian Gillan for www.bent.com
 A farce about a farce! Bent's Adrian Gillan loves the latest revival of Michael Frayn's ingenious, riotous Noises Off, returning to the Lyric Hammersmith where it began life four decades ago!
Michael Frayn's clever, hilarious and theatrically affectionate "meta-farce" – a farce about a farce, with the disintegrating action, and actor relationships, variously viewed by the audience from both the front and back-stage – premiered at the Lyric Hammersmith in London in 1982, before a long run at the Savoy Theatre, then multiple revivals ever since, both professional and amateur, all around the world!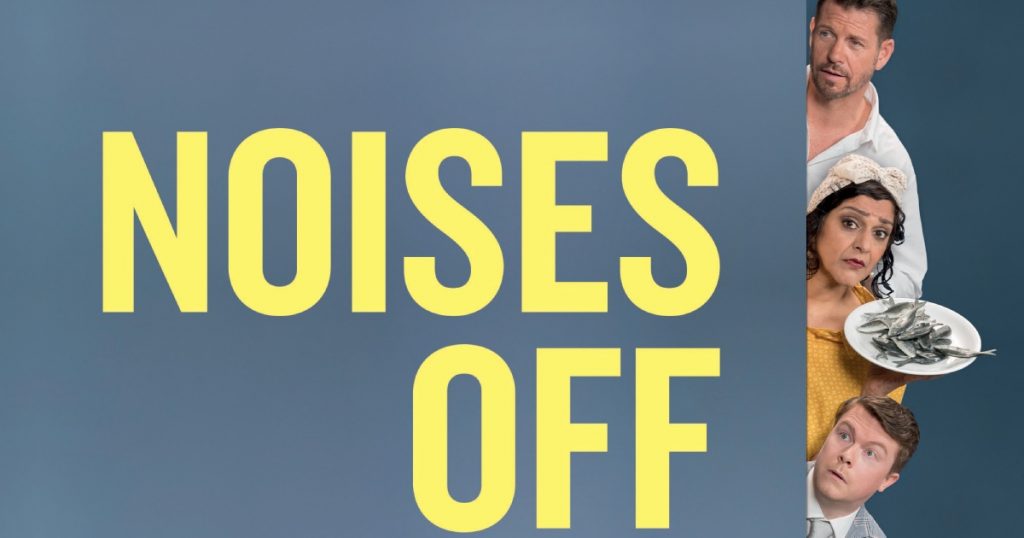 In theatre, "noises off" is any sound that occurs off-stage which is part of the action, and in this context also refers to the trouble and mayhem brewing in the wings, backstage and even in the auditorium, as a fractious troupe of actors – rehearsing and then touring a saucy farce called Nothing On, here a play-within-a-play – fall out with each other, and as both off-stage and on-stage farces collide!
We experience the same action (always Act 1 of Nothing On) three times – firstly from out front, during a stop-start tech/dress rehearsal, just before the show opens, with the irritated director prowling around the auditorium amongst us, as we become familiar with the actors' characters and inter-relationships; then from behind the scenes mid-run, as the bickering cast try to perform whilst simultaneously fighting each other back-stage; then finally from the front again, towards the end of the tour, as weary actors valiantly battle to stop the show from utterly fragmenting!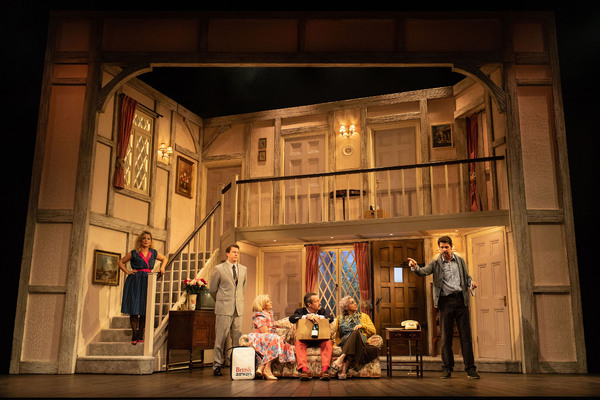 Thus, the piece is one of the most overtly theatrical works ever written; plus a heart-felt homage to the precarious world of the stage, and life! As a conception, it is precociously clever; breathtakingly brilliant!
As a last hoorah, ailing and confused veteran actress Dotty Otley (played by Meera Syal) is bankrolling a lower-ranking national tour of farce Nothing On, whilst having an affair with its highly-strung, jealous male juvenile lead, Garry Lejeune (Daniel Rigby), who himself wrongly suspects Dotty of having a fling with a fellow-cast member – the well-meaning, dim-witted, fainting-prone Frederick Fellowes (Jonathan Cullen). Meantime, temperamental, sarcastic director Lloyd Dallas (Lloyd Owen) is having an affair both with his quite useless female juvenile lead, Brooke Ashton (Amy Morgan), who struggles to even keep her contact lenses in, and with his downtrodden assistant stage manager Poppy Norton Taylor (Lois Chimimba) – who he gets pregnant. Add in his exhausted dogs-body stage manager Tim Allgood (Enyi Okoronkwo); plus fellow cast-members – stalwart, two-faced gossip Belinda Blair (Debra Gillett) and half-deaf alcoholic old luvvie Selsdon Mowbray (Simon Rouse)… and the result is… Noises Off!
All hail playwright Michael Frayn, who got the idea after watching one of his own earlier farces… from backstage! Magically, the concept also acts on a deeper, metaphorical level: all the world's a stage etc, and our oft-anarchic tragi-comic lives are just one big attempt to maintain appearances from "out front"!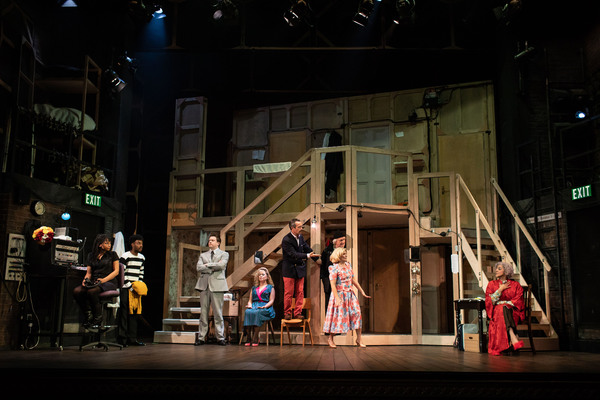 Real life director Jeremy Herrin ensures his wonderfully-cast cast run a tight ship to deliver the necessary illusion of chaos. Farce – not least the largely non-verbal, physical farce of the middle back-stage act – has to be not just razor sharp, but laser sharp! Such requisite discipline, of ordered disorder, is also thankfully delivered through the creative trio of Max Jones (design), Amy Mae (lights) and Lorna Munden (sound). High praise, too, for the crucial work of Joyce Henderson (movement); plus flight specialist duo, Rachel Bown-Williams and Ruth Cooper-Brown.
Top tip: do buy a programme since it also contains a hilarious Frayn-penned "meta-programme" insert of said play-with-the-play, Nothing On, that is, in itself, worth every little penny!
 Noises Off runs at the Lyric Hammersmith in London until 3 Aug 2019.