Review: Peter Gynt, Olivier Theatre (National Theatre)
by Adrian Gillan for www.bent.com 
This age of Facebook fantasy and self-delusion! Bent's Adrian Gillan hails the National Theatre's Peter Gynt, David Hare's modern yet fundamentally faithful new work based on an Ibsen classic!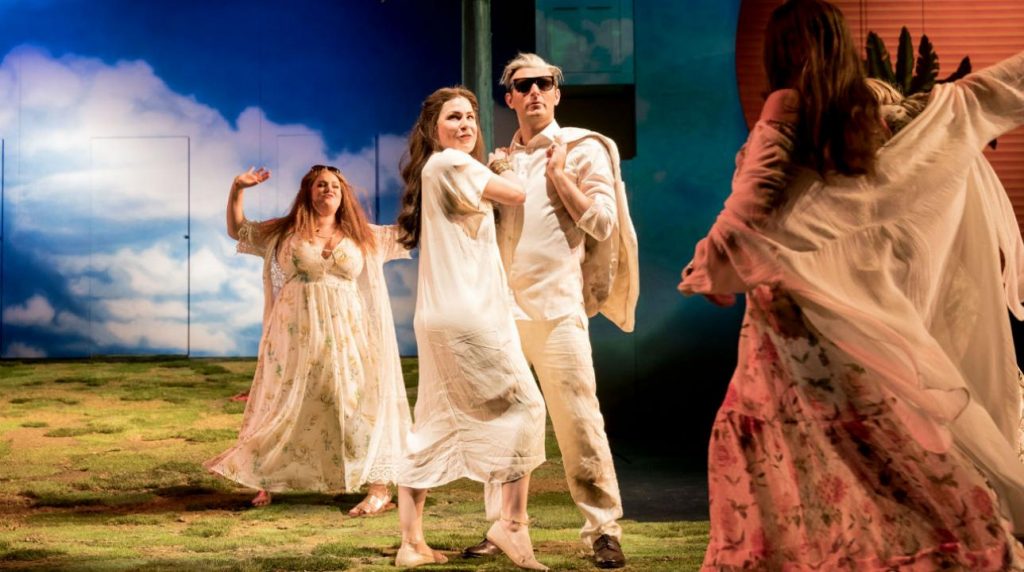 The wild title hero of Ibsen's Peer Gynt (1867, revised 1876) is a derided insecure serial fantasist who battles his own self-obsession and self-delusions, finally facing up to reality, learning – at the very last – that the only self or selves of value are those given him by the trust and love of others; and that what makes him special, if that is what he craves, is ironically simply his common humanity and mortality.
And in this latest re-imagining, Sir David Hare sticks remarkably closely to that original core psycho-saga and its timelessly cautionary message against unbridled self-centred egoism – albeit relocating Nordic events to Scotland, and to our present-day materialist, Insta-gloss age where people don't have lives any more, just shamelessly edited self-narrated stories; and where semblance is seemingly all!
On a relatively spartan stage – half grassy slope, half bare black canvas – in front of vast projections: we are taken to African deserts, angry oceans and imaginary troll kingdoms, and back, throughout 3½-hours (including two intervals) of sprawling, fast-flowing, freewheeling and, at times, weirdly surreal action, examining the Cult of the Self, oiled along by Hare's steady stream of pithy, witty one-liners.
Hare also convincingly layers in more contemporary political, economic, environmental, technological and psychological aspects linked to the notions of personal identity and morality. I have expressed reservations about some of his more recent offerings, but this time I think Hare audaciously pulls it off!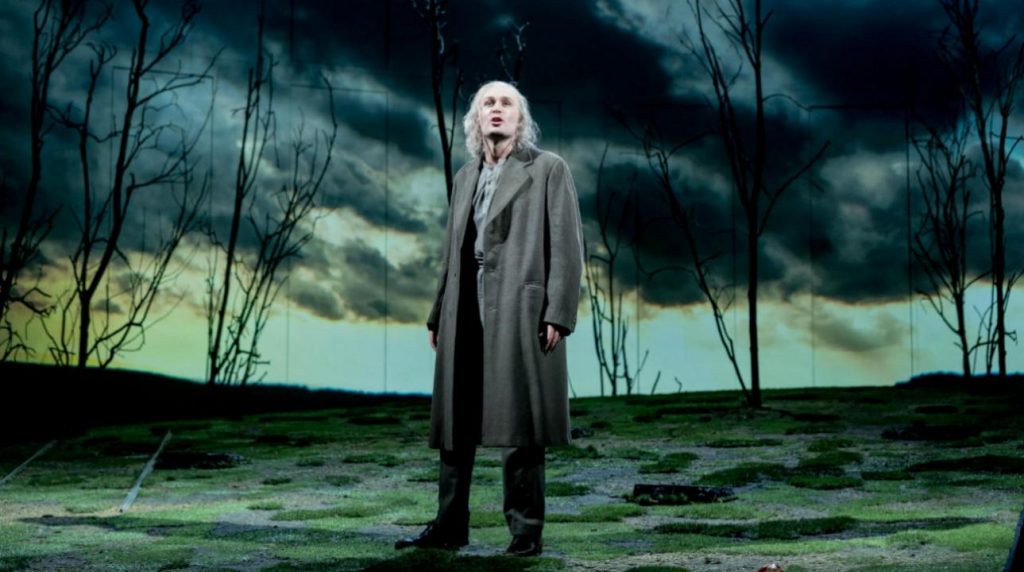 In this he is greatly aided by a firecracker of a performance in the central role from James McArdle who takes Peter Gynt from inadequate hedonistic young dreamer (Part 1); to oppressive mid-life businessman (Part 2); to jaded, and finally humbled, old age (Part 3) – a journey all around the world, and back to his native Scotland. Onstage well-nigh throughout, McArdle delivers a high-energy arc of enormous breadth and variety, starting explosively with one of the most blistering bravura opening ten minutes of a theatre show I have been privileged to experience in quite a long while. A genuinely epic achievement from an actor of considerable charm, range and technical skill – your nominations please!
He is joined by a fab ensemble company with lots of cross-casting covering too many roles to mention all actors here by name. Ann Louise Ross is his dogged-yet-doting mother, Agatha – her own death scene, with Peter, especially moving. Jonathan Coy makes an imposingly quirky Troll King; Guy Henry, an eccentrically macabre Weird Passenger; and veteran Oliver Ford Davies, a neutrally insistent Button Moulder. A warm hand too for sexy young Sonnyboy Skelton, not least as the cheeky Two-Headed Boy!
Former Almeida chief Jonathan Kent directs Hare's extravaganza with his customary élan, supported by Mark Henderson (lights) and Christopher Shutt (sound). Richard Hudson's bold, open set transforms fluidly as scenes well-nigh cinematically shift; and acts as a roomy backdrop onto which Dick Straker's video designs are oft projected – his Part 3 sea scenes proving especially effective, not least that drowning bit! Richard Hudson has enormous fun over his costumes, most notably for the Troll dinner!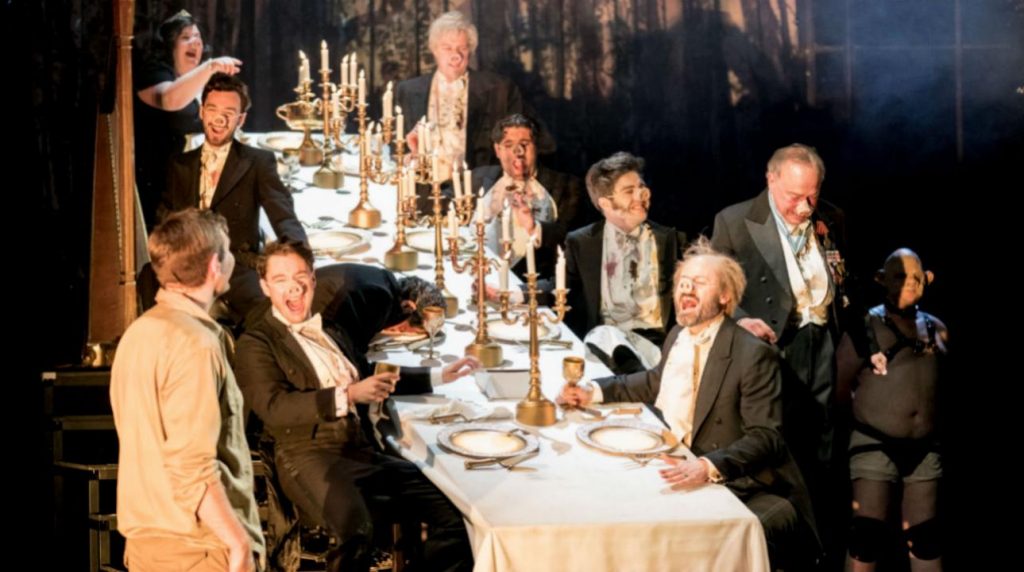 Excellent Polly Bennett (movement) and Charmian Hoare (dialect coach) are both kept pretty busy! And Paul Englishby's wonderful music is played "in stereo" by a splendid six-strong band, split to each side of the mighty Olivier stage, and headed by stalwart MD Kevin Amos on keyboard.
An invigorating contemporary take on a 19th century masterpiece that was itself already all too ahead of its time! Many more such revitalising classic re-imaginings please, NT!
Peter Gynt runs at the Olivier Theatre (National Theatre) in London until 8 Oct 2019. For more info and to book tickets, call 020 7452 3000
 – ends –