Review: The Lehman Trilogy, Piccadilly Theatre
by Adrian Gillan for www.bent.com
A family business embodies the rise, and stall, of the American Dream! Bent's Adrian Gillan hails the playful prose poetry and epic metaphor of design-treat three-hander, The Lehman Trilogy!
Despite also being a design tour-de-force, you sense how Stefano Massini's bold three-act work – here brilliantly adapted by Ben Power into English from earlier versions in other languages – surely began its life on radio, in Italy in 2012. The audacious playfulness of its bare words alone – drawing on cyclical Homeric oral tropes, Jewish traditions… even quirky verbal ping-pong jousts – beguile mind and ears!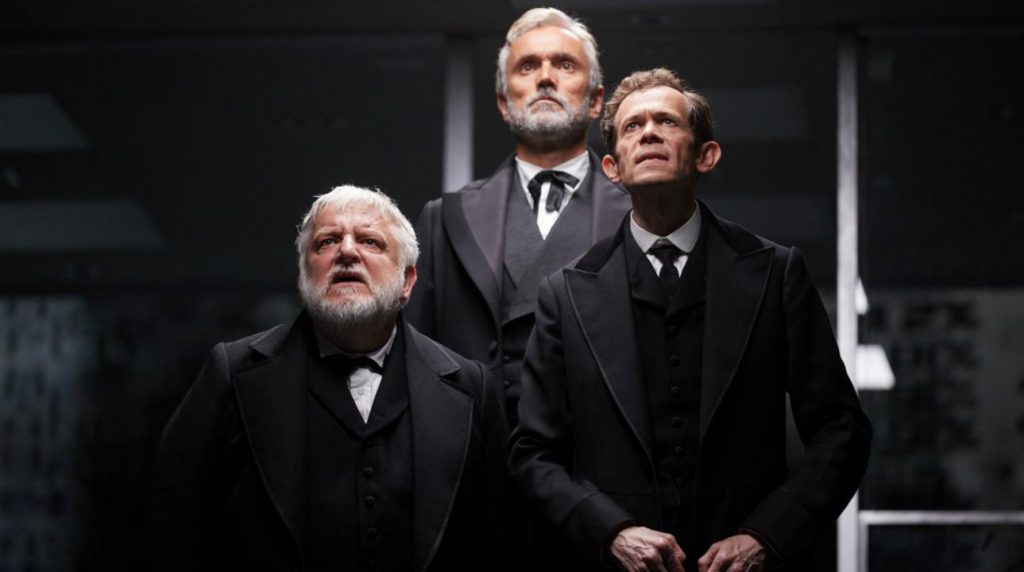 Starkly add to this heightened script, plus coup-de-théâtre visuality, three fine actors, including a newly created gay theatrical knight, between them playing several generations of the Lehman dynasty, not to mention, chameleon-like, all other characters on stage, from toddlers to women – attired in the same long-tailed 19th Century garb throughout 164 years' worth of depicted events – and the National Theatre and co-producers Neal Street Productions have a 3½-hour-two-interval bravura hit on their hands!
Following a sell-out UK premiere at the National's Lyttleton Theatre last year (2018) and a short run in New York earlier this Spring, Sam Mendes' production returns to London, now at The Piccadilly Theatre.
Though ostensibly tracing the rollercoaster tale of immigrant-fuelled American capitalism – as the Lehman brothers and their descendants daringly survive and thrive amidst fires, wars and market crashes until the dreamily hysterical bubble finally bursts – the play takes in so much more besides.
Themes poetically explored include capitalism and social responsibility, freedom and enslavement, progress and tradition, mortality and legacy, materialism and meaning. At the end of the whole breathlessly imaginatively vast epic sweep, as all the endeavours reduce to less than naught, you feel the existential force of a cautionary tale that ends in both a stormy bang and a teacup whimper!
Gay great, Sir Simon Russell Beale, brilliantly brings out the gravitas and comedy of visionary eldest founding brother Henry Lehman – as well as Henry's well-nigh on-the-spectrum nephew Philip Lehman; and sundry other minor characters, including a wide array of women!
Dishy silver fox, Ben Miles, shines as passionate middle brother Emanuel Lehman – as well as Emanuel's nephew, politician Herbert Lehman, the play's tad vainly smug social conscience; plus diverse other smaller roles!
Likewise amidst miscellaneous other parts, tall, lanky Adam Godley wows as diplomatic youngest founding brother Mayer Lehman – as well as portraying his brother Emanuel's sharp-headed playboy grandson, Bobbie Lehman, whose awesome final "death twist" almost steals the show!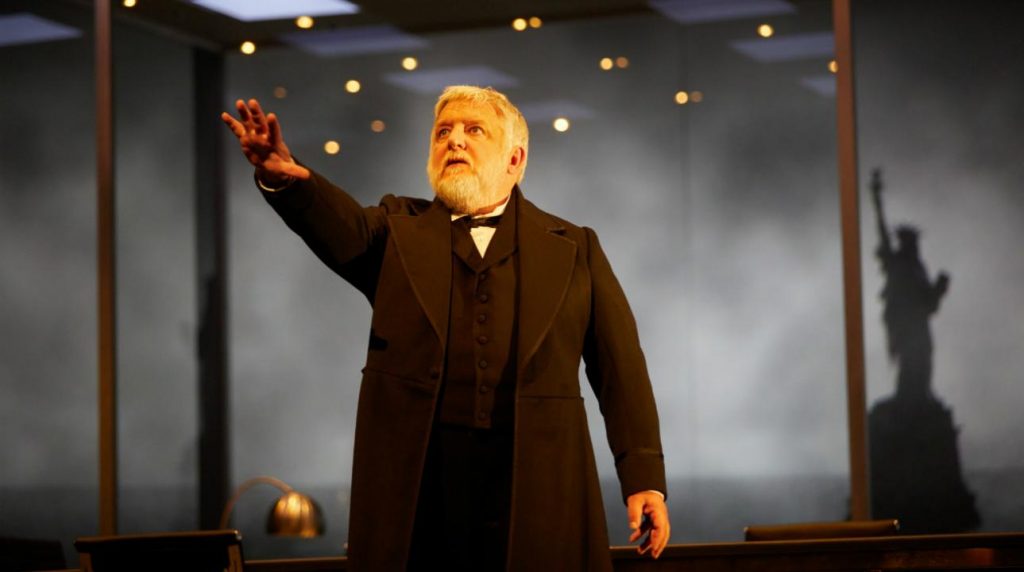 The centrality of the word would permit this most epic of works to pretty much succeed, without any set, as in its original radio genesis; or on a simple stark stage. The fluidity of its mind-world is served by the raw imaginings of the superb acting trio, their performances so splendidly blocked and paced by directing legend, Sam Mendes.
So, letting the word breathe visually, enhanced and without distraction, is the almighty achievement of designer Es Devlin's simple, bold, revolving office box-set, on the see-through walls of which the actors – simply attired in Katrina Lindsay's period-yet-neutral black costumes all the way through – occasionally scribble, and through which they walk; all the action thus placed transparently in front of Luke Halls' surrounding panoramic video wall that shifts time and place ad lib as the story unfolds, aided by Jon Clark's lights.
Complementing the pure, fluid, pared-down nature of proceedings, sound designer Nick Powell's piano compositions unobtrusively continuously shimmer, right through, in the deft live hands of MD and pianist, Candida Caldicot, perched just down and to the side, between stage and stalls.
Gigantic in conception, exquisite in execution, The Lehman Trilogy is a thematically substantial work of startling originality and pertinence that also joyously celebrates its own intrinsic poetry and theatricality.
The Lehman Trilogy runs at the Piccadilly Theatre in London until 31 Aug 2019. For more info and to book tickets, call 020 7452 3000
– ends –