Review: Afterglow, Southwark Playhouse, London
by Adrian Gillan for www.bent.com
A not unpredictable exploration of the perks and pitfalls of open relationships! But with three hot guys onstage, oft nude-full-frontal, Bent's Adrian Gillan asks: what's not to like?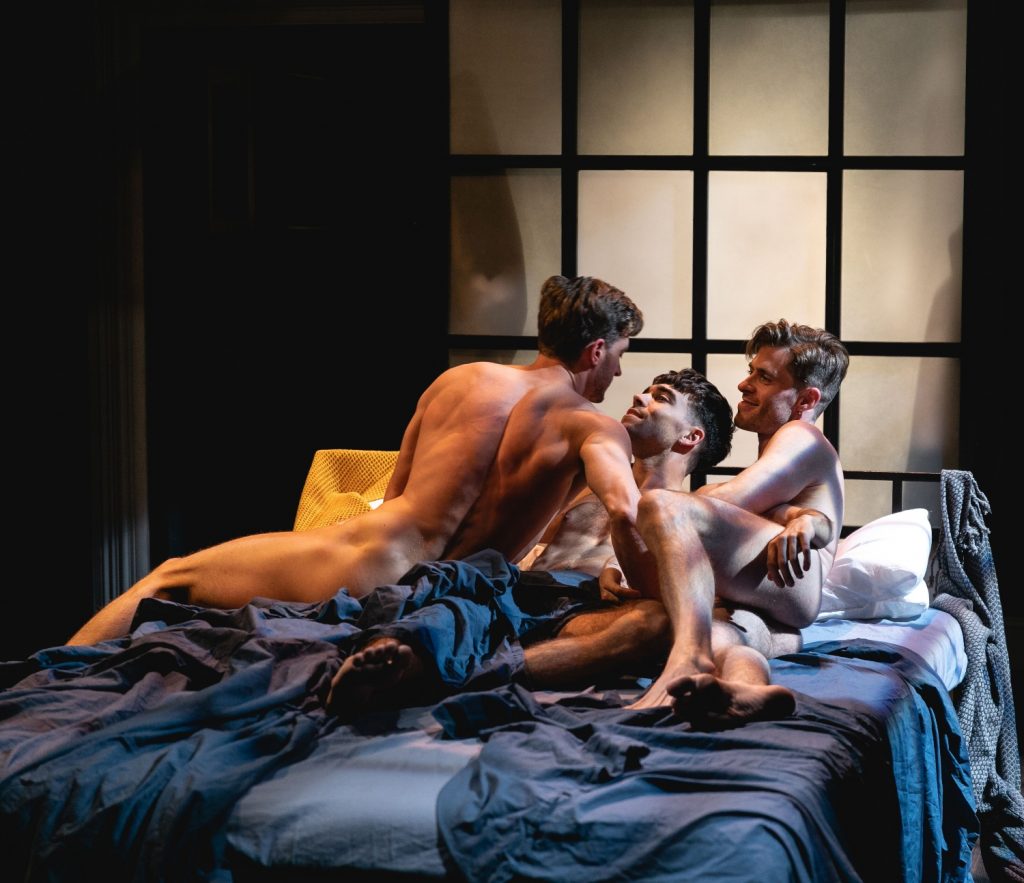 Gay married couple Josh 'n Alex both enjoy a bit of fun with young Darius – 'til Josh 'n Darius fall in love.
The show opens with a staged group orgasm. But, as it says on the flyer, "the climax is just the beginning" – and, or so it transpires, doesn't always yield a happy ending!
It's potentially quite refreshing to watch a play, with only gay male characters, which avoids tapping the trusty rich veins of homophobia or HIV; and which doesn't, in fact, even feel especially gay – despite the exquisite trio of fine actors on view struggling to contain their boy-bits throughout much of the first third!
Yet, there is little doubt that it was the at-least-ostensibly racy subject matter, plus much-vaunted totally-starkers multi-male nudity, that helped ensure Afterglow's recent 14-month sell-out run Off-Broadway; and is already delivering capacity UK premiere audiences at the fab Southwark Playhouse in London!
Glory be! A generous smattering of moderately gratuitous full-frontals – plus committed acting, slick setting and pacey direction that relatively painlessly races us through these 85-minutes non-stop – truly do enliven dramatist S. Asher Gelman's otherwise tad familiar and predictable ménage-à-trois fare.
Hats off to the three sexy and highly talented actors who so bravely strip off! They all have bods that – alone and regardless of all else – do our humble male gender proud and make these already highly reasonable Off West End prices worth every… single… penny! Moreover: in this intimate space, scarce an arm's reach away!
Jesse Fox (Darius), Sean Hart (Josh) and Danny Mahoney (Alex) all convey the honesty and respective vulnerabilities of their characters. Although, crucially, the text somewhat struggles to sufficiently convince of Darius and Josh's evolving romance, Alex's resultant pain is genuinely moving in Mahoney's sensitive hands. Also: the not entirely uncontroversial surrogacy issue raised within the play is rather too glibly completely glossed over.
Libby Todd's wonderfully simple and bold set design – the actors re-arranging blocks, cushions and sheets in front of a movable screen, and beneath a giant coup de théâtre shower head – integrates brilliantly with David Howe's lights and Joel Price's sound to memorably deliver director Tom O'Brien high-momentum vision of this otherwise tad obvious material.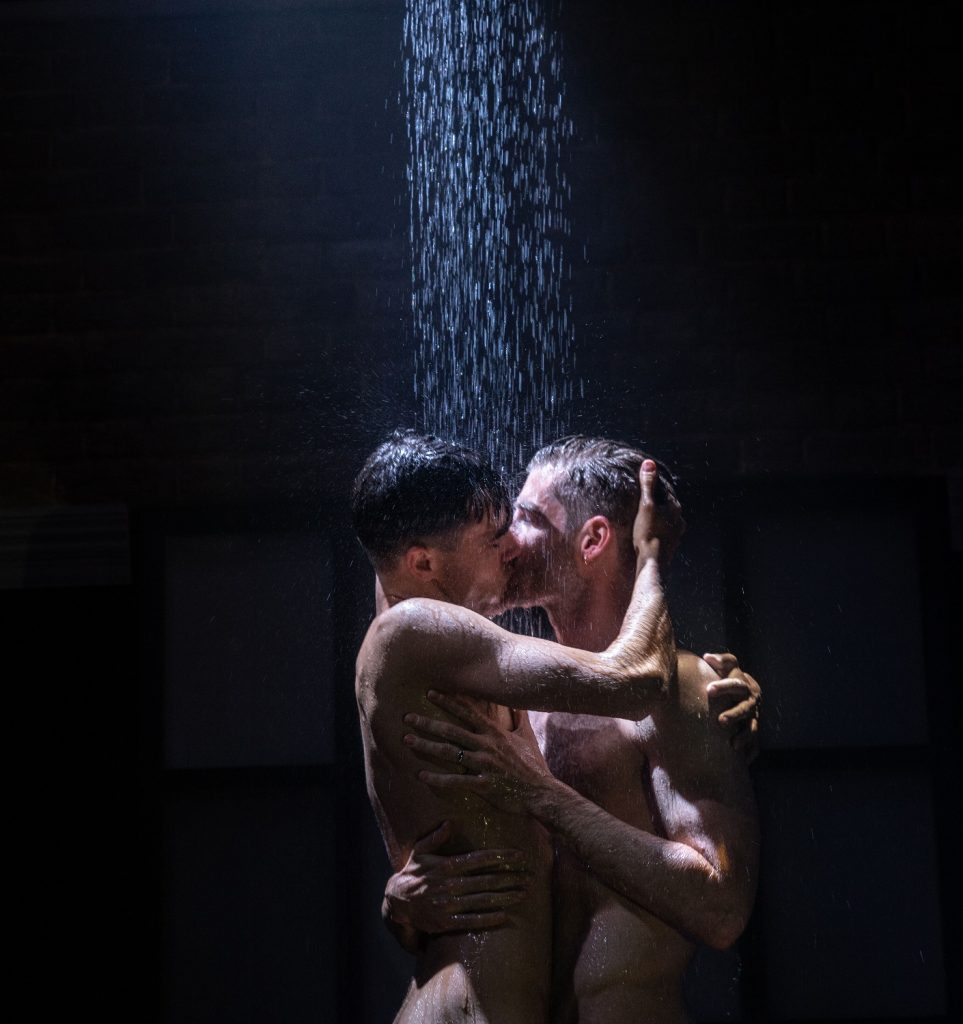 Afterglow runs at the Southwark Playhouse in London, until 20 July 2019.
– ends –
Visuals: Jpgs attached… "Photo Credit: Darren Bell"