by Adrian Gillan for www.bent.com

Casino, spa 'n surf! Adrian Gillan basks amongst the Basque boys in exclusive, glamorous and surprisingly gay Biarritz – Atlantic queer coastal idyll in the far southwest of France, near Spain!
Scarce 20 miles from the border with Spain, in sight of the very foothills of the Pyrenees, on the southernmost stretch of the vast French Atlantic sweep of the Bay of Biscay, where sandy beach meets craggy rock: merely 30,000-populated Biarritz is a luxurious seaside tourist destination, known for its aristocratic history, casinos, spas and surfing culture. And those Basque boys!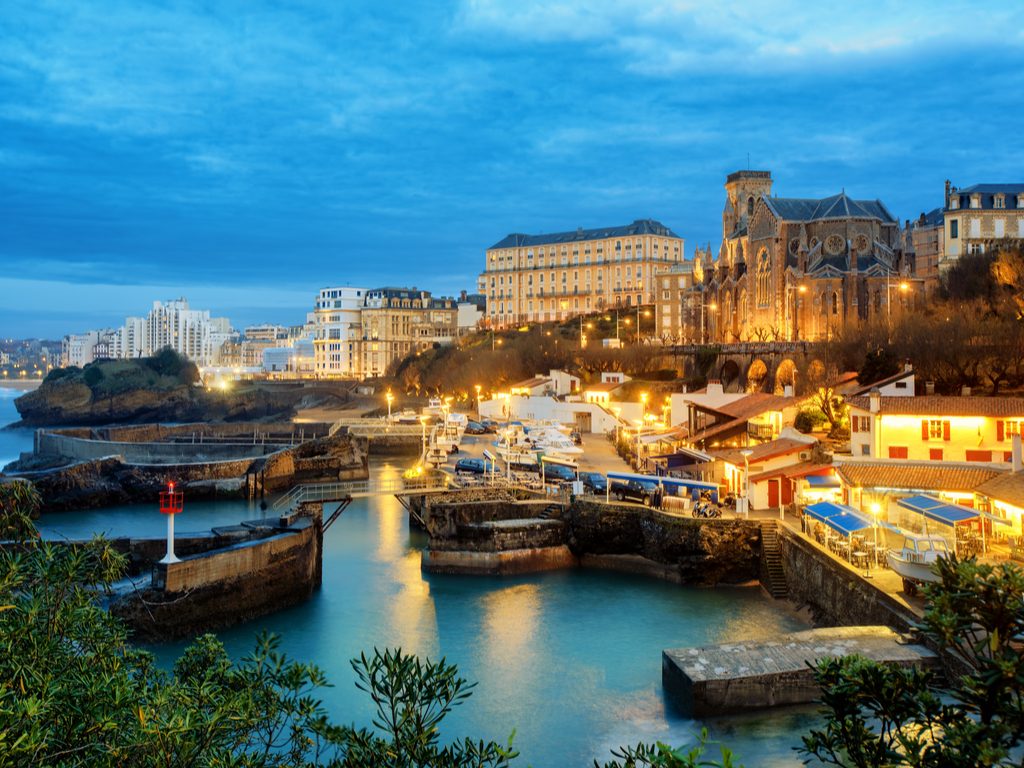 Biarritz-Anglet-Bayonne International Airport is just 2 miles from the town centre, via frequent buses.
Stay
Stay at fab central 2-star Hotel Le Saphir (3 rue Gaston Larre – 64200 Biarritz; T: +33 (0)5 59 24 12 23;), scarce two minutes' walk from the Port Vieux, boasting 15 en-suite rooms, fine continental breakfasts out on its large rear terrace, plus free Wi-Fi throughout.
See & Do
The majestic marine arc of Biarritz – hubbed each side of the rocky Rocher de la Vierge outcrop, tiny Port Vieux beach and cutsie little fishing harbour; stretching north to the lighthouse and south towards Spain – is, naturally and wonderfully, absolutely free!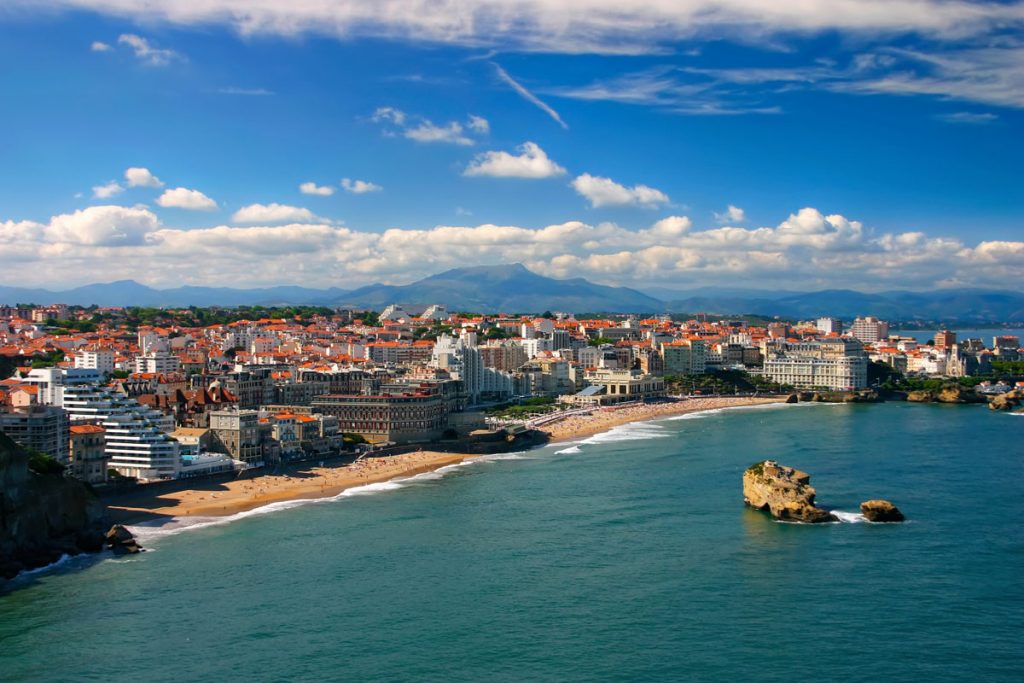 The main Grand Plage beach, north of centre, can get a tad crowded, but there is also a long surfers' beach south of centre, the Côte des Basques, which hosts the annual Biarritz Surf Festival. The first ever person to surf in Europe is thought to have done so right here, back in the mid-1950s.
Sights in Biarritz include:
Phare de Biarritz – 73m-high 1830s lighthouse, whose 250+ twisting steps afford fine coastal views; and whose imposing swinging beams dominate the city by night.
Musée de Biarritz – traces the town's journey from fishing village to Imperial retreat and spa town, to Bohemian surfers paradise and beyond!
Biarritz Aquarium – home to sharks, giant turtles, rescued seals and so much more. Brilliant!
Cité de l'Océan – striking 2011-built venue boasting VR-led interactive, informative and stimulating attractions re all-things-sea! Highlights include 4D cinemas, plus virtual surfing and hunting with sharks. An absolute must!
Asiatica Museum – significant collection of Asian art, especially from India, Nepal, Tibet and China. The brainchild of its knowledgeable, passionate founding collector-director, Michel Postel, this is a beautifully lit and well-presented world-class treasure-trove!
Hôtel du Palais – former 1850s beach-front palace built for Napoleon III's wife, Empress Eugénie.
Imperial Chapel – also built for Empress Eugénie, with colourful wooden roof interior and elegant wall tiling.
Russian Orthodox Church – built 19th Century, for visiting Russian aristocrats, with blue dome.
Casinos – most notably the big'ns on the Grande Plage waterfront: the Bellevue and the Municipal.
Thalasso-therapy centres – sea water, seaweed and related treatments hereabouts abound!
Basque cuisine – from local fish to yummy chicken. Cheaper options in the central Halles quarter!
Malandain Ballet Biarritz – created in 1998, one of 19 National Choreographic Centres in France, led by choreographer Thierry Malandain, with 22 dancers, focusing on contemporary and neoclassical ballet. Located in the Gare du Midi of Biarritz, a former railway station turned theatre.
Scene
Biarritz's gay scene is compact, consisting of just two or three bars…
Le MYXX (11 avenue de la Marne, Biarritz;) – Small, modern gay bar, open 6pm-2am, Weds-Sat. Very central, just back from the Hôtel du Palais.
L'arrière train (4 rue Chapelet;) – Modern gay bar, open 6pm-2am, Weds-Sun. A little inland, near the railway station, the Gare de Biarritz.
Jo's Bar (13 rue Jacques Laffitte, Bayonne;) – Friendly audacious powerhouse of a gay bar, in nearby Bayonne, that loves its drag!
Gents oft "take airs" of an eve in the steep gardens just south of the lighthouse. As ever, beware.
 Gay Pride Biarritz is mounted every late June, around the longest day.
 – ends –