Review: Rutherford and Son, Lyttleton Theatre (National Theatre)
by Adrian Gillan for www.bent.com
Who's the Daddy? Lear meets Scrooge as Bent's Adrian Gillan hails a highly relevant revival of Githa Sowerby's early 20th Century analysis of patriarchy, capitalism, class, gender and family!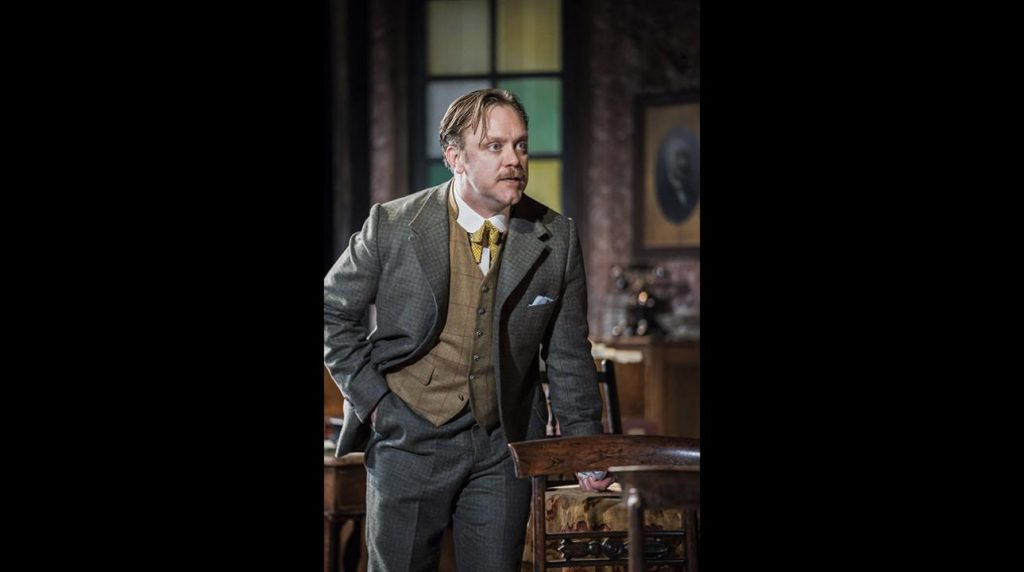 Critics hailed previously unknown dramatist K. G . Sowerby's 1912 premiere of Rutherford and Son – only to adopt a more patronising tone on discovering the playwright's gender. Githa Sowerby(1876-1970) drew on personal experience of an upbringing amidst her ancestral glass-making firm in the North East of England to pen this rich, Ibsen/Strindberg/Pinero/Shaw-influenced masterpiece exploring pubic and private power; capitalism and materialism; family, gender and patriarchy; class and aspiration.
Largely forgotten until a 1980s feminist revival, subsequent outings include the National Theatre's previous 1994 staging, 25 years ago; and Jonathan Miller's 2013 Northern Broadsides production.
In John Rutherford Snr, Sowerby creates a monstrous and yet credible figure of Shakespearian proportions: a self-made man who has built his existence and essential notion of self-importance through dominating and controlling factory workers and family alike, until – with echoes of King Lear – his three children, one by one, rebel against such ruthless vanity and his deluded dreams of a legacy.
Veteran Roger Allam is superb as the overbearing titular patriarch, treading the line between gruff oppression and outrageous comedy perfectly, evoking pathos via his disappointment in, and acute sense of betrayal by, family and workers. Barbara Marten is fine as flint-hearted sister/hanger-on, Ann, loyally defending her ogre brother despite being as trapped and dependent on him as the rest of them.
Sam Troughton plays the manic, tad unhinged and unlikeable elder son, John Rutherford Jnr, whose fraught, ultimately doomed, bid for freedom drives him deeper towards drink and away from ostracised working-class wife, Mary – cleverly cast as Anjana Vasan, the only non-white actor on stage – whose own sad Faustian pact with Rutherford Snr, at the close, ensures survival of both herself and baby son.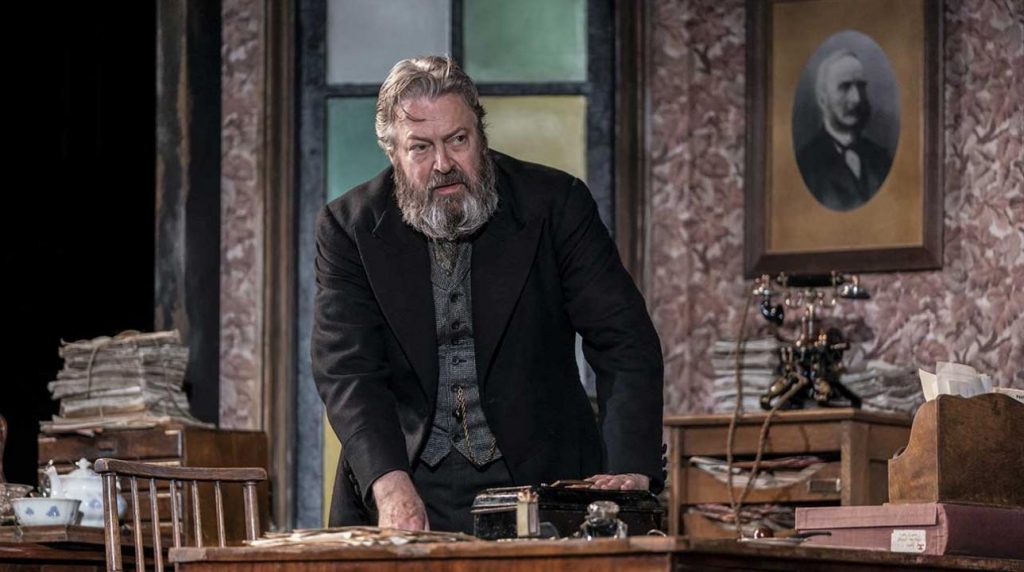 Harry Hepple is amusing and touching as Rutherford Snr's younger son, Richard, the local curate so ridiculed by his father and his father's workers that he flees to take up a post further afield; but not before helping advocate on behalf of Mrs Henderson (raucous Sally Rogers, excellent) and her thieving son; thereby setting a chain in motion, leading to the banishment of Rutherford Snr's desperate spinster daughter, Janet (Justine Mitchell, poignant) and her lover, Rutherford Snr's all-too-staunch right-hand-man, Martin (Joe Armstrong, decent and earthy); plus precipitating the departure of John Rutherford Jnr, leaving Snr all alone – an irredeemable Scrooge! Special bow for dialect coach Danièle Lydon too!
Lizzie Clachan's domestic setting literally swings into its poetic own at the end with a watery, fading coup de théâtre finale, a dreamy cinematic pan-out coda that will long linger in the memory – aided by Charles Balfour's magical lighting, Paul Arditti's sound and Kerry Andrew's soulful songs.
Director Polly Findlay ensures all the domestic female voices yearn and smoulder within the oppressive one-man chauvinist patriarchy where, frankly, even all dissenting male voices are brutally silenced, to yield Rutherford Snr's hollow, chilling "victory". Other core themes – the abusive entrapment of financial dependency; the dehumanising impact of capitalism and industry; the difficulty and vainglory of social mobility – are likewise drawn clearly. Over a century on since written, all issues still just as relevant!
Rutherford and Son runs at the Lyttleton Theatre (National Theatre) in London until 3 Aug 2019. For more info and to book tickets, call 020 7452 3000.