Review: Small Island, Olivier Theatre (National Theatre)
by Adrian Gillan for Bent
 We are here because you were there! Bent's Adrian Gillan hails the National Theatre's powerful adaptation of Andrea Levy's modern classic novel about empire and immigration, Small Island!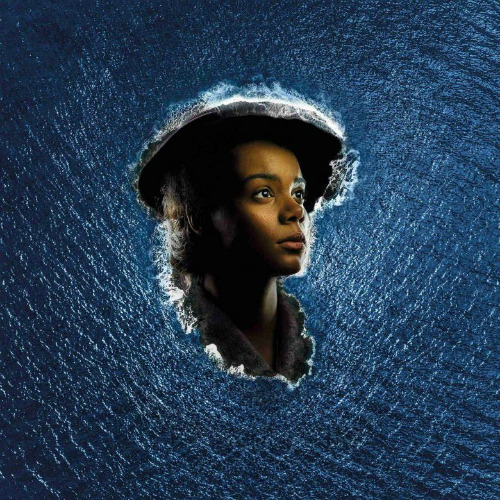 Few issues are more universal or timely than the connection between oft-oppressive history and global mass migrations. Hence the 'kick' in Andrea Levy's remarkable award-winning 2004 novel exploring the tangled history of Jamaica and the UK; made into a 2009 TV two-parter; and the book now adapted into a hard-hitting yet oft-hilarious stage version by Helen Edmundson for the National Theatre.
Small Island journeys from Jamaica to Britain, through WW2 and up to 1948 – the year that the HMT Empire Windrush famously docked at Tilbury. It cleverly follows three intricately connected stories – that of Hortense, who dreams of escaping impoverished and restrictive rural life in colonial Jamaica; fellow Jamaican, Gilbert, who longs to become a lawyer, after migrating to Britain to "fight for The Motherland"; and feisty Brit, Queenie, who flees dreary, small-minded Lincolnshire for cosmopolitan London, where all their lives mix amidst a harsh racist reality. Those fleeing one small island in the Caribbean ironically encounter another island many of whose inhabitants deem too small for all! Levy's essential factual and morally pertinent message in response: We are here because you were there!
Leah Harvey is a sensitive, insecure, beautiful-yet-haughty Hortense; Gershwyn Eustache Jnr, a big-hearted, fun-loving, noble and dignified Gilbert; Aisling Loftus a sincere, broad-minded, essentially innocent Queenie, always trying her best, the victim of circumstances;  CJ Beckford, a sexy, mischievous and ultimately mysterious free-spirit, Michael, Hortense's cousin-childhood-sweetheart and Queenie's quick-fling lover; and Andrew Rothney – in arguably the most complex character on stage, well-nigh stealing the show – a damaged, inhibited, viciously bigoted, vulnerable Bernard, Queenie's husband, who, somewhat intriguingly, seems to have forged his most intimate relationship with a younger soldier whilst away fighting.
It is not possible to single out the rest of the 40-strong ensemble individually but extra big bows for David Fielder as Bernard's shell-shocked father, Arthur; Johann Myers as lanky, sensual activist, Elwood; and Beatie Edney as luxuriant Aunt Dorothy, doting on her niece, Queenie. The child actors playing the young Hortense and Michael were also well chosen vis-à-vis their older counterparts.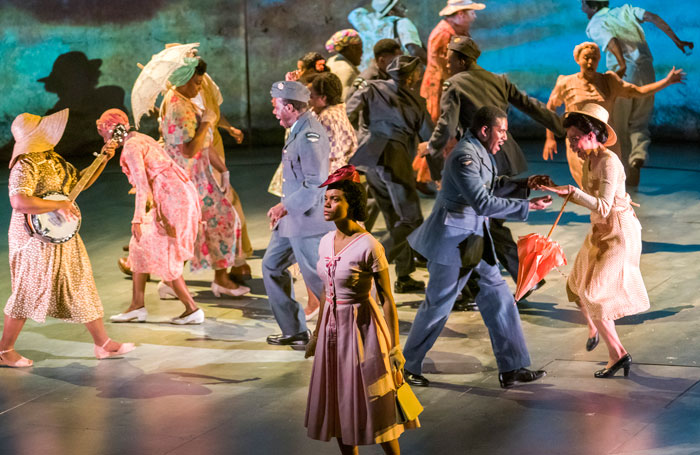 Big cheers to the output of the entire creative team – Benjamin Kwasi Burrell's oft-jazzy compositions; designer Katrina Lindsay's costumes and pared-down setting, harnessing the full sweep of the Olivier stage's drum-revolve; and Jon Driscoll's projection designs on the vast rear wall, delivering several coups de théâtre, not least the opening hurricane and the billowing Windrush recreation ending the first half. Typically fine work from Paul Anderson (lights) and Ian Dickinson (sound). Special mention, too, to Jeannette Nelson (voice) and Hazel Holder (dialect).
Directed by the NT's Artistic Director, Rufus Norris, the show is a perfectly-cast, boldly-staged hit! Such state-of-the-nation offerings are, rightly, at the very heart of what our National Theatre should be!
Small Island runs at the Olivier Theatre (National Theatre) in London until 10 Aug 2019.
– ends –