Review: SIX, Arts Theatre, London
by Adrian Gillan for www.bent.com
His-story? Her-story! Bent's Adrian Gillan loses his head over clever, camp multi-Olivier-Award-nominated girl-power musical, SIX – set to run and run at the Arts Theatre in London's West End.
A high-octane 75-minute-no-interval "musical for the Netflix generation", wunderkind co-writers Toby Marlow and Lucy Moss have quite literally struck gold with their genius, simple-yet-sophisticated fusion of dramatic English history with contemporary gender issues, delivered in the sassy present-day hybrid-genre of pop-concert-meets-talent-contest, as Henry VIII's six wives battle it out to prove themselves the most hard-done-by, before eventually defiantly uniting in a dazzling display of female empowerment!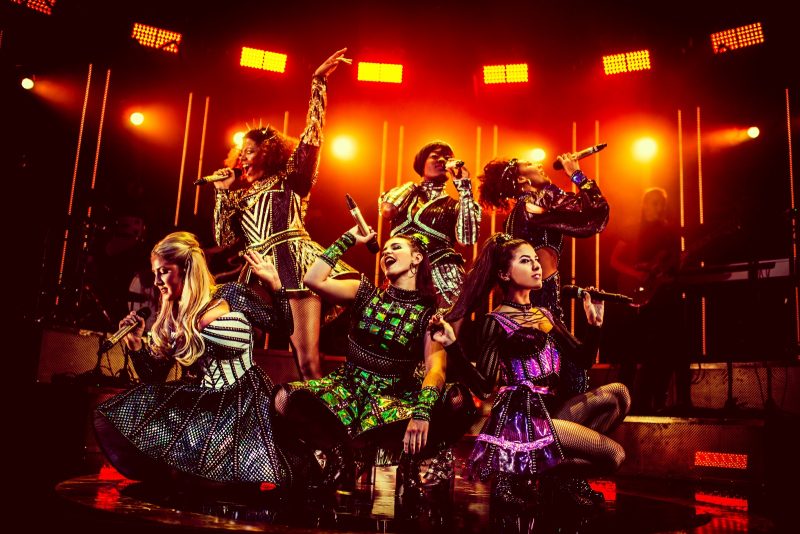 Outrageously precociously talented dream-team Marlow & Moss co-wrote the piece scarce two years ago whilst still studying for their finals at Cambridge, with SIX premiering at the 2017 Edinburgh Fringe, followed by half a dozen try-out performances at the Arts Theatre in London, then a short UK tour before re-opening at the Arts Theatre for an award-winning smash-hit run that just seems to extend-and-extend. And with a Chicago try-out underway, who knows… hello Broadway? Brits' reply to Hamilton?
Along the way, the show has already won Best Off-West End Production at the 2019 WhatsOnStage Awards; and – alas ultimately pipped by Come From Away – did garner no fewer than five 2019 Olivier Award nominations… for Best New Musical, Outstanding Achievement in Music, Costume Design, Theatre Choreographer… and the entire six-strong core cast for Best Supporting Actress in a Musical!
Part of the brilliance of the show is its clear individuation of the six principle roles, each overtly loosely based on specific contemporary female pop stars, bringing out diverse, conflicting and complementary aspects of how women – then 'n now – struggle to survive 'n thrive in an all-too-male-dominated-world!
The breathtakingly hard-working six-strong core ensemble cast are onstage throughout, taking the spotlight, each in turn, to sing their version of events, the other wives providing backing vocals, not to mention hilarious bitchy banter between each number. They also unite to top-mid-and-tail the show with infectiously uplifting full-company toe-tapper aisle-boppers like "Ex-Wives", "Six" and "Megasix".
Jarneia Richard-Noel channels Beyoncé and Shakira to deliver Catherine of Aragon's inner strength with defiant torch-song, "No Way". Millie O'Connell draws upon Lily Allen  and Avril Lavigne, for her ballsy, cheeky Anne Boleyn and ironic "Don't Lose Ur Head". Natalie Paris harnesses Adele and Sia for her earthy love-sick Jane Seymour and ballad showstopper, "Heart of Stone".
Vicki Manser (in a role normally played by Alexia McIntosh) evokes Nicki Minaj and Rihanna – and surely spookily what would have been a sixth Spice Girl, "Crazy Spice" – for her knowingly smug yet streetwise Anna of Cleves, imploring us all to "Get Down", having been "picked" at the quirky, funny "Haus of Holbein"! Aimie Atkinson mines Ariana Grande and Britney Spears for her sexy hard-done-by much-used-and-abused Katherine Howard, bemoaning you guys out there for "All You Wanna Do".
Courtney Stapleton (in a role normally played by Maiya Quansah-Breed) yokes to Alicia Keys and Emeli Sandé to slowly build and fully climax with the (potentially anti-climactic) survivor, Catherine Parr, portraying her sacrificed true love and resultant steely independence in "I Don't Need Your Love".
I'll have to go back to see Grace Mouat as either Catherine of Aragon or Katherine Howard, the two roles she is down to regularly step in for, since she'd surely be ace too if her work as dance captain on the show is anything to go by – ensuring the cast sharply execute (pardon pun) choreographer Carrie-Anne Ingrouille's street-cred moves.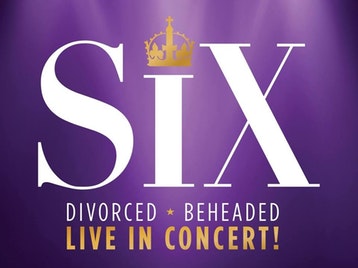 Co-writer Moss happily also co-directs, with Jamie Armitage, to ensure the show immaculately achieves its conception, aided by the stunning creative team of Emma Bailey (fab pop arena set); Tim Deiling (ace pop lights, well integrated with said set); Paul Gatehouse (crucially, sound always crystal clear); and Gabriella Slade (glitzy Tudor-inspired contemporary pop show costumes).
Big cheers too to 4-strong always-onstage all-girl band of drums, guitar, bass plus MD Katy Richardson on keyboard, powering a blisteringly funny yet provocative show that, wonderfully, works for all ages!
SIX runs at the Arts Theatre in London until at least Jan 2020.