by Adrian Gillan for www.bent.com 

Flamenco and sherry, horses and hunks! Bent's Adrian Gillan savours the exotic history and culture of this Andalusian duo in southwest Spain! All a mere short flight away with fab easyJet!

A perfect pairing! The flamenco, sherry and horses of Jerez, inland; twinned with the Old Town, beaches and cute little scene of nearby almost-island, Cádiz, by the sea!
And, with low-cost carrier easyJet serving Jerez from London Gatwick (also from Manchester Aug-Oct 2019), you too can soon be here – with extra cash left in your pocket to use on arrival! On time, with highly personal yet professional service, easyJet always delivers what it says on the tin! Ace!
Regular bus and rail services connect Jerez Airport to Jerez (5 minutes) and Cádiz (45 minutes); and connect Jerez to Cádiz in around 40 minutes.
Jerez
210,000-populated Jerez de la Frontera is one of the major cities in western Andalusia, and the largest in Cádiz province which itself takes its name from Jerez' smaller rival town, nearby on the coast.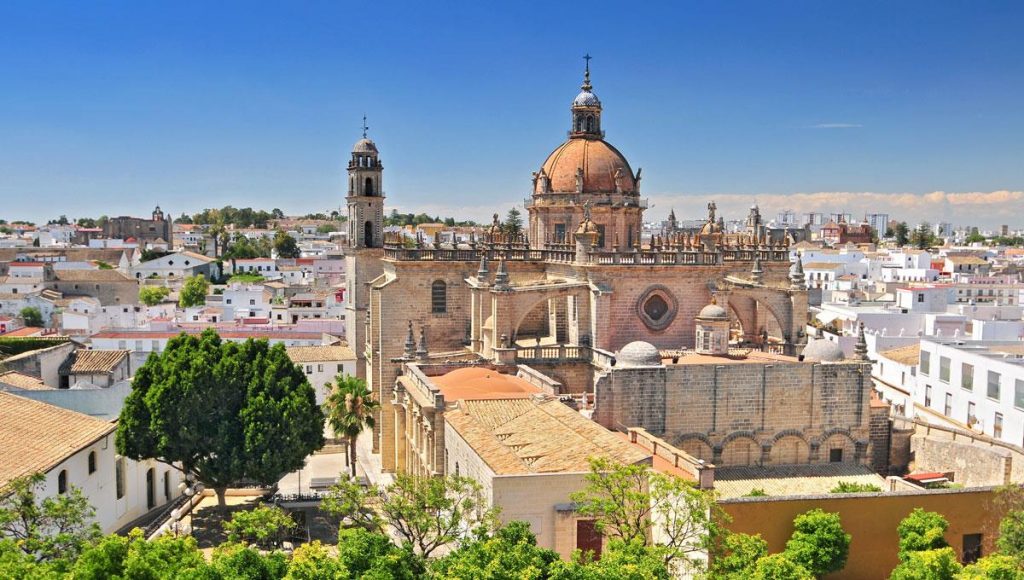 Phoenicians, Romans, Visigoths, Moors, Catholics, gypsies… they've all been in the area! Out of this rich history, Jerez has emerged as the home of Sherry wines; Flamenco music, song and dance; and the pure Spanish Andalusian/Carthusian horse breed… not to mention some pretty hot human studs!
A short stroll from the rail station, aptly-named Lustau Winery (Calle Arcos, 53, Jerez de la Frontera, Jerez;) is an especially beautiful sherry-maker, offering a range of scheduled tasting tours, lasting from an hour upwards. Learn how Bodegas Lustau has produced such a wide range of world-class Sherry specialties, since 1896. Charming, handsome, knowledgeable guides too!
Sip sherry or beer with tapas surrounded by yet more lush locals in a busy, atmospheric Old Town "tabanco" tavern, like Tabanco la Reja (Calle Mesones 6, Jerez), amidst walls adorned with photos of famous sexy tight-leotarded matadors and flamenco artists of years gone by!
Stroll around the nearby market; hunt out surviving sections of the old Moorish city walls; marvel at the Alcazar (Fortress) with its pleasant surrounding gardens, now overlooking the vast Bodegas Gonzalez Byass sherry winery, and itself overlooked by the magnificent cathedral, built on the site of a former mosque.
Explore the Santiago district with its numerous flamenco clubs and associations. Housed in a former aristocratic residence, the Andalusian Flamenco Centre is a good place, too, to learn more about this art, not least during the annual Flamenco Festival every Feb/March,
For horses-galore, be sure to visit during the Feria del Caballo horse fair every May when riding and competitions are accompanied by flamenco singing and dancing, plus sherry, drink and food throughout the fairground's vast array of stands, plus at events and showcases, including at the nearby world-famous Royal Andalusian School of Equestrian Art.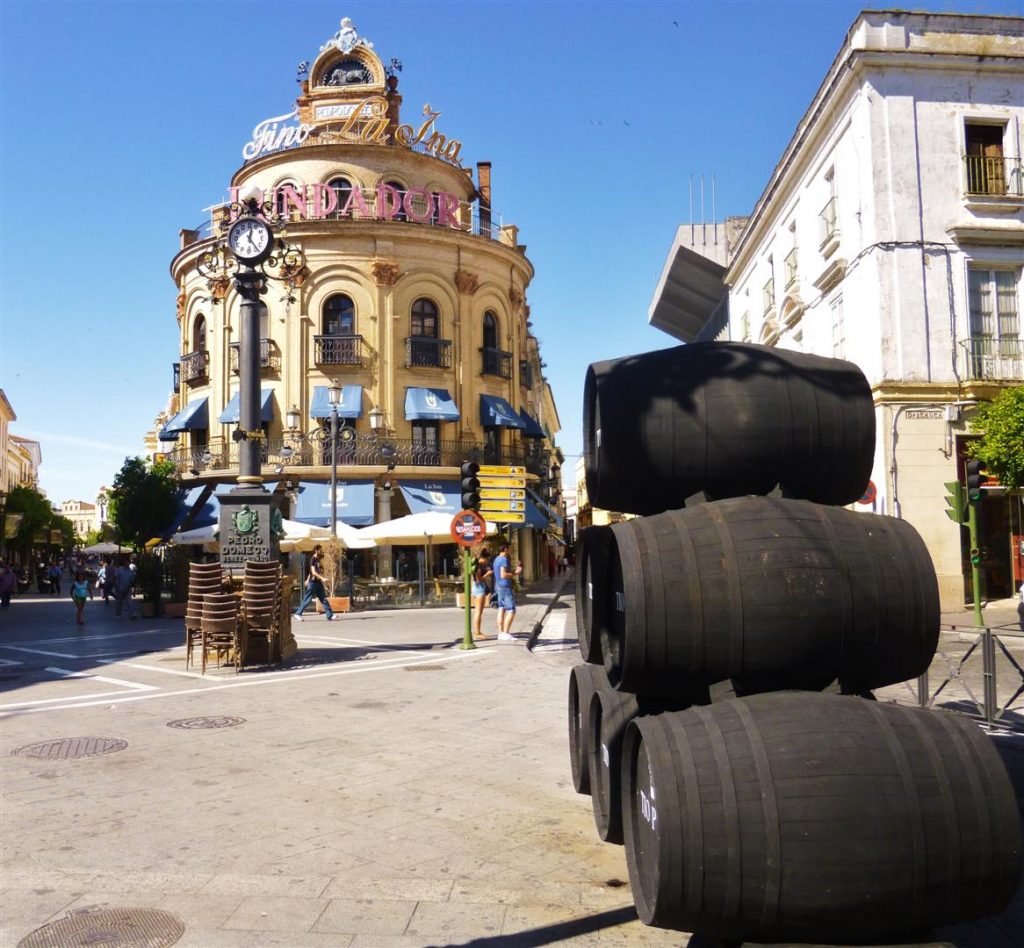 Whilst it might not have a gay scene as such, Jerez's authorities have raised the rainbow flag here every 28 June since 2001. Damajuana (Calle Francos, 18, Jerez) is an especially gay-friendly and atmospheric old town bar with courtyard, worth hanging out in!
Cádiz
Just 40 minutes by regular train from Jerez – spectacularly perched on a peninsula and causeway, with the Atlantic on one side, the Bay of Cádiz and port on the other – 120,000-populated Cádiz is the oldest continuously-inhabited city in Spain, perhaps Western Europe, with a wealth of beaches and landmarks.
Cádiz was founded by Phoenician sailors around 3,000 years ago and remnants since that time can be found in the Archaeological Museum (Plaza de Mina, Cádiz). Also visit the excavated Roman theatre just behind the Old Cathedral. Alas, no Moorish traces have survived – the massive stone walls and forts now surrounding the Old Town date to the late 16th and early 17th Century, to fend off the Brits!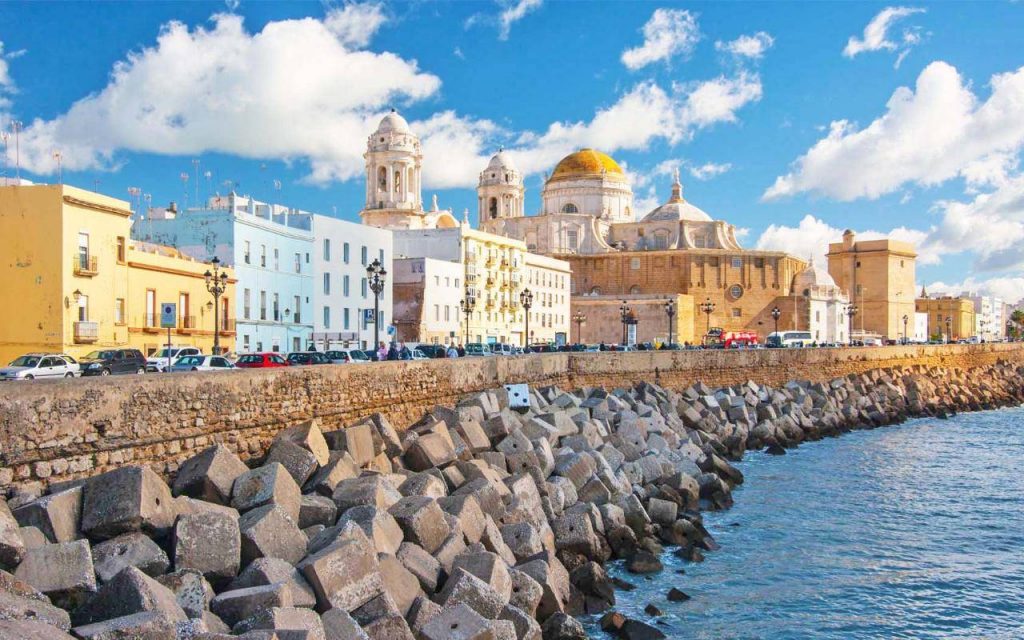 The Tavira Tower (Calle Marqués del Real Tesoro 10, Cádiz;) – a 45-metre-high 18th Century shipping watchtower near the Central Market – offers a fine view of the surrounding Old Town, either from its rooftop terrace or from its amazing "camera obscura".
The Central Market itself is well worth a visit, especially the fish section. Strolling through the winding alleys, stumbling upon intimate and imposing squares, other Old Town highlights include the massive Gran Teatro Falla, named in honour of native son, the great composer Manuel de Falla, who is buried in the colossal Cathedral; and the Oratorio de San Felipe Neri, where the first Spanish Constitution was signed, which also became a template for numerous colonial territories as they gained independence, notably throughout Central and South America.
The Old Town boasts its very own little magical Caleta Beach, flanked by forts and a lighthouse, and looked over by an attractive 1920s bathing pavilion. But due south, beyond the Old Town walls, stretch mile upon mile of fine sandy beaches along the Atlantic side of the New Town causeway – a true glory of the famous Costa de la Luz coastline.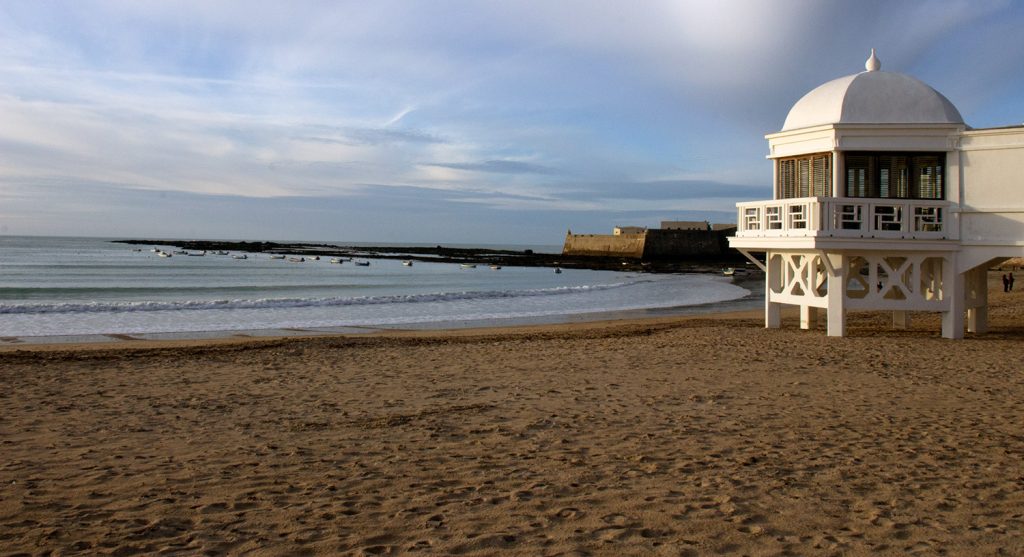 Cádiz offers some especially fine eating options. Set in a lovely Old Town square, Café Royalty (Plaza Candelaria, Cádiz;) is the only historically preserved grand romantic cafe in Andalusia, possibly all of Spain – boasting rich paintings by well-known Spanish artists such as Abarzuza, fine period carpentry and gold leaf plaster details. Founded in 1912, it became the most frequented cafe in town, attracting renowned writers, intellectuals, politicians, musicians and artists, including the great local composer, de Falla, himself. In the 1930s, just prior to the Spanish Civil War, Cafe Royalty closed, becoming a warehouse and even a bazaar post-war, before sliding into oblivion – thankfully to be fully gloriously restored and reopened in 2012 on its centenary, as a café but also with a fantastic restaurant featuring a traditional kitchen updated with the best products of the province! Try the tataki bluefin tuna, snapper grilled with baby rice or red-wine-grilled tenderloin! Not to mention award-winning breakfasts and tapas, the best coffee and cakes and a huge cocktail list! Fab service too!
As a contrast, check out the modern Cádiz New Town seafront gem that is BarraSie7e restaurant (Avda. Amilcar Barca / Callejón del Blanco, Paseo Marítimo, Cádiz;) – a dynamic, trendy joint where you can have a snack or more fully eat, yet still in an informal way, with local produce and the best service. Located between La Victoria Beach and Santa María del Mar Beach, BarraSie7e has an indoor space with high and low tables, plus two terraces, all overlooking the Atlantic!
As gay-affirmative as its neighbour Jerez, both university cities brimming with hordes of horny young student hunks, Cádiz also boasts a cute little gem of a scene:
El Teniente Seblon (Calle Posadilla, 4, 11005 Cádiz;) – Gay-frequented tapas bar with street terrace, near the cathedral. Open daily, 12.30pm-2.30am.
El Poniente (Calle Beato Diego de Cádiz, 18, 11004 Cádiz;) – Gay bar with drag shows at weekends. Open Weds-Sat, 11.15pm – 4am; Sun, 11.15pm-3am
Playa de la Cortadura – amidst the dunes of its nudist sections.
 A riot at any time of year, you might visit town during Cádiz Carnival every February, when it's still pretty warm, if you really like to party!
Other information
There is no shortage of quality gay-friendly accommodation throughout the cities of Jerez and Cádiz, but a top tip – especially if you have a hire car and can roam free – is gay-orientated, adult-only, 4-star Hotel Ritual El Palmar in Vejer de la Frontera, roughly 25 miles south, complete with air-conditioned en-suite rooms, some with balconies; outdoor pool; sun terraces; gardens; 24-hour front desk; fitness centre; buffet breakfast; and free Wi-Fi – plus a range of wellness facilities including a hot tub and sauna!
easyJet
easyJet flies from London Gatwick to Jerez with prices starting from £35.33 per person (one-way, including taxes and based on two people on the same booking). Flights are also available, Aug-Oct 2019, from Manchester. This brill, great-value airline is punctual, offering friendly yet professional service; and boasts a vast and ever-expanding network of other exciting routes, covering much of the UK, Europe and beyond.

The Gatwick Express train is the fastest transfer available between London Gatwick airport and central London (London Victoria), departing every 15 minutes, with journey time just half an hour.
– ends –