Review: Rosmersholm, Duke of York's Theatre, London
by Adrian Gillan for www.bent.com
Bent's Adrian Gillan enjoys the moody design, dark comedy and still-pertinent issues of a new adaptation of Ibsen's psycho-melodrama, Rosmersholm, at the Duke of York's Theatre, London!

Politics, passions and a poetic fjord-full of guilt dramatically entwine in Norwegian-national-playwright Henrik Ibsen's enigmatic and all-too-rarely staged Rosmersholm, here newly adapted by Duncan Macmillan and directed by Ian Rickson.
An election looms in a divided country. Influential landed-gent John Rosmer is torn between the traditions and ghosts of his privileged past, as espoused by his brother-in-law Andreas Kroll; and his own idealised hopes for a more egalitarian future, as propounded by radical new household member Rebecca West. Rival media likewise pull Rosmer both ways, as he writhes internally – reeling from the recent loss of an unstable wife, and of his religious faith.
Ibsen's oft-funny play of political ideas and psychological angst cogently tackles social issues: women's rights, class inequality, suffrage, religion, partisan media power – even alcohol dependency. The eponymous house of Rosmer becomes one big metaphor for old social and ethical systems that are about to be swept away, well-nigh literally, in a flood of upheaval.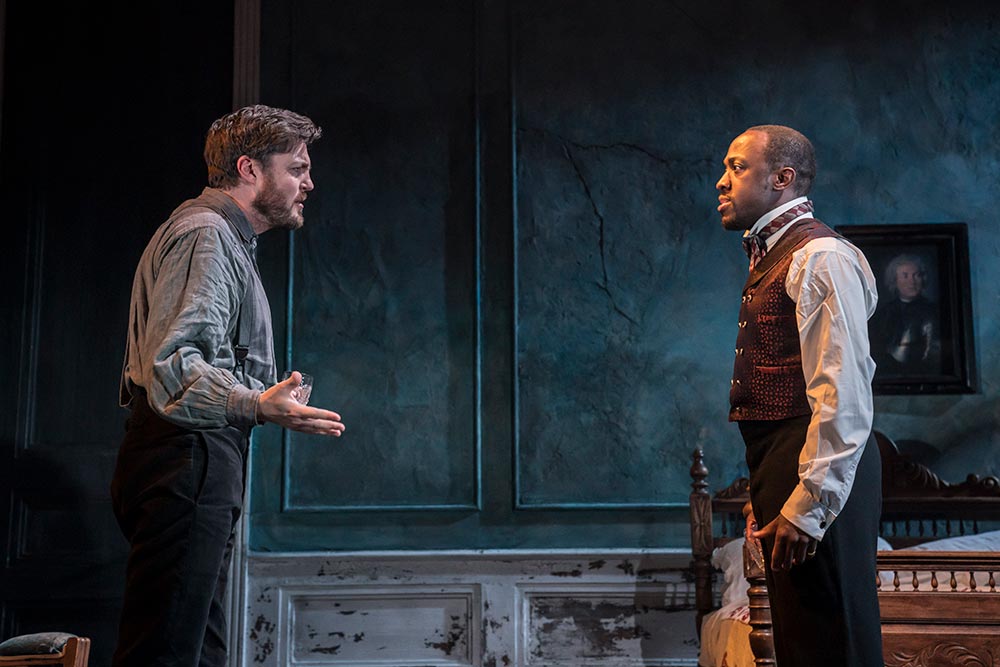 Heading a fine six-strong core-cast, plus support ensemble, Tom Burke's Rosmer is a fundamentally good man, paralysed by his past and present situation and by his own inner contradictions. He pairs well with Hayley Atwell whose free-spirted Rebecca West moves from subtly ruthless ardent activist to desperate lover, herself also undone by guilt about her own family history and self-confessed role in Rosmer's wife's death. Pressured from all sides, and from within, unable to live together, the couple vow to die together – outrageously histrionic and melodramatic, perhaps, but poetic, nonetheless.
Award-winning former Hamilton star, the mesmerising Giles Terera, shows his versatility here as pompous, chauvinist, old-school Kroll, lighting up the stage with an electrifying physical presence and technically dazzling voice throughout. The exquisite Peter Wight damn near steals the first half with his bravura comic scene as drunken agitator, Ulrik Brendel.
Jake Fairbrother likewise gets full value out of his one scene as wronged, idealistic, manipulative left-wing news editor, Peter Mortensgaard – yet another conflicted, contradictory character. And Lucy Briers delivers a darkly observant and stoic housekeeper, Mrs Helseth.
The production is a triumph of design, Rae Smith's set surely already in the running for a gong or two, not least on account of the spellbinding watery end – all integrated perfectly with Neil Austin's atmospheric lighting and Gregory Clarke's ominous oft-as-if-off-stage sounds.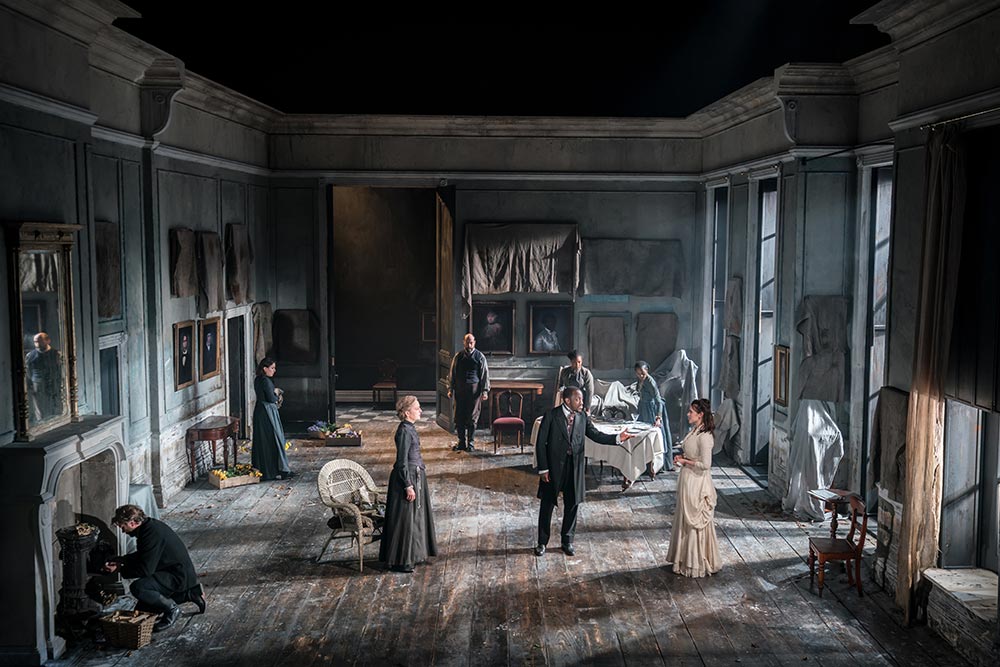 However, Rosmersholm remains an acutely difficult play to pull off. This timely new adaptation, complete with de rigueur Brexit resonances, hits the political and social marks well enough. Yet – though both Burke and Atwell undoubtedly give individually fine performances – Ibsen's core writing leaves you struggling to adequately believe either in the lead couple's passionate love for each other, or in their mounting anguish and tragic final exit.
Rosmersholm runs at the Duke of York's Theatre in London, until 20 July 2019.
– ends –