Succumb to Brum: Birmingham for LGBTs and their families!
by Adrian Gillan for Bent Gay Sex Shop & Magazine           
Scrummy brummie! More 'n more gay families now include children, so where better to take 'em than for a fun break in the UK's 2nd biggest city, Birmingham? In time for Pride (25/26 May 2019)!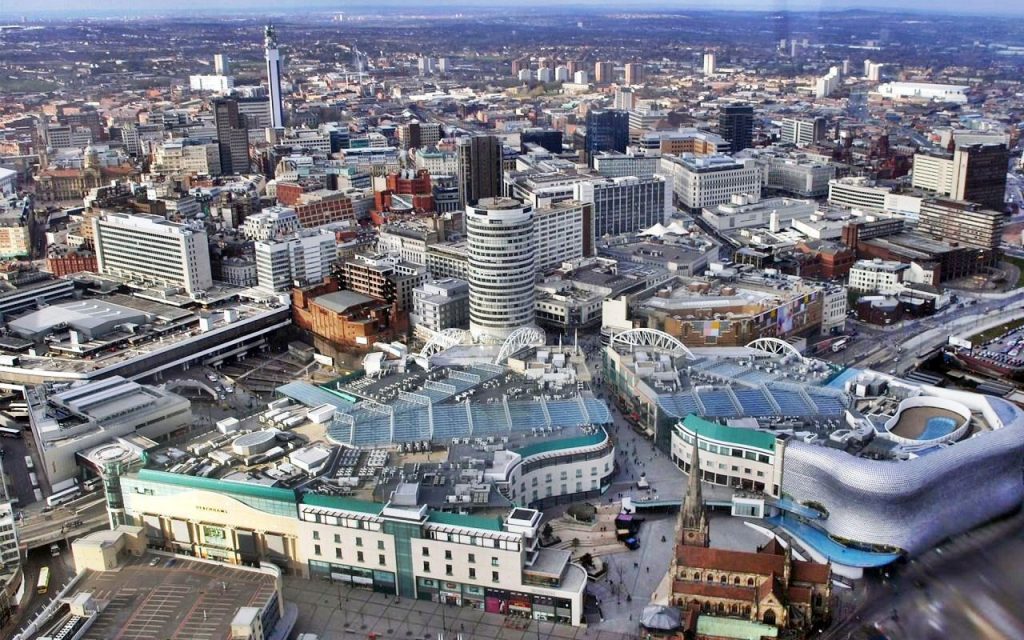 With its abundance of renovated canals, parks, industrial heritage, civic buildings and squares, Birmingham's definitely undergone a first-rate face-lift in recent decades.
Stay
Stay at newly-refurbished 4-star Jurys Inn Birmingham (245 Broad Street, Birmingham , B1 2HQ; T: +44 121 606 9000;) in its imposing landmark tower a short stroll southwest of the very centre, scarce 10/15 minutes' by foot from the three central railway stations.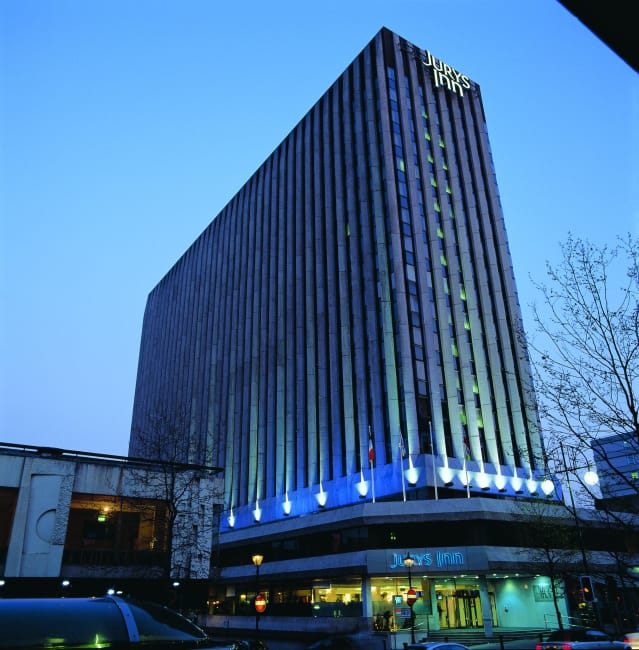 Its 445 stylish hotel rooms, from standard double to superior, plus 'accessible', are all spacious, able to comfortably accommodate up to three adults; or two adults and two children under 12. All boast large soft beds; en-suite bathrooms with complimentary toiletries; flat screen TV with Freeview; free Wi-Fi; air-con; hair-dryers; and extra pillows on request!
Peckish? The hotel's own stylish Restaurant offers a wide menu (including a sumptuous buffet breakfast), while its sleek Lounge Bar is perfect for a light snack or nightcap after a day exploring the city. 24-hour room service is also available, including a night menu. Enjoy a specialty coffee or pastry from the hotel's very own all-day Costa coffee bar and lounge, where you can relax with a paper or book, or freely surf the web.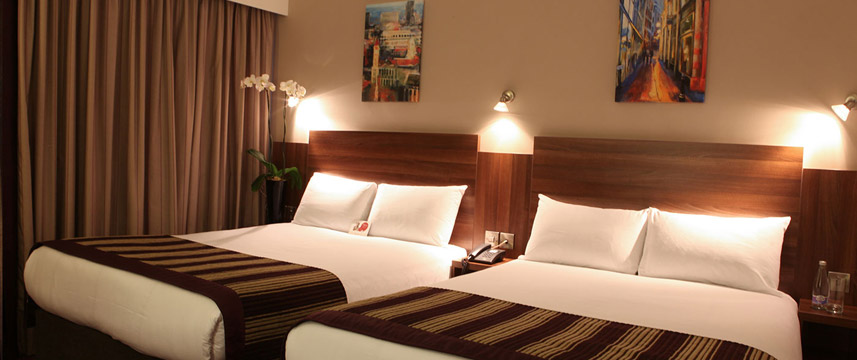 See & Do
From retail therapy in the vast, revamped Bullring Shopping Centre, complete with its flagship space-age Selfridges building; to a mouth-watering Cadbury World tour out in Bournville; to cultural treats like the Birmingham Royal Ballet, based at the Birmingham Hippodrome, or the Birmingham Rep or the Old Rep – there's heaps to do and see in Brum!
Other Top Tips include:
National SEA LIFE Centre Birmingham – dramatic-looking Foster-designed aquarium building with over 60 displays of freshwater and marine life including a million-litre-capacity ocean tank housing giant green sea turtles, blacktip reef sharks and tropical reef fish; plus the UK's only fully-transparent 360-degree underwater tunnel. Fab 4D cinema too!
Teamworks Karting Birmingham, plus Laser Tag – Birmingham's only city centre circuit, just 5-10 minutes' walk from New Street and The Bullring, featuring one of the UK's longest, most exciting and challenging indoor tracks; a brand-new fleet of cutting-edge karts; an incredible F1; state-of-the-art Laser Tag arena; plus fully-licensed bar and extensive catering facilities. Useful analyses of your kart and laser performances; plus helpful, friendly staff! Just brilliant!
BBC Birmingham Studio Tour – exciting 1½-hour behind-the-scenes tour of BBC Birmingham's TV and radio studios, home to Midlands Today, BBC WM and the world's longest-running radio drama, The Archers. Discover what it takes to put together high-quality news bulletins every day and how BBC radio drama is made. You can even have a go at making your very own radio play which is then sent to you as a memento!
Sherborne Wharf Public Boat Trip – discover Birmingham's canals and industrial heritage with a relaxing hour-long cruise on one of three passenger narrowboats, departing from the International Convention Centre Quayside, opposite Brindley Place, near the city centre. Four times daily from Easter to end of Oct; weekend-only Nov-March.
Birmingham City Museum & Art Gallery – over 40 galleries in a city centre landmark building displaying art (notably Pre-Raphaelite paintings), social history (notably the 'Birmingham: its people, its history' gallery filling most of floor three), archaeology (notably The Staffordshire Hoard, the largest Anglo-Saxon gold hoard ever found) and ethnography. In addition to the permanent galleries there is a diverse temporary exhibition programme, such as the Leonardo da Vinci: A Life in Drawing , on until 6 May 2019, marking the 500th anniversary of the death of the great Renaissance master.
Alexandra Theatre – 1,370-seater dating to 1901, now owned by the Ambassadors Theatre Group, and commonly known as 'The Alex' – hosting touring drama, musicals and stand-up comedy. Forthcoming highlights include Mercury: The Ultimate Queen Tribute (18 April 2019); Hair (29 April – 4 May 2019); The Rocky Horror Show (13-25 May 2019); Julian Clary, Born to Mince (31 May 2019); Bowie Experience (12 July 2019); The Dreamboys (13 July 2019); and 9 to 5, The Musical (6-14 Sept 2019)… to name a few! If you just missed the recent excellent multi-Tony and -Grammy Award-winning rock musical American Idiot recently staged here, featuring the music of band Green Day, you can still catch it on its 10th Anniversary UK tour 'til 22 June 2019.
CBSO, City of Birmingham Symphony Orchestra – resident at the vast 2,260-seater Symphony Hall since that venue opened in 1991. It also presents chamber concerts by orchestra members and guest performers at its admin and rehearsal base – nearby CBSO Centre. Each year this world-class orchestra performs over 130 concerts to more than 200,000 people, with another 72,000 people each year taking part in its learning, participation and outreach events, not to mention the 750 local musicians engaged in its six choirs and the CBSO Youth Orchestra. The CBSO's current Music Director is the young female Lithuanian conductor Mirga Gražinytė-Tyla, succeeding the legendary likes of Adrian Boult, Simon Rattle, Sakari Oramo and Andris Nelsons.
Scene & Pride
Of course, you're unlikely to sneak your sprog or sprogs past the bouncers at many bars or clubs, and – even where a licence permits – that could prove a bit of a bore in a child's bigger scheme!
That said, and purely FYI, with one of the most compact, constantly re-invigorated, easily accessible and sizeable gay scenes in the land – embrace the accent and you soon succumb to Brum, and all those manly Midlands men! Dozens of venues vie for attentions in a queer cluster mere yards from New Street Station. Hurst Street is surely up there with those other UK world-class queer streets, Canal and Old Compton!
Stalwart and anchor of the scene is arguably the habitually rejuvenating Village Inn (152 Hurst Street;), an upmarket, friendly gay pub pumping out music and drag into the wee small hours with its busy dance area.
 The traditional Wellington (72 Bristol Street;) is an extremely welcoming pub-cum-cabaret joint. Nearby Fountain (102 Wrentham Street;) is also a bit of a hit with the older set.
Sidewalk (125-127 Hurst Street;) entices queer trade along its not inconsiderable length, downing booze and food – its vast windows perfect from, and through, which to preen-and-be-seen. Neighbour Equator (123 Hurst Street;) is an airy lounge bar for the full-on style set. Ditto Loft Lounge (143 Bromsgrove Street;), just around the corner, with fab food.
"Party bar" Missing (Hurst Street/Bromsgrove Street;) is a true Brum favourite and packs 'em in – all ages, all nights. Other busy bars on or around Hurst Street include friendly, earthy Eden Bar (116 Sherlock Street;), right down the end; lesbian-yet-gay-male-friendly The Fox (17 Lower Essex Street;); Bar Jester (42 Holloway Circus;); or cruisy Boltz Club (40 Lower Essex Street;).
Time for some full-on clubbing? Feted Nightingale (Kent Street;), or "The Gale" as it is affectionately known – now spans the best part of half a century, always keeping apace with the times. With 2000 capacity across three levels and a nice outside garden, it is no surprise to hear that legendary artists, from Boney M to Boyzone, have all appeared here over the years.
Club Chic (28 Horsefair;) is a trendy late-night dance spot too; and there's also The Core (135 Sherlock Street;).
One can steam away at central Unit 2 (Lower Essex Street;) sauna; or at Spartan (127 George Road;) further out. And there's always Clone Zone (84 Hurst Street) for sexy undies, gay gear and the like.
However, back to the kids: everyone loves a party! And few are quite such fun as Birmingham Pride which takes place over the last Bank Holiday weekend in May of each year. This year, it's 25-26 May 2019, with "Love Out Loud" as the theme. A parade through the city centre on the Saturday leads into a party/festival in the gay village, with acts like Marc Almond and Human League headlining the main stage! All ages, including families, welcome!
For more information about visiting Birmingham:
 Birmingham (Moor Street or Snow Hill stations) is as little as 1¾ hours away from London Marylebone by wonderful Chiltern Railways, and even closer to other major UK cities. For times, fares, offers and bookings: www.chilternrailways.co.uk
– ends –